In tours
This building does not appear in any tours yet.
Last updated
Fri, 06/21/2019 - 1:11pm by gary
Location
United States
35° 59' 6.4032" N, 78° 55' 31.4508" W
US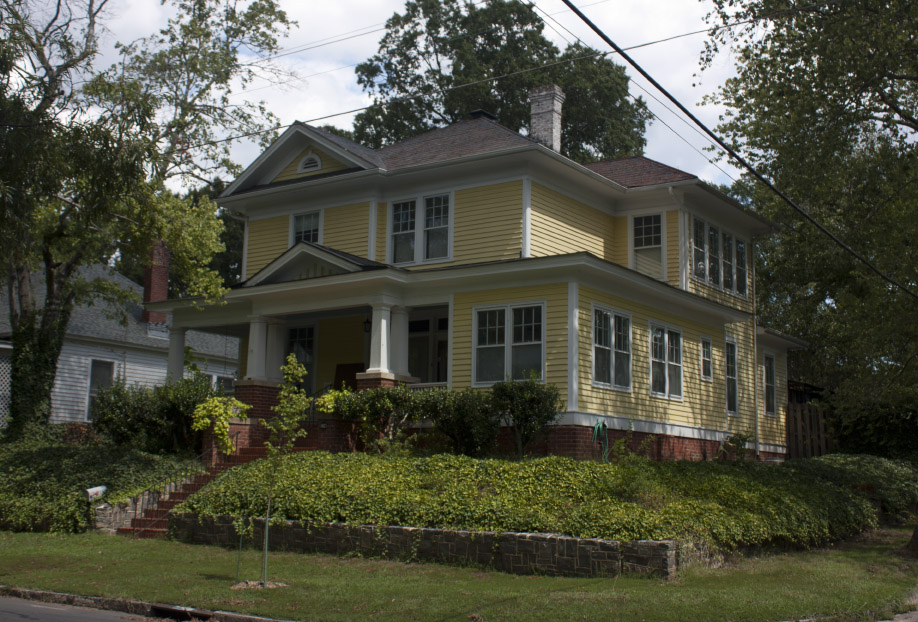 09.09.11
(Below in italics is from the 2003 Lakewood Park National Register listing; not verified for accuracy by this author.)
Edward J. Latta House. Distinguished 2-story, L-shaped, hipped roof house with a front cross gable, weatherboards, tall 9/1 sash windows, and wide boxed eaves. The glazed door has sidelights and a transom. The 1-story wraparound porch has Craftsman posts and wood railing and a cross gable with decorative trim over the entrance bay. The south side of the porch has been enclosed. A granite retaining wall extends along the front and side elevation. Edward J. Latta, president and treasurer of Latta Roofing Company, had the house built about 1925. The E. E. Stromslands bought the house in the late 1940s, and Mrs. Stromsland partially enclosed the porch as a beauty shop. The house is similar in design to the Brock House, 2115 W. Club Blvd. in the Watts-Hillandale Historic District, built by contractors Thompson and Cannady. [Roberts, 1925 CD, interview]
The 1926 Hill's Durham City Directory lists Latta's Roofing Company at 407 E. Chapel Hill St.