In tours
This building does not appear in any tours yet.
Last updated
Tue, 07/12/2011 - 4:43pm by gary
Location
35° 59' 49.452" N, 78° 53' 41.9892" W
Just can't leave the Roxboro corridor for long without some buildings disappearing. I don't know whether it's the angle of the sun on the east side of town, or just some kerosene that accidently keeps getting spilled on some matches, but James Marvin Bradford's buildings keep burning down. In the picture I took for the last two buildings of his to go (502 and 504 Roxboro) you can see the edge of 305 Elliott on the right side of the frame. Here's what it looks like today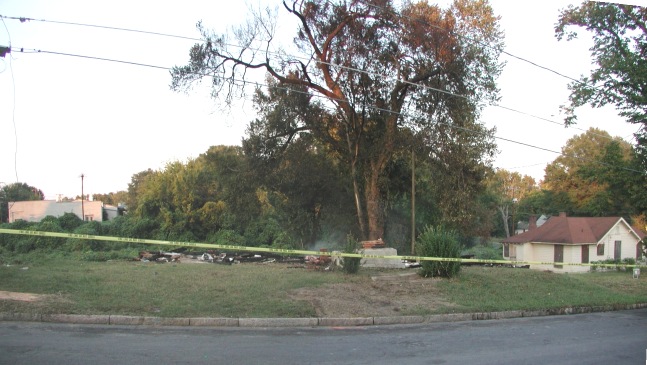 Still smoldering, yet. So to go back and review Mr. Bradford's property holdings, here's the map I drew back in August
And now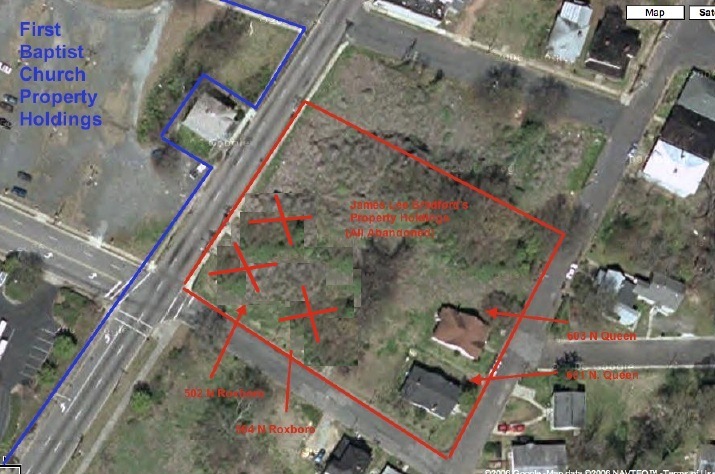 All that remains are the two houses on Queen Street that I've previously profiled. Will anyone prevent these from burning as well? The city or county are the only two entities that can change this dynamic. They throw up their hands, and say "there's nothing we can do" - as if the regulatory environment we live in was delivered on stone tablets from Mount Durham. Of course there is something we can do - change the regulatory environment to protect houses like these. Update 9/13/07: James Bradford, still owner of this trash-strewn lot, angrily confronted me at a community meeting to say that he let the fire department burn down this house for training - didn't I care about the truth? No independent confirmation of that assertion.