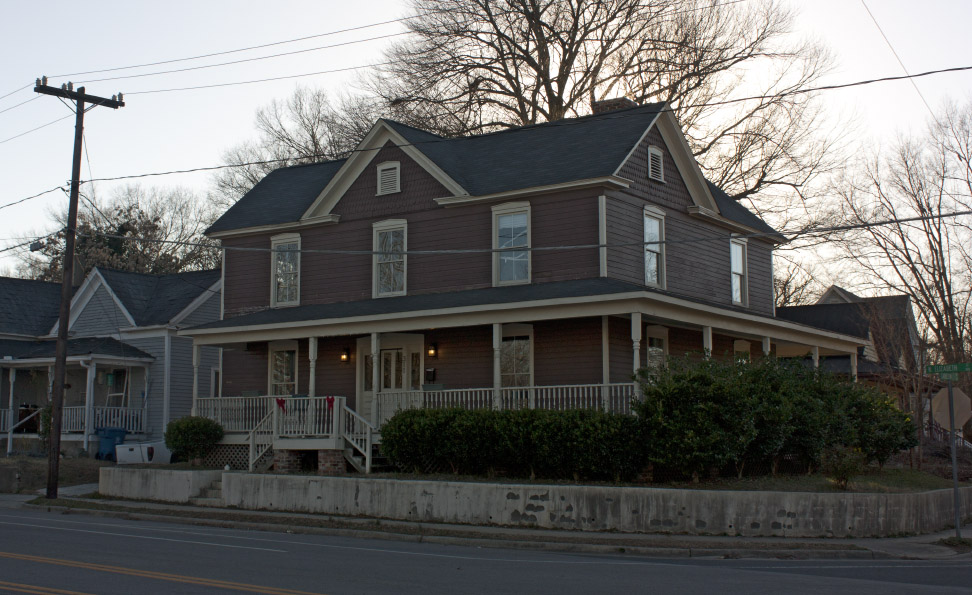 02.19.11
From the 1981 Durham Tech Survey of the neighborhood:
facing south on a decorative brick sidewalk, is a modest, badly deteriorated, German sided, Victorian triple-A resting on a brick pier and infill foundation and resembling an I-house except for the north elevation that is two piles deep and two stories high with a gable roof and a one-story gabled wing on the west elevation. A single, interior, stuccoed brick chimney with a pyramidal tin cap rises out of the standing seam tin roof that has boxed cornices with returns, a plain frieze board, and rectangular and diamond shaped shingles in the gable ends in which are wooden ventilators with surrounds matching those found on the rest of the house. Ashestos shingles cover the walls under the single-story, hip porch roof that wraps around three elevations of the house and has Eastlake posts, a replaced plywood ceiling, and missing balusters and handrails. The windows are all 2/2 with applied scrollwork on the pointed arch lintels and the front door is one light over one raised panel flanked by single, slender, sidelights and three paneled kick plates.
The house was extensively renovated in the early 2000s.
From the 2007 NR boundary increase:
The Lynn House is a two-story, I-house with two-story gabled rear ell on the north end and a one- story gabled ell on the south end. A one-story, hip-roofed porch extends across the entire east and north sides of the house and wraps around the rear (west) side of the house, terminating at the one-story rear ell. The porch features turned posts and modern turned rails. The house rests on a brick pier and curtain foundation and is covered with plain wood weatherboards. It has boxed gable returns, a plain friezeboard, cornerboards, decorative sawtooth shingles in the front three gables, and gable vents with pointed-arched wood surrounds. Two-over-two wood windows have pointed-arched wood surrounds and the front door is a two-light over three-raised panel door with original matching sidelights over panels and a pointed-arched surround. A corbelled brick chimney extends from the asphalt-shingled roof. The house is prominently sited on a slight rise at the intersection of Elizabeth and Carlton Streets. It has a stuccoed retaining wall and stair.
The earliest known residents are Arthur Lynn (messenger, Postal Telegraph Cable Company) and Walter W. Lynn (sawmill) in 1907. Cary J. Markham (superintendent, Virginia Life Insurance) and Ella E. Markham are listed from 1911 to 1915 and Robert L. Reams (conductor, Durham Traction Company) in 1919.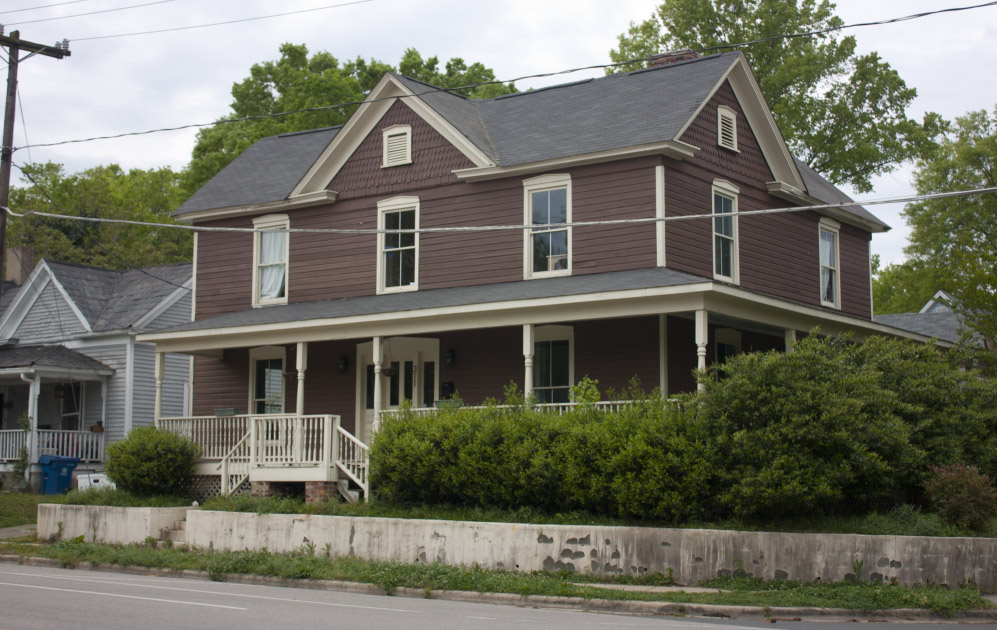 04.05.12