GEORGE WALL HOUSE / WALLTOWN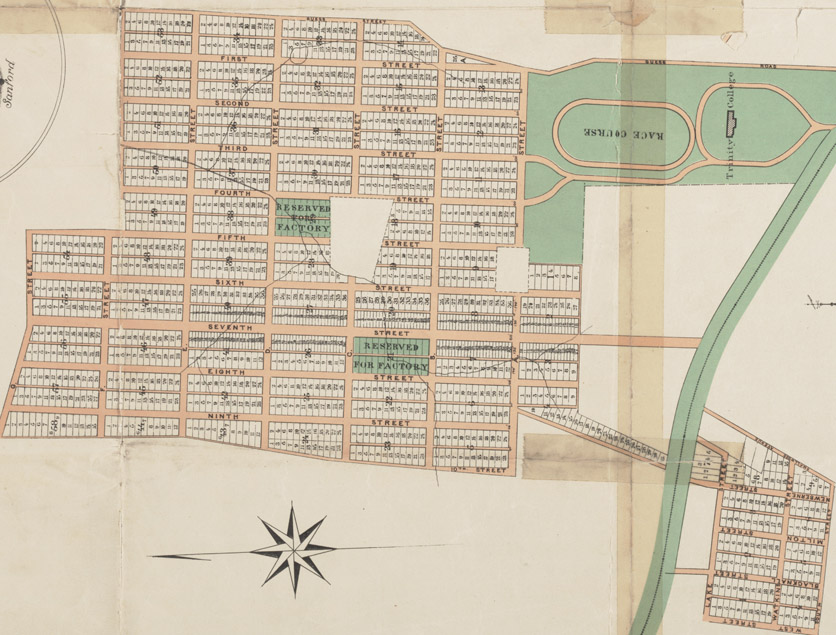 Durham Consolidated Land and improvement Company map, 1890
(Courtesy Digital Durham)
The land between the northwest portion of downtown (Morris Street), Duke of Durham, as well as the Brodie Duke estate and the developing mill village of West Durham was the subject of land speculation by the Enterprise, West End, and Durham Land companies. The majority of their holdings appear to have been amalgamated by the Durham Consolidated Land and Improvement Company in 1890. DCLIC was formed by Julian Carr, AB Andrews, and Richard H Wright in 1890, buying out the Enterprise, West End, and Durham Land companies.
From the November 1890 development map: "The West End or Trinity College portion of the above Company's property, shown by this map, contains 286 acres lying adjacent to the Trinity College Grounds. The Main building-cut of which find elsewhere on this map-is now under way, and the walls will most likely be completed and covered in by the time this map issues, as it is being pushed forward with all possible dispatch. Other fine, large buildings will be added next spring as well as many fine residences for the faculty. The lots offered for sale by this Company are beautifully situated for residences, and the advantages they afford to parents desiring to educate their sons are manifest. The lots set apart for residences are 50 x 140, with an alley 20 feet wide in rear and fronting streets 60 feet wide. They command fine views, are high and dry, with excellent natural drainage and easy of access to the centre of Durham by the Dummy Street Railway which the Company expect to build through this property, having already secured the exclusive street car franchise for the entire town of Durham. The Company propose to erect two or more manufactories on some suitable sites, on this property employing a capital of not less than $200,000.00, as soon as the first 800 lots offered shall have been sold, and others will follow in rapid succession, thus creating a large demand for lots for operatives, and offering a fine field for speculation. The lots set apart for business purposes will be 25 x 135. with an alley 5 feet wide in rear fronting an 80 foot street."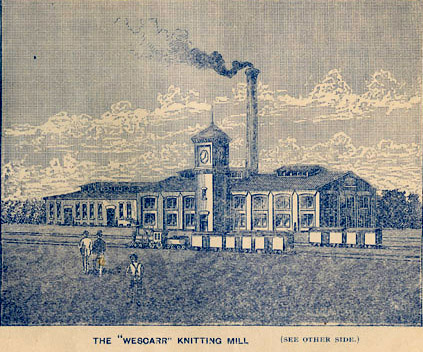 One of the proposed factories.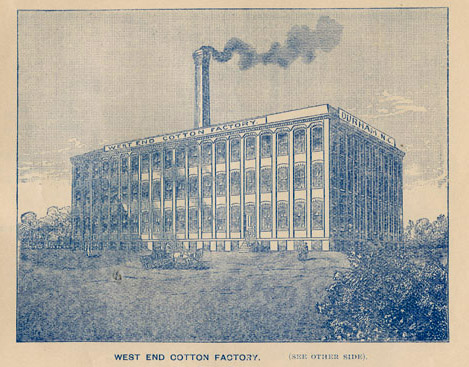 The other proposed factory.
The Trinity Heights lots, on the highest ground and closest to Trinity College, sold quickly. The lots farther to the north, located on more undulating terrain and farther from the College, sold far more slowly.
The Dummy Street Railway - which is referred to far too vaguely to get a sense of where it would have run or much in the way of any details - never got off the ground, and thus a good transportation link between the eastern portion of the neighborhood and centers of employment was absent. The factories were never developed, and the DCLIC seems to have faded - certainly by the time of Carr and Wright's respective deaths in the early 1920s.
It does appear that perhaps the original companies retained some ownership interest in some portion of the parcels. Although the DCLIC was marketing land as early as 1890, George H. Wall seems to have purchased the lot for his house from the West End Land Company, as represented by H.A. Edmundson, J.M. Carrington, and F.B. Carrington and his wife. He purchased lot #10, in block #30 on the above map on July 21, 1899. It appears that he bought the lot next door (#10) from the same group on April 2, 1906. He does not appear in the city directories at "3rd Street [Onslow] near Trinity Heights" until 1919, however; by 1923, his neighborhood is referred to as "Walltown."
History around George Wall seems to be somewhat vague; some accounts state that Wall, who seems to have worked as a janitor much of his life, (although he is sometimes listed as a "porter") was employed by Trinity College while it was in Trinity, NC, in Randolph County, and moved with the college to Durham in 1892. Jean Anderson notes that he served as a "bellringer and janitor" for Trinity College for 50 years, which would certainly imply that he served in those capacities for the Trinity, NC school as well. The exact location of his residence during 1892-1906 is unclear; in 1897 and 1905, his residence is listed as "Trinity Park." Generally this meant land east of the college, as land to the north was generally referred to in the city directories as "Trinity Heights." One interesting possibility is the idea that he could have lived on the campus itself; during the early transition of "Blackwell's Park" to Trinity College, the college was frequently referred to as Trinity Park - thus the origin of the neighborhood name. Some general history refers to Wall living in this area prior to this time; and indeed, the Wall Street AME Church, Trinity Heights, noted in the neighborhood in 1902, does lend credence to this.
By ~1911, this appears to have become Wall Street Baptist Church, on Wall Street, and in 1913 there is a 3rd Baptist Church, located at D and 3rd Street. Why Wall pops in and out of the city directories during the period from 1897-1923 is unclear; and if he did lend the name "Wall Street" to what would become 3rd Street, later Onslow, why he would be listed consistently in Trinity Park prior to 1906 rather than Trinity Heights is unclear as well. Why the neighborhood is named for him isn't particularly clear from this picture, but, regardless, it is. Clearly, he was living in the neighborhood in 1906 when he purchased 1015 3rd / Onslow with his wife Hattie.
The neighborhood cemented around the Walltown Graded School, built in 1919, as well as the Baptist Church. From the earliest landowners in the late 1900s / 1910s, and over the course of the early 20th century, the neighborhood became a cohesive, predominantly African-American community.
The map below from 1937 - a small piece of a rather incredible one that I've written about previously that 'color-codes' streets by race, shows Walltown and its relation to Duke and the other neighborhoods of West Durham. Note also the incinerator - both shockingly (to see it laid out so plainly) and unsurprisingly, 3 of the 4 city incinerators were located in neighborhoods that were also 'coded' as African-American on this map. (The fourth was on the eastern edge of East Durham.)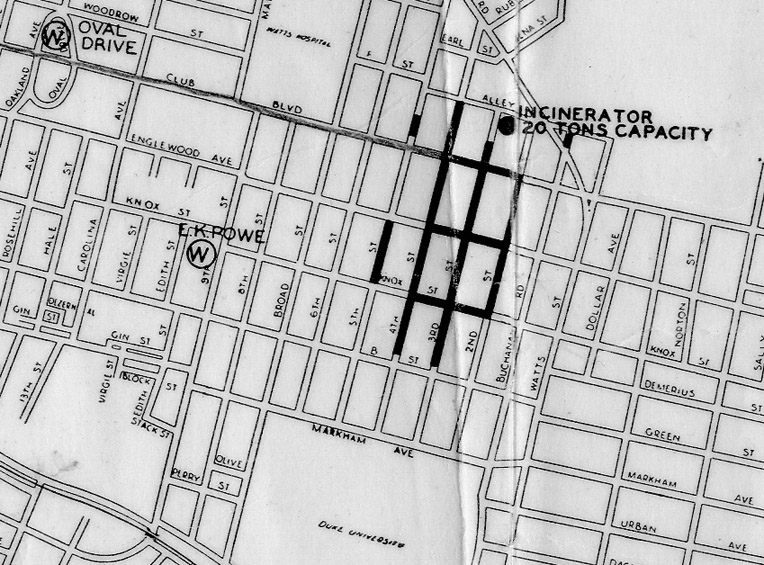 George Wall is listed at 1015 3rd through the early 1930s, but by 1940, only Lillie Wall is listed at the address. Per Jean Anderson, he died in 1930. Walltown fell on harder times into the 1960s and 1970s, but fought a battle have the waste incinerator shut down and removed from the northern part of the neighborhood. The area was, by ~1990, converted to a park - Walltown Park. Around the same time, Walltown School was shuttered. (The details on these dates seem very hard to pin down - I'd welcome additional sourced research.)
There has been a slow rejuvenation of Walltown over the last 10 years. The conversion of the Walltown School into community center and the Carter Charter School was a boon to the community. The conversion of a former neighborhood grocery store, which had become a haven for illicit pharmaceuticals, into a community center was another gain. Self-Help's investment in the neighborhood has bolstered home-ownership and been a boon to the neighborhood overall. Although I frequently disagree with Self-Help's proclivity for tearing down older houses and replacing them with new ones versus rehab, I'm certainly in favor of creating mixed-income neighborhoods with strong homeownership and ongoing affordability. The Walltown Children's Theater has been a bastion of good works and creativity since opening in 2000. And news this week is that the Walltown Rec Center has opened to much fanfare in Walltown park.
George Wall's house, unfortunately, has sat abandoned for an indeterminate number of years. It is caught in that rather particular old house purgatory - owned by family members who will not sell / let go of the house, but have no money to make necessary repairs or improvements to revitalize it. It's never a story with easy answers - and sometimes (I have no idea in this particular case) the real motivation is monetary after all - if a house is 'worth' something to a community vis a vis history, well then it must be worth a sales price belied by the condition of the property. Regardless - it is a hard spot from which to get a house un-stuck. I hope, though, that a path through the thorns can be found to preserve this little house. It's such a rare thing to have the house of a neighborhood 'founder' still standing in Durham, and the house (some terrible windows aside) seems so emblematic of what Walltown was and is becoming again - not wealthy, unpretentious, solid, and charming.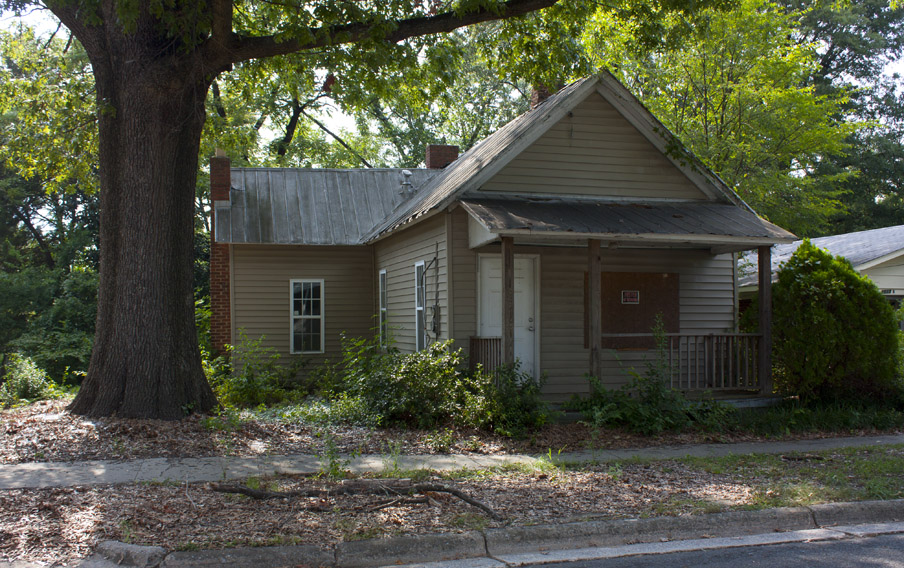 1015 Onslow, 07.25.10