JESSE HARPER ERWIN HOUSE - SUNNYSIDE
Built in
1904
/ Modified in
1914
,
1986
entire house was not converted to apts.  only the second floor was converted.  Mr. Erwin Sr. (wife predeceased him) lived on the maiin floor with his daughter (Mrs. Mary Michie) and granddaughter until his death.  His daughter continued to live there until the property was sold about 1970 with the Poe-Roberts house.  another daughter lived in the little house behind the big house also until this time.
In tours
This building does not appear in any tours yet.
Last updated
Wed, 05/17/2017 - 1:50pm by gary
Location
36° 0' 18.5616" N, 78° 55' 14.6244" W
Comments
Built in
1904
/ Modified in
1914
,
1986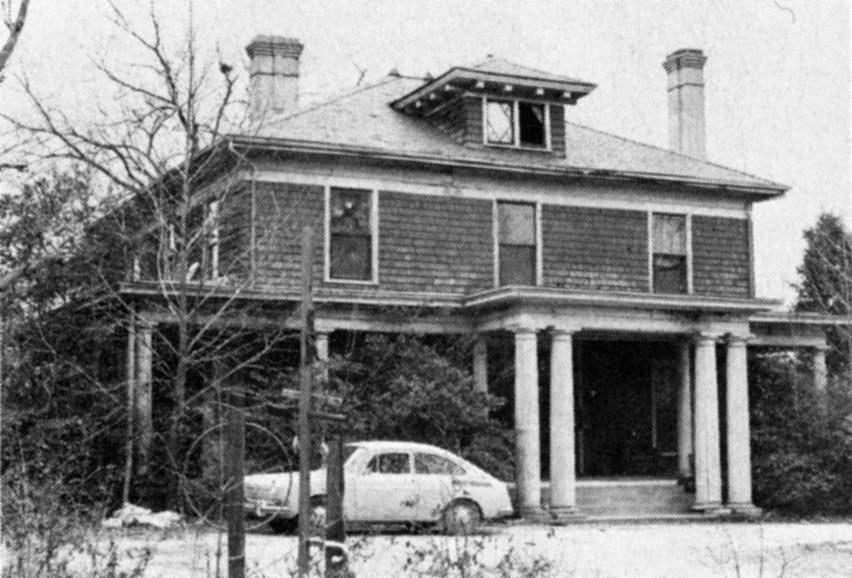 Jessie Harper Erwin, brother of Erwin Mills co-founder William Erwin, came to Durham in 1899 to assume the position of secretary treasurer of the Durham Cotton Manufacturing Company after the previous man to hold the post, William Branson had been killed in a boiler accident. Prior to his arrival in Durham, Erwin had been secretary-treasurer of the EM Holt Plaid Mills in Burlington. Upon his arrival in Durham, he also assumed the same position at the Pearl Mill.
By 1904, he had constructed a house on Caswell Hill in West Durham near the estate of his brother. The house, which he called "Sunnyside", was designed by noted local architect Hill C. Linthicum, and was highly unusual for the time in that the exterior was pebble-dash. The historic inventory recounts the legend that while the Ringling Bros. circus was in town, one of the original seven brothers stopped by to inquire about the house, as he wanted to build his own pebbledash exterior home.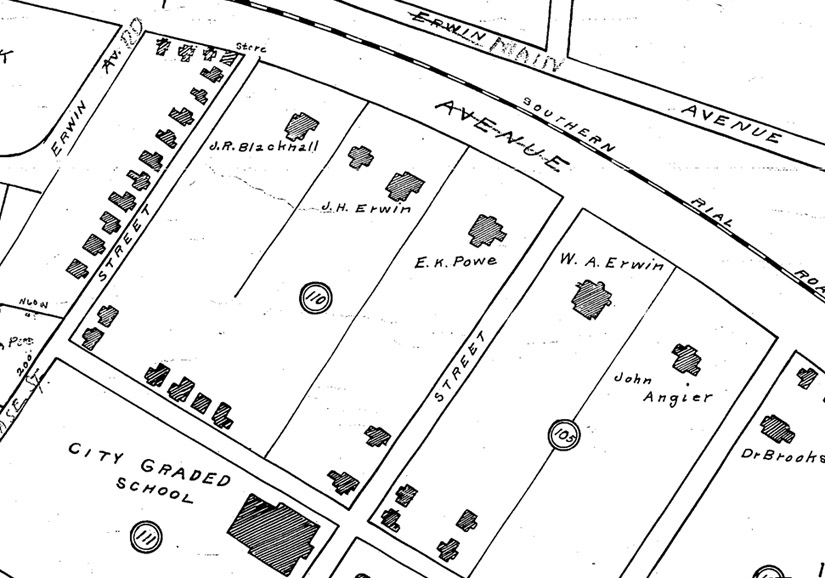 Map of properties along West Pettigrew St., 1910.
(Courtesy Duke Rare Book and Manuscript Collection. Scanned by Digital Durham)
Around 1914, the pebbledash exterior was removed, and replaced with cedar shakes.
Despite his West Durham roots, Erwin was involved in East Durham affairs as well, by virtue of his involvement with the Durham Cotton Manufacturing Co. He donated a lot on Hart St. for the construction of St. Andrews' Episcopal Church. In 1934, he offered to donate the park and pool associated with the Durham Cotton Manufacturing Mill to the city for an additional city park facility.
Erwin Sr.'s son, Jessie Harper Erwin, Jr. converted the second floor of Sunnyside into apartments in the late 1940s. He removed the original grand staircase from the interior, and removed several of the outbuildings in the backyard. JH Erwin Sr. lived on the ground floor until his death in 1962, at 98 years of age.  His daughter, Mrs. Mary Michie, and her daughter lived with him.  After his death Mrs. Michie continued to live there until the property was sold along with the Poe-Roberts property about 1970.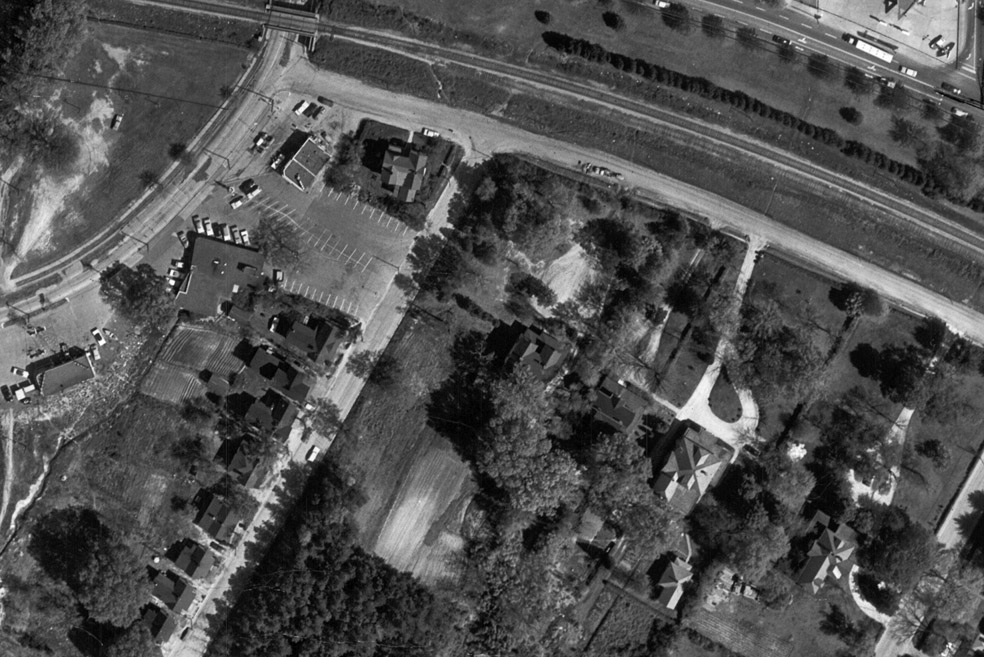 1959 aerial - Sunnyside has the large circular-ish drive in front.
(Courtesy Durham County Library / North Carolina Collection)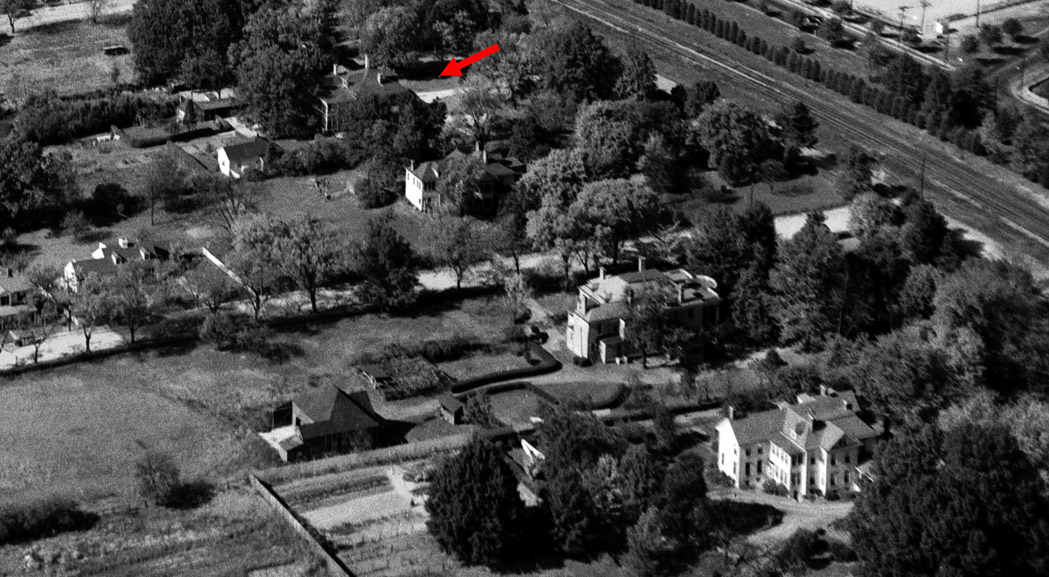 1950s Bird's Eye view of West Pettigrew St., looking northwest, Sunnyside denoted by the arrow.
(Courtesy The Herald-Sun)
By the 1970s, Sunnyside had become fairly decrepit, although along with the neighboring EK Powe house, a well-known hangout for students.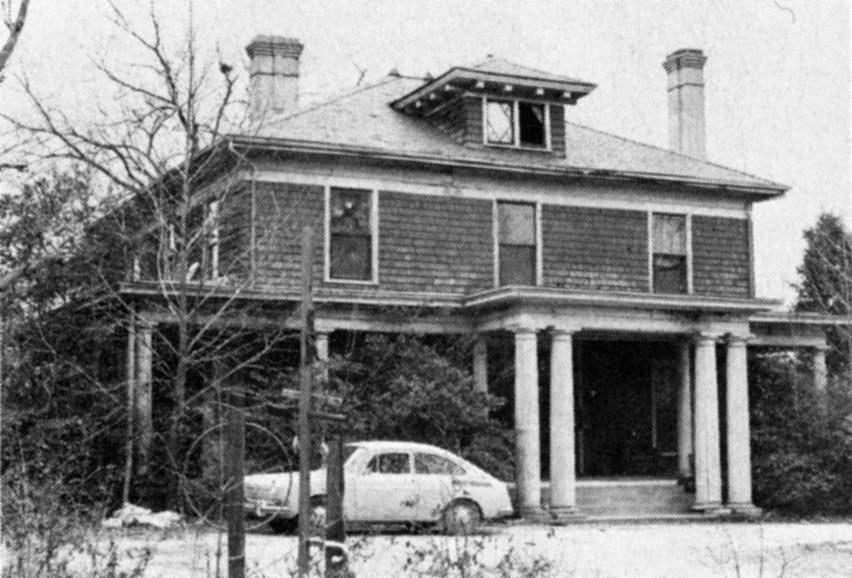 Sunnyside, 1980.
In the 1980s, a developer from Charlotte named Brian South bought Sunnyside and the EK Powe house next door. As the Herald described the plan on 10.5.86:
 
The houses are side by side in a veritable jungle of huge magnolias and willow oaks, but Sunnyside will be moved - all 325 tons of it - about a hundred feet and turned to face the Powe House. A brick courtyard will connect the two, which will then be turned into six office condominiums.
Renovation of the Powe house has already begun, and Sunnyside, which has 5300 square fee, has been lifted onto steel beams by massive jacks. A brace of tractor-trailer cabs will begin moving the two-story-plus house this week.
South said the land cost, site preparation and renovation will cost between $300,000 and $400,000, of which $27,000 is going just to move Sunnyside.
This summer, people living in the houses held a farewell party with a rock band, an entire truckload of beer and a lot of what appeared to be hand-rolled cigarettes. The party, attended by several hundred people, lasted the entire night. Last week, the only evidence of the former inhabitants were two strings of dried peppers and some red, cutout hearts over one doorway in Monkee Top [sic].
The house also was well known for an annual 'chili wars' party, which attracted the favorite chili recipes of party-goers from miles around. Prizes were given for the best recipe, the hottest concoction, and so forth. 
South said the most unusual thing discovered in the renovation work was an entire skeleton of a dog, which was found behind a staircase in Sunnyside. 
Per the Herald, "Durham musician Billy Stevens lived in Sunnyside." Stevens is quoted in a September 27, 1987 article
[B]etween the time Mrs. Mary Michie (one of J H Erwin Sr.'s daughters) had left the house and Hillhaven had taken over, "the house was empty and left basically open. At that time, furnishings were stolen and sold, people took pillars off fireplaces, even the city came and collected copper from pipes. As a result, the bathrooms came into disuse."
"Then, in 1968 or '69, the first group of community people - ex-Duke and off-campus - began moving in, and from then on passed rooms from person to person. The highest rent they ever paid was $200 for the whole house, and anywhere from four to 10 people lived there at one time."
"Early in the 1970s, the upstairs became craft shops, and later there was a music studio downstairs. There was a leather shop - George Danser, who does stained glass art design, had his shop there - and potter/artist Eddie Smith was there. There was an eight-track recording studio in the basement; just about everybody who lived there was an artist or a musician. That's just the kind of house it was and the kind of energy it attracted."
According to Stevens , the current jazz scene in Durham "really coalesced there - Brother Yusuf Salim playing during his early days in Durham at the weekly Tuesday jam sessions. "The house had incredible jam sesssions for years. A lot of music was being played there."
While the Powe house garnered a reputation for housing "paper people - people in graphics arts and writing. The house was famous for Sunday morning breakfasts that attracted anywhere from 10-50 people, usually followed by a volleyball game, for its Valentine's Day party and Halloween celebrations"
Sunnyside, on the other hand, was notorious for its parties.
"It was the all-time perfect party house because it was so huge," Stevens said. "You could get a five-piece band in the living room and it was built so strong it could take the dancing. Once the word got out about a Sunnyside party, you never knew who was going to show up - bikers in Hillsborough would find out, everybody would find out. There was something different about parties at Sunnyside; they had a real raw edge, but they were great for that reason."
Meanwhile, the condition of the house continued to decline. According to Stevens, "about four years ago [1983] someone came to the house to do a book on houses in Durham and saw that it was in terrible condition, and went to the City of Durham and asked why it had deteriorated so."
"They looked at the files, and someone had pulled the file. So they inspected it, and Sunnyside had something like 78 violations - a record. They told Hillhaven, either you fix it up or tear it down."
Since the musicians living there often played at Hillhaven and had a good rapport with their landlord, Stevens said, "they said, 'Look, we'll do repairs if you buy the materials.' They ended up spending several thousand dollars on it for repairs. We did repairs at the rate of 25 a month. We got to know the inspectors real well."
Finally, the house reached a point where patchwork repairs just wouldn't do. Enter Brian South [...] According to Stevens, he arrived just in time.
South said he got the houses essentially free in exchange for a promise to Hillhaven to rehabilitate Sunnyside. Of the original two-plus acres involved, South bought just over an acre and Hilhaven kept 1.2 acres for possible expansion. 
Also on the Hillhaven side of the property is a small 1000 square foot cottage which will be moved too.
South expressed disappointment that Sunnyside was not approved by the National Park Service as a National Historic Site. He says he suspects the biggest reason is the 100-yard move from the original site. The Powe house is already listed as a National Historic Site.
The writer undoubtedly means listing on the National Register, which would have qualified renovation Sunnyside for historic tax credits. 
Around October 19, 1986,  South moved Sunnyside to the east and turned it to face the former EK Powe House (south). He renovated both houses as commercial spaces. South also renovated the former Public Library on East Main Street and the "Few House on Buchanan" before disappearing from the scene.  The back porch added to Sunnyside in the renovations is a completely false addition.  There was nothing but a back stoop and a long flight of stairs to the ground (because the land sloped down from the front to the back of the house.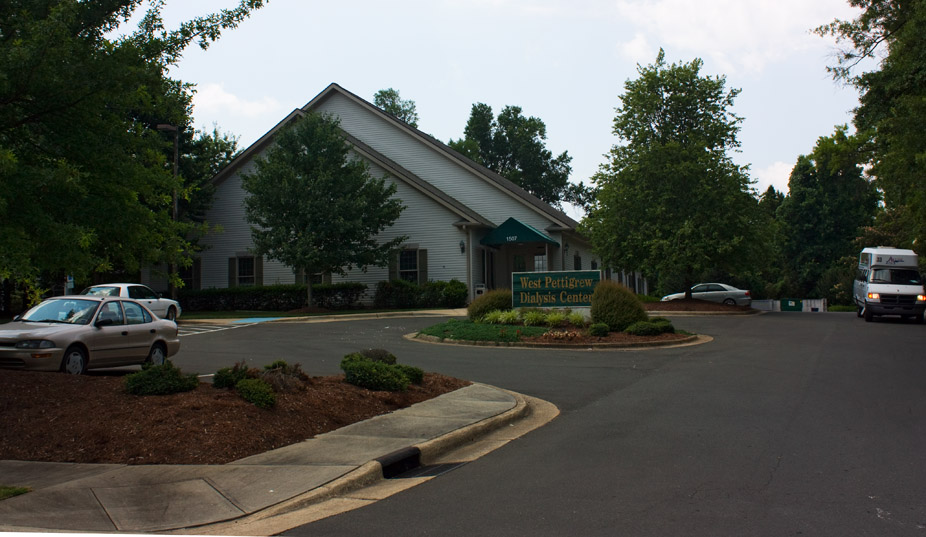 Former site of Sunnyside, 06.27.09
The former Sunnyside and the former EK Powe house face an interior parking lot, and form a complex of office space at Swift and West Pettigrew Sts.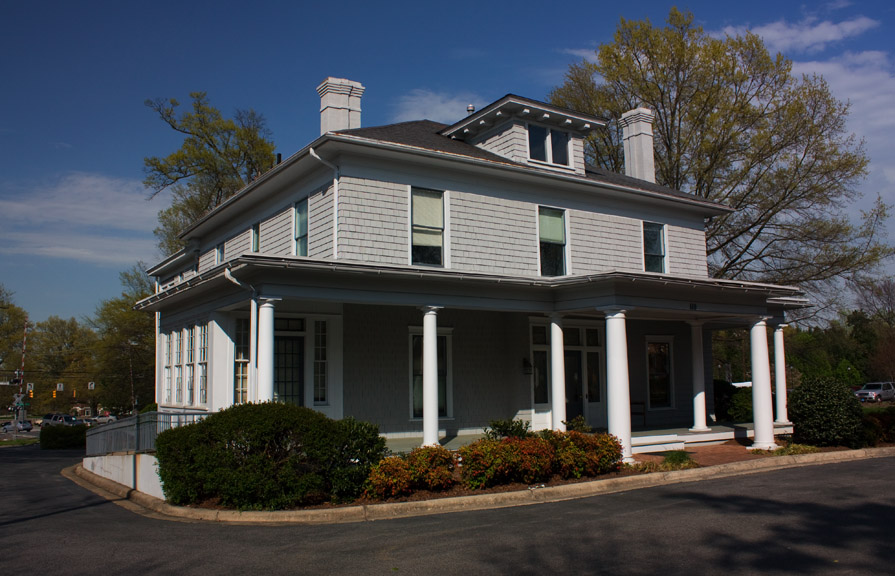 Sunnyside, looking northeast, 04.05.09
Find this spot on a Google Map.
36.005156,-78.920729