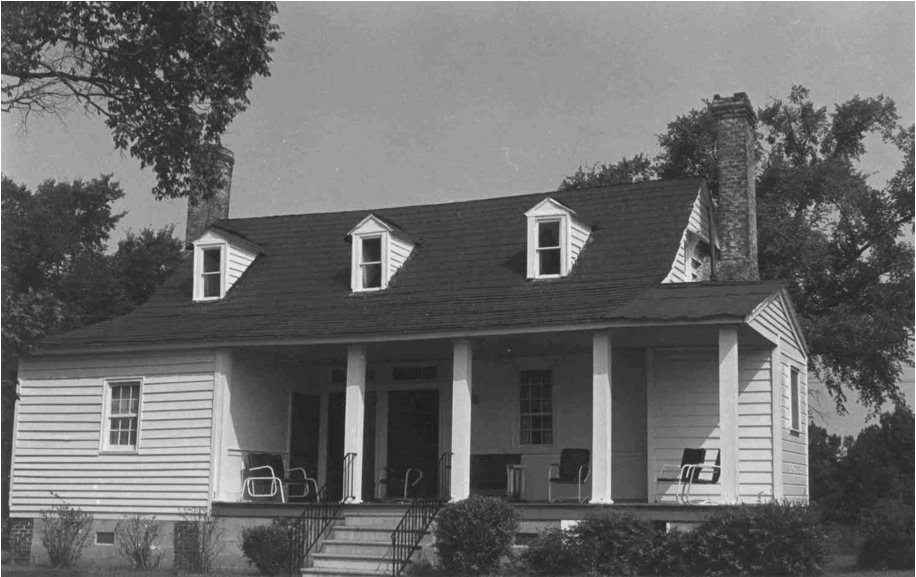 An unusual house type for Durham County, the frame one-and-a-half-story coastal cottage thought to have been built ca. 1812 by John Nichols, has been in his family-by-marriage for almost 185 years. When Nichols was killed in an accident, the house became the property of his widow, Mary, who married Granderson Philpott. Title subsequently passed to Philpott's daughter, Isabella, and her husband Calvin Rogers, who, at various times, was a postmaster, Wake County Sheriff, and Wake County Representative to the General Assembly. Their youngest son, James Rogers, inherited the house, followed in turn by his daughter, Lukie Rogers Hall, then by her nephew, Thomas Rogers, and recently by his sister, Thomasina Rogers Wilkins.
A broad gable roof notable for prominent dormers, shelters an engaged front porch and a full- width rear shed thought to be original to the house. A small room on the porch was later enclosed. The interior of the house has a hall-parlor plan, and retains much early fabric that includes wide-board flush sheathing, paneled wainscoting, beaded ceiling joists, and one paneled mantel. Both batten and paneled doors are held in place by HL hinges. In 1980 after Thomas Rogers inherited the house, he began its careful restoration, removing inappropriate twentieth-century alterations, and rebuilding missing features. The double-shouldered chimneys at either end of the house were reconstructed with special care to retain the shape and size of the originals. An entrance discovered adjacent to the chimney on the east facade was opened again. Beaded weatherboards were milled to match and replace deteriorated exterior siding. A three-pane transom that surmounts a front door and double-hung sash windows, nine-over-six, six-over-six, and four-over-four, were repaired or replaced as necessary.
A two-story gable-roofed outbuilding, apparently altered and perhaps used as a pack house during the early twentieth century, is said to have been a late eighteenth-century dwelling that afterward served as a kitchen and slave house.  An early log smokehouse and small log barn also stand on the property. A family cemetery near the house contains a number of burials that includes the graves of Calvin and Isabella Rogers who died in 1876 and 1887 respectively.