In tours
This building does not appear in any tours yet.
Last updated
Mon, 04/01/2019 - 4:42pm by gary
Location
35° 59' 33.5148" N, 78° 55' 10.3548" W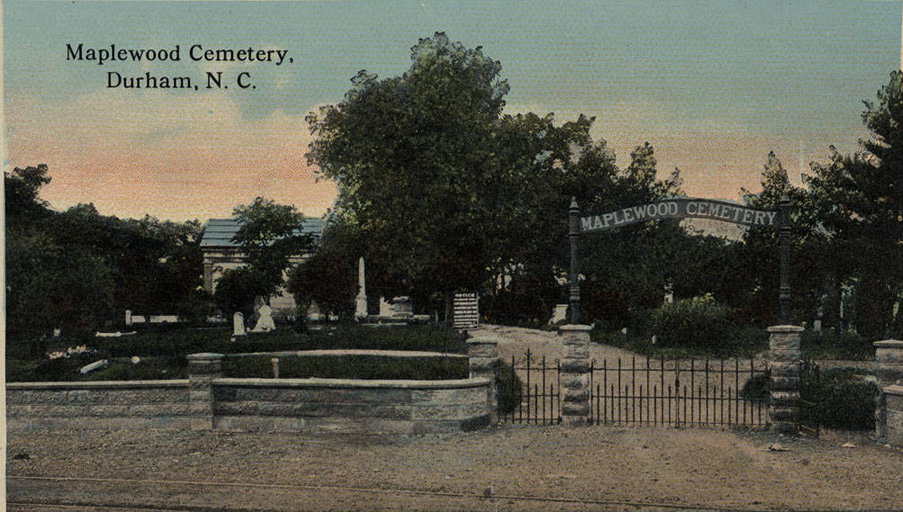 (Courtesy University of North Carolina Library, North Carolina Collection)
Maplewood Cemetery was established in 1872 by the purchase of an empty field of land to the west of the city limits. William H. Willard was paid $1500 for the land. Prior to establishment of the cemetery, people had been buried in the churchyards of their particular church. Some were exhumed from the churchyards and reburied in the cemetery.
The cemetery was established at what is now Kent St. and Morehead Ave. - essentially, at the time, a ways out of town on the road to Chapel Hill. While some minimal development already existed in the West End, the town grew around the cemetery. The cemetery was located on high ground, and while the high ground developed early, the ravines to the south and east developed more slowly. The city at some point established a separate, adjacent cemetery for Jewish burials.
During the 20th century, the cemetery expanded to the west along Duke University Road. Oddly, in 1934 the city made the decision to locate Bartlett Durham's body - buried in a metal casket at the Antioch Church in Orange County. They did so by means of plunging crowbars into the ground until they hit something metal. They exhumed the casket, which had a glass 'window' through which they could see Dr. Durham's gold-rimmed glasses. He evidently 'lay in state' at Hall-Wynne funeral home before being buried in Maplewood with a new marker (which errs on his middle name, birth date, and death date.)
Allen Dew's excellent cemetery census reference site has a seemingly comprehensive list, and notes 22,000 burials in Maplewood. The cemetery is surprisingly large - 120 acres in the middle of the city.
The old part of the cemetery today is a peaceful and, to my mind, beautiful and strangely under appreciated place. While due to demolition, there are few extant houses associated with the people whose names appear repeatedly in any study of Durham history, the old part of the cemetery is a veritable Who's Who of movers and shakers in Durham's past. Amongst big oaks, magnolias, and cedars are monuments large and small - statuary, crypts, even big guns.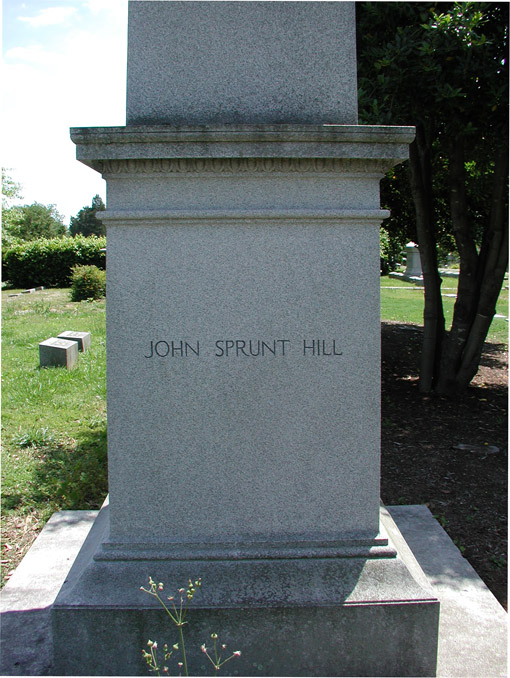 Grave of John Sprunt Hill (G. Kueber)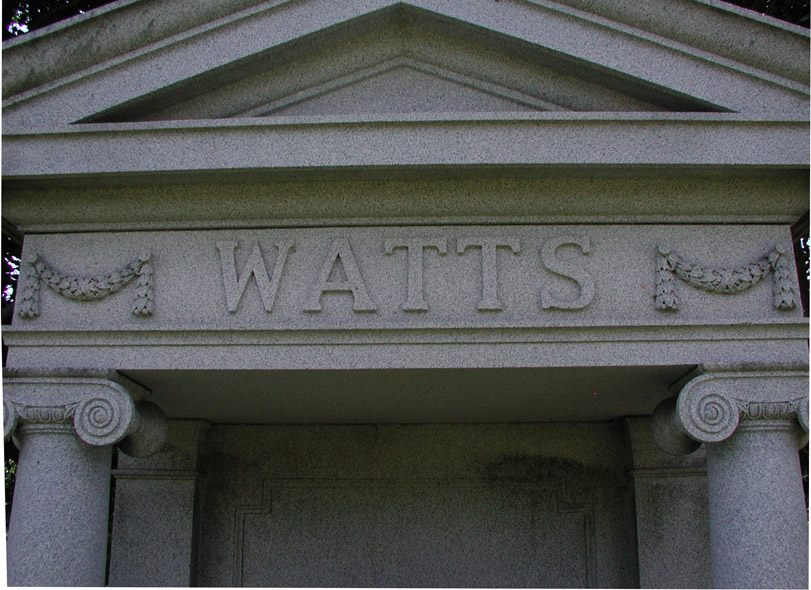 George W. Watts (G. Kueber)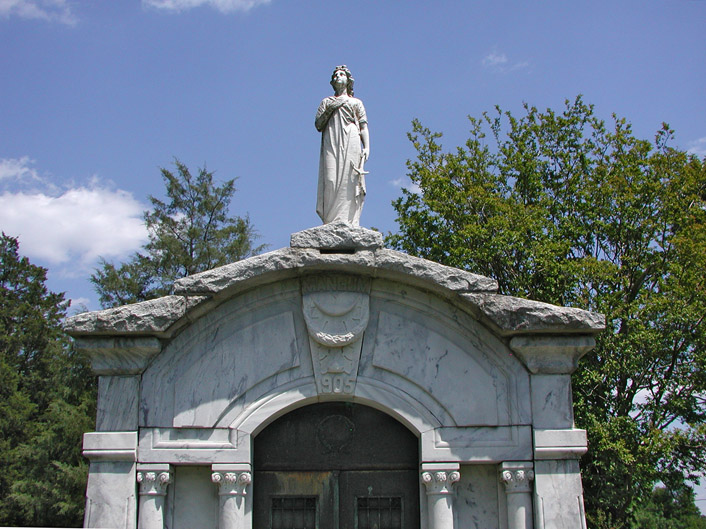 The Mangum crypt (G. Kueber)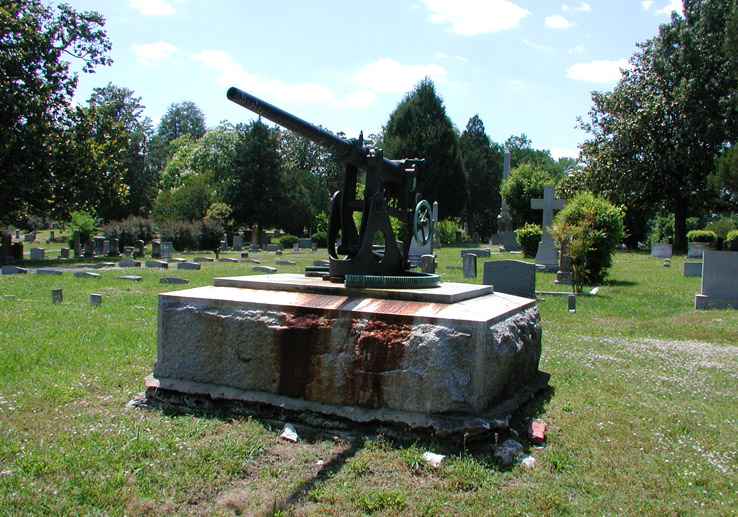 A cluster of CSA graves complete with a large gun. (G. Kueber)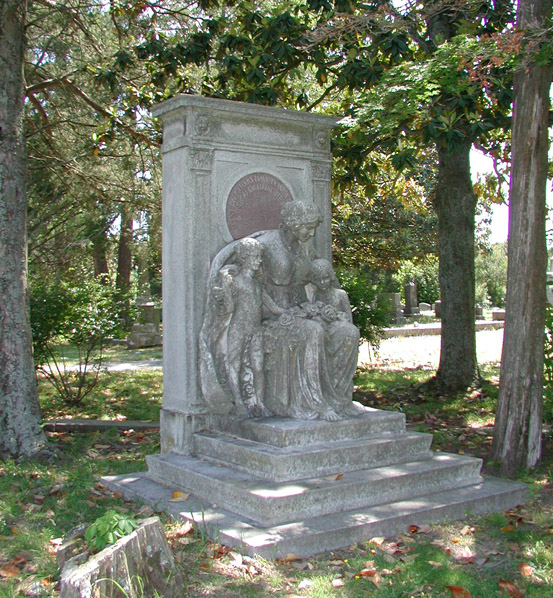 Examples of statuary. (G. Kueber)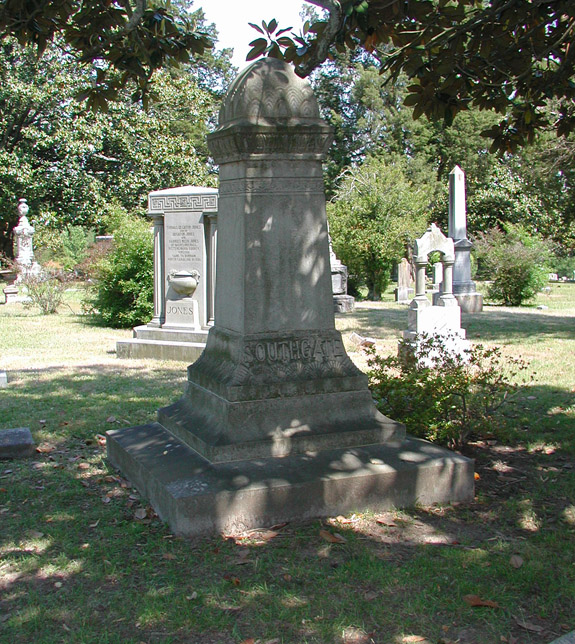 James Southgate (G. Kueber)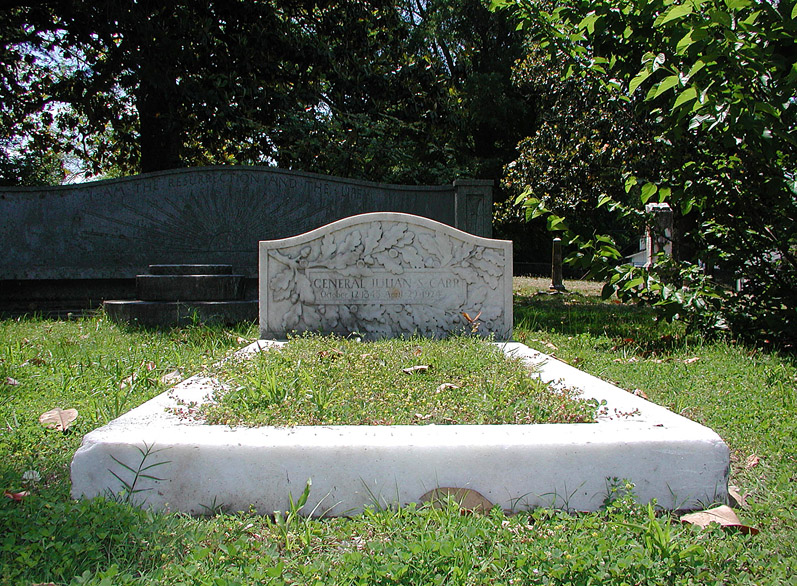 Julian S. Carr (G. Kueber)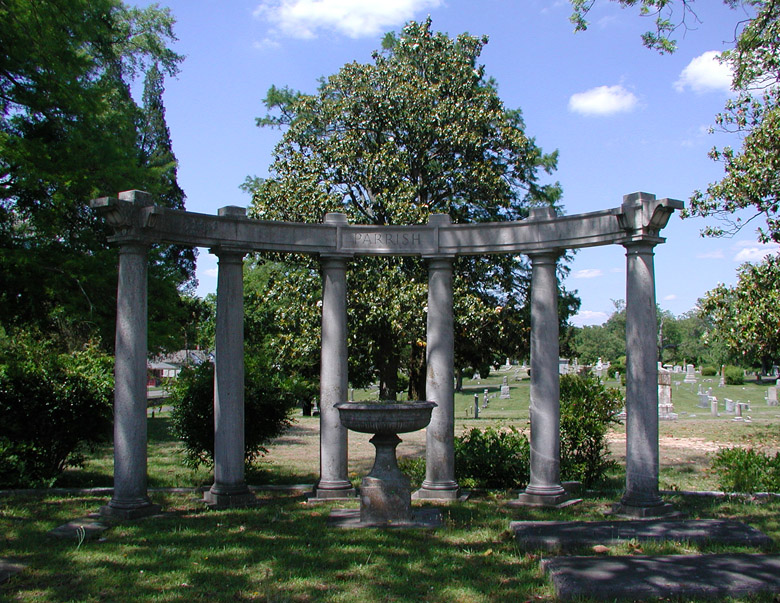 EJ Parrish (G. Kueber)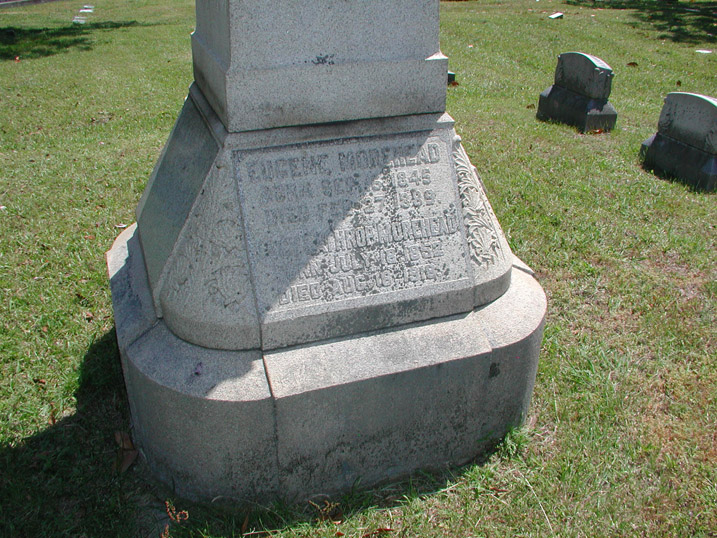 Eugene Morehead (G. Kueber)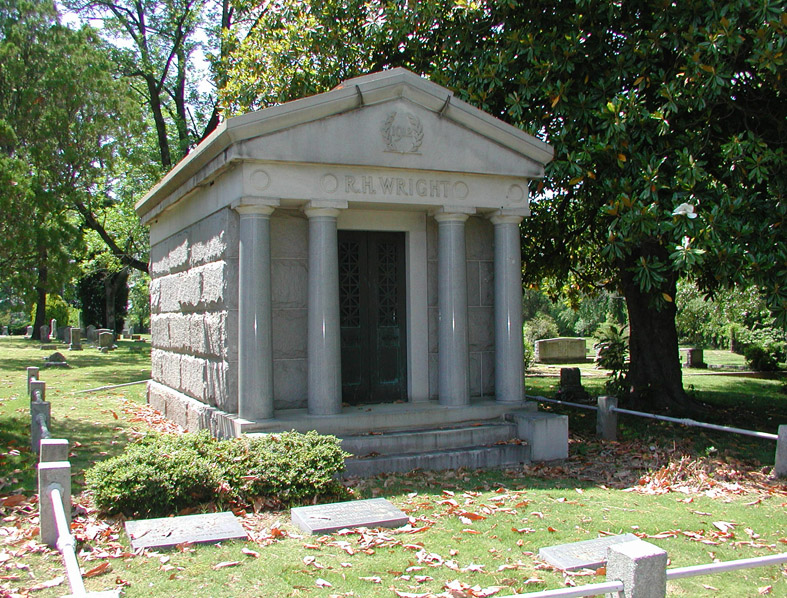 Richard Wright (G. Kueber)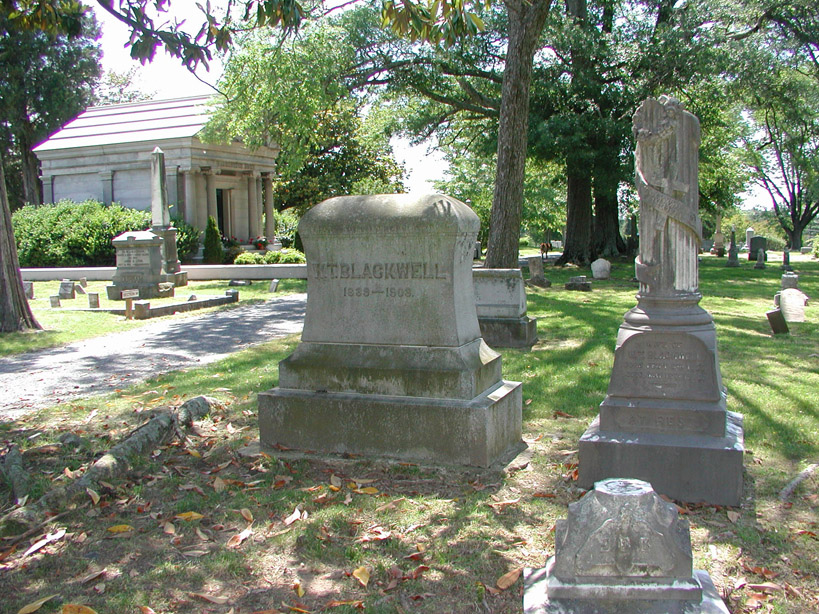 WT Blackwell (G. Kueber)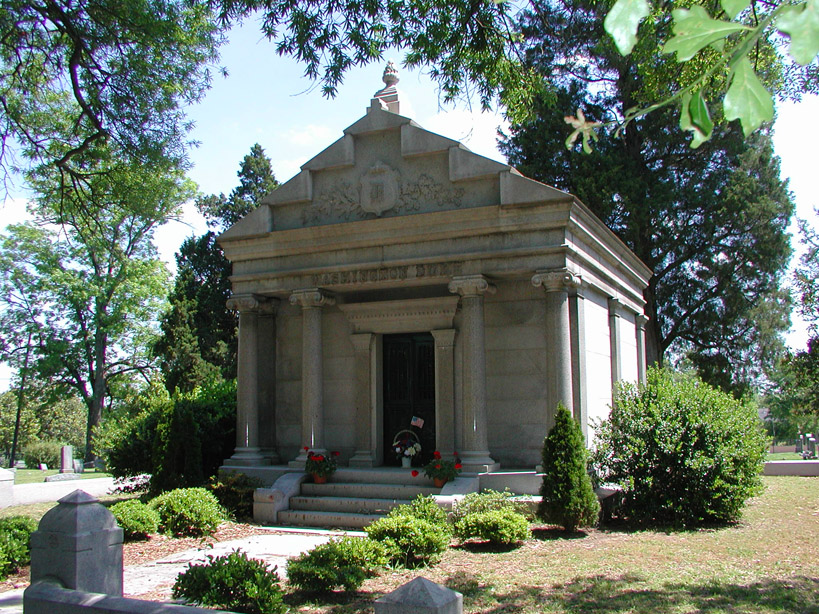 The Duke mausoleum. (Washington, Ben, and Buck were exhumed from this grave and interred in the crypt of Duke Chapel, but other family members remain.) (G. Kueber)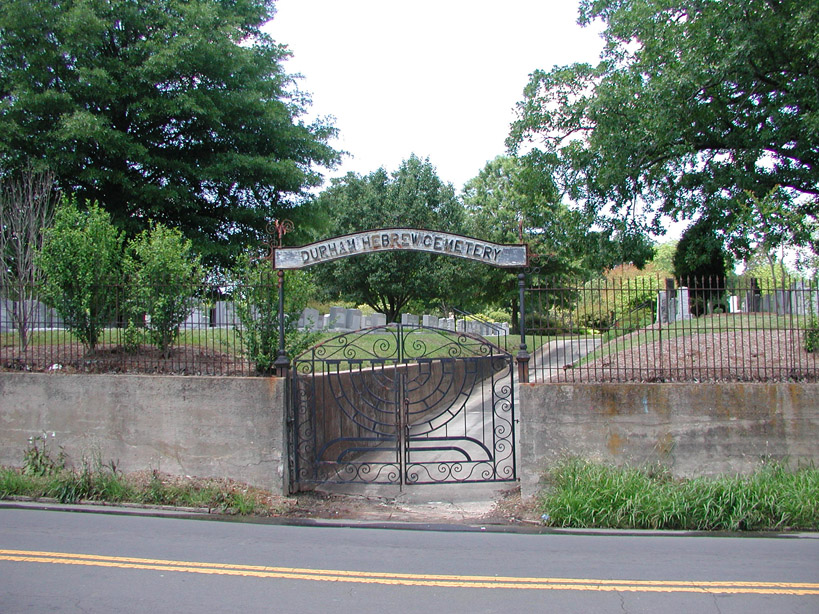 (G. Kueber) At the southeastern corner of Maplewood is the Durham Hebrew Cemetery, with an entrance off of Morehead.  The very detailed site devoted to mapping and sharing stories about those buried there is worth a visit.
In a bit of dark humor, Wyatt Dixon related the story in a few of his Morning Herald newspaper columns that the first man to be buried in the cemetery opposed its purchase. Louis Austin - who evidently held some role in the city that gave him a voice in this decision - opined that the city needed a baseball field far more than it did a cemetery. He was overruled. Soon afterward, though, he participated in a celebration of a Democratic victory (Carr over Duke for ? State Senator) by repeatedly firing a cannon that was located at the Old Bull Factory. The cannon exploded, killing Austin, and removing limbs from his fellow celebrants. He is therefore buried at grave #1.
I'm not sure why more people don't seem to venture into Maplewood - maybe not everyone finds cemeteries to be beautiful places. But I highly recommend a walk-through on a pretty day.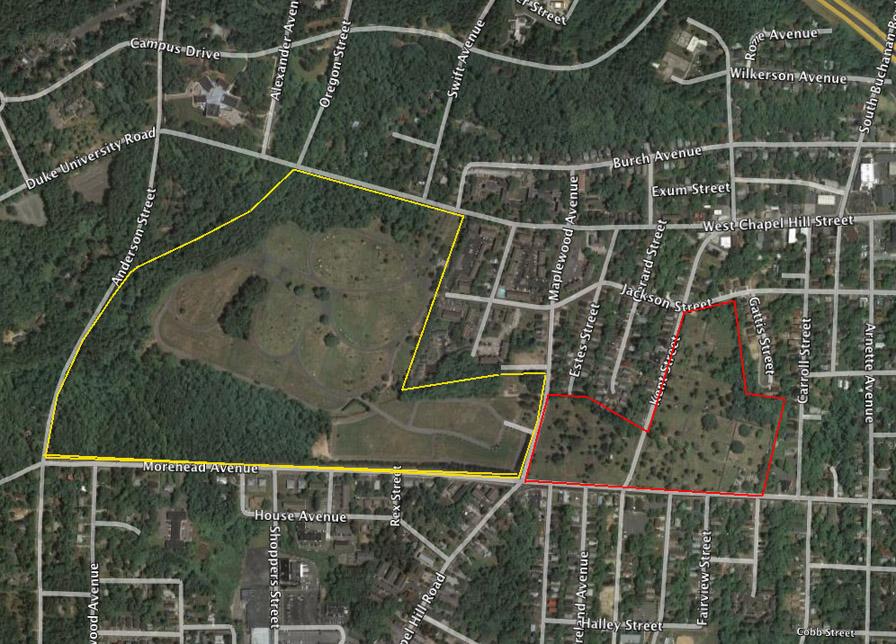 Aerial of Maplewood - the older section is outlined in red, the newer, more car-centric and minimally treed portion is outlined in yellow.