NELLO TEER SR. HOUSE - WOODLAND TERRACE
Built in
1922
/ Modified in
2009
In tours
This building does not appear in any tours yet.
Last updated
Sun, 07/08/2012 - 3:17pm by gary
Location
36° 2' 41.1684" N, 78° 54' 14.5332" W
Comments
Built in
1922
/ Modified in
2009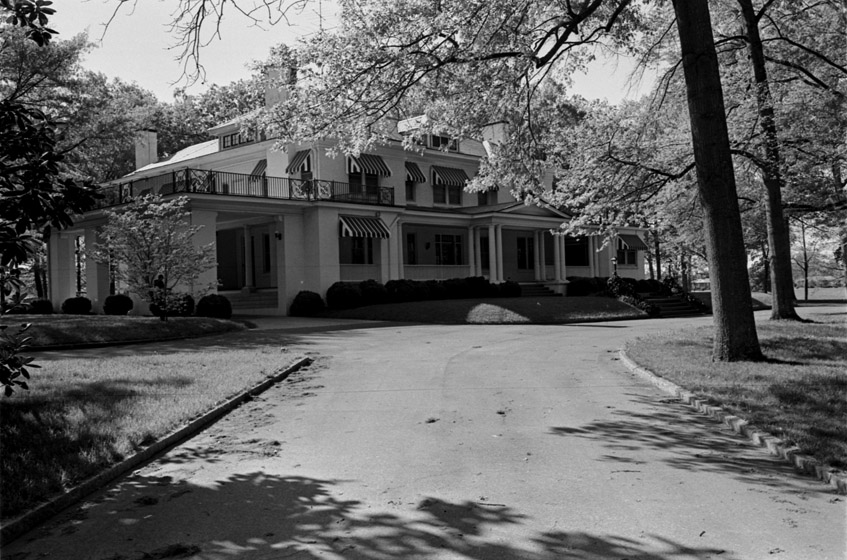 Teer House, 04.16.68
The last of the large 'summer houses' of Durham's early industrialists along Roxboro Road to remain standing in its original setting/location, the Teer House was built in 1920-22 for Nello L. Teer. (Conflicting sources say 1915.)  Born in 1888, Teer started work in the East Durham brickyard of his father, Washington Teer after having dropped out of school at age 9. A work accident amputated his right hand in 1906, ending his brickmaking career. However, by 1909, he started his own paving business, early on winning contracts to macadamize Durham's roadways. His immediate success is evident in the construction of this house 6 years later, when Teer was 27 years old. Over time, Teer built his paving business into a major company that paved thousands of miles of roadways - throughout NC, the US, and the world, including the Pan American Highway in Central and South America.
Nello Teer's brother and partner in the company, Hubert Teer, built another well-known house in Durham: the large colonial revival house at Chelsea Circle and Hope Valley Road with miniature version of same in the yard.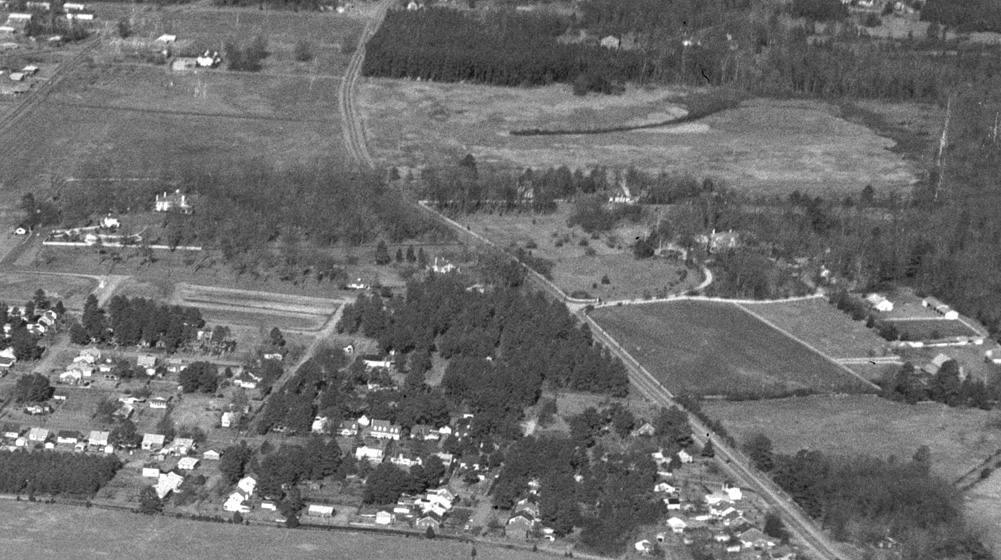 Aerial showing the Teer house just to the north of the housing development; Bonnie Brae - Richard Wright's house - is to the right, across Roxboro Road.
(Courtesy The Herald-Sun Newspaper)
Per "Courage Ever: An American Success Story: Nello L. Teer Sr. and His Company," 
Rigsbee and Lawrence Construction Company in Durham, NC built the Nello L. Teer Home Place on Roxboro Road between 1920 and 1922. Designed by Milburn, Heister, And Co., and architectural firm based out of Washington, DC. the project was overseen by Mr. Telphor Lawrence, who served as Superintendent. Until the mid-sixties, the home place was known as Woodland Terrace. Though the home place and its immediate surroundings sit on ten acres of land, Mr. Teer's entire property consisted of 52 acres. He kept his company equipment and maintenance facilities on the remaining property until 1956. Having spent his childhood on a farm (on Burch Avenue,) Nello decided to build horse stables behind the house. He also dabbled in the dairy business as a hobby and hired two men to milk his Guernsey cows seven days a week. With a fully functioning dairy on the property, Nello regularly supplied his family with fresh milk. 
The house was originally red brick and the current slate roof is the original. The house was painted white after World War II and part of it was air conditioned as early as 1940. Most of the trees on the property existed when Mr. Teer built the house; however, he added many others over time. Interestingly enough, the Durham County Commissioners and the Civil Aeronautics Board tried to build the Durham Municipal Airport on the home place property in 1935, but Mr Teer lobbied against it and won.
[While this may be in part true, the county was interested in the Durham County Home site to the south, primarily, and the effort failed for a variety of reasons - not solely due to any lobbying by Teer.]
In 1947, Mr. Teer moved across the street from the house and Nello Jr.'s family into the home place. Mr. Teer died in 1963, and his sons, Nello Jr. and Dillard, gave the house to Duke University Medical Center.
Dr. Kempner utilized the house for one of his Rice Diet clinics for several years, and Duke later used the house for a Faculty Club, and later yet, a nurses' training center.
Duke appears to run a health system community education program out of the house now; the house and grounds have been undergoing extensive renovation of late.


Teer House, looking west, 01.17.09