NICHOLS-BELVIN-STOKES HOUSE
In tours
This building does not appear in any tours yet.
Last updated
Mon, 12/19/2011 - 8:35am by gary
Location
United States
36° 2' 49.38" N, 78° 51' 33.0084" W
US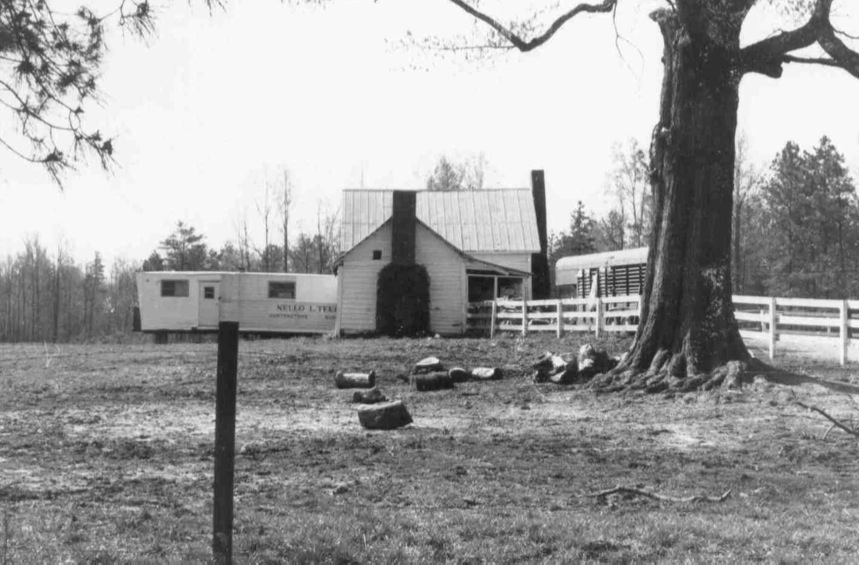 The Nichols-Belvin-Stokes House, a single-pen log farmhouse located on a knoll not far from Ellerbe Creek, dates to the early years of the nineteenth century. Characteristic of an early homestead are the large fieldstone and brick exterior end chimney, the steeply pitched gable roof, and the rear batten door. The interior contains a single room with original flooring, wide board paneling, a large vernacular Georgian-style mantel, and batten doors with HL hinges. An enclosed stairway leads to an attic where the uppermost sections of hewn log walls can be seen, and at least one original rafter is pegged in place.
Roy L. (Royal) and Sally Stokes, bought the house and 69 acres from the O. W. "Iron" Belvin estate in 1946. Their deed refers to the property as the "Nichols Place" but provides no further identification of that prior owner. During the early twentieth century, the farmhouse was covered with German siding and a metal roof, and around 1930, a one-story frame ell was added to the rear of the structure. The ell contains a long rectangular room with an oversized vernacular Victorian mantel that may have been salvaged from another house or assembled from available parts. The farmhouse currently serves as the tack room for Stokes Stables. A large trailer has been joined to its front facade to provide additional space for horse supplies.
Durham County Deed Book 160, page 66