Old North Durham
Javascript is required to view this map.
Old North Durham
Summary
Old North Durham is a primarily residential neighborhood, extending north to the Norfolk Southern (Duke Beltline) railroad tracks (long abandoned as of 2012,) east to Avondale Drive, south to a variable line along East Geer Street / Little Five Points / Broadway, and west to Washington Street. The Old North Durham neighborhood association includes the Pearl Mill Village (along Washington and Orient Street) as part of the Old North Durham neighborhood; historically, Pearl Mill is a distinct and...
Read More
Buildings
Old North Durham is a primarily residential neighborhood, extending north to the Norfolk Southern (Duke Beltline) railroad tracks (long abandoned as of 2012,) east to Avondale Drive, south to a variable line along East Geer Street / Little Five Points / Broadway, and west to Washington Street. The Old North Durham neighborhood association includes the Pearl Mill Village (along Washington and Orient Street) as part of the Old North Durham neighborhood; historically, Pearl Mill is a distinct and separate development.
The earliest Durham development occurred in immediate proximity to the downtown core - north along Cleveland St. and Morris Street, east along Liberty and East Main Street, south along McMannen Street, and west along West Chapel Hill St. Development of the North Durham neighborhood dates from the 1880s to 1900s. Initial 'country' development outside of the city limits was followed by rapid development with the extension of the Durham Traction Company streetcar line north from downtown along Mangum Street.
In the 1870s, the area consisted either of farmland or was undeveloped. An early map locates the properties of Fred Geer in the district.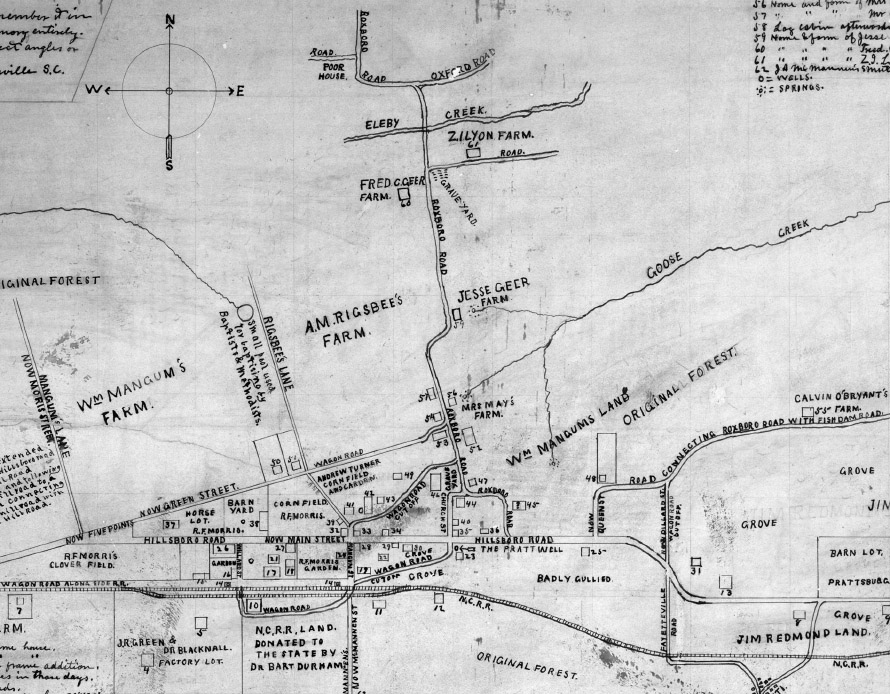 Another early map indicates that the homesteads were located on Roxboro Road and that no homes existed east of Roxboro Road. The structure at 326 East Trinity Avenue was once part of the Geer family farm and its likely mid-19th century construction date suggests it was built for a member of the Geer family. This home is probably the oldest surviving structure in the district. The home's two-story, single-pile form was a popular building shape for houses built throughout the middle to late 19th century. None of the early farm land remains undeveloped, although some ancilliary structures, such as a barn at the rear of 830 North Mangum Street suggests that the area was used for agricultural purposes.
Holdings of Atlas M. Rigsbee, one of Durham's earliest settlers, occupied the western portion of the present-day district. Rigsbee was elected a commissioner to the city's first governing board in 1869. He became a member of the First Baptist Church and in this capacity lead efforts to create the Durham Female Seminary in 1882. Mr. Rigsbee was opposed to the use of taxes for public schools, namely the Durham Graded School, and lead efforts to repeal the tax. In the spring of 1886, the Supreme Court of North Carolina declared establishment of the Graded School unconstitutional and the Graded School was forced to survive on private contributions for the scholastic year 1886-87.
The land north of Trinity Avenue was owned exclusively by Brodie L. Duke. Like Rigsbee, Duke was an early Durham resident. In 1865, he planted a crop of tobacco on rented land from his uncle and was soon producing smoking tobacco which was to become the foundation of the Duke enterprises in Durham. Duke also fostered local introduction of the textile industry and was an avid booster for early railroad lines. Throughout the 1880s and 1890s, Duke acquired land from Rigsbee and Geer and was to become the major land developer in the district.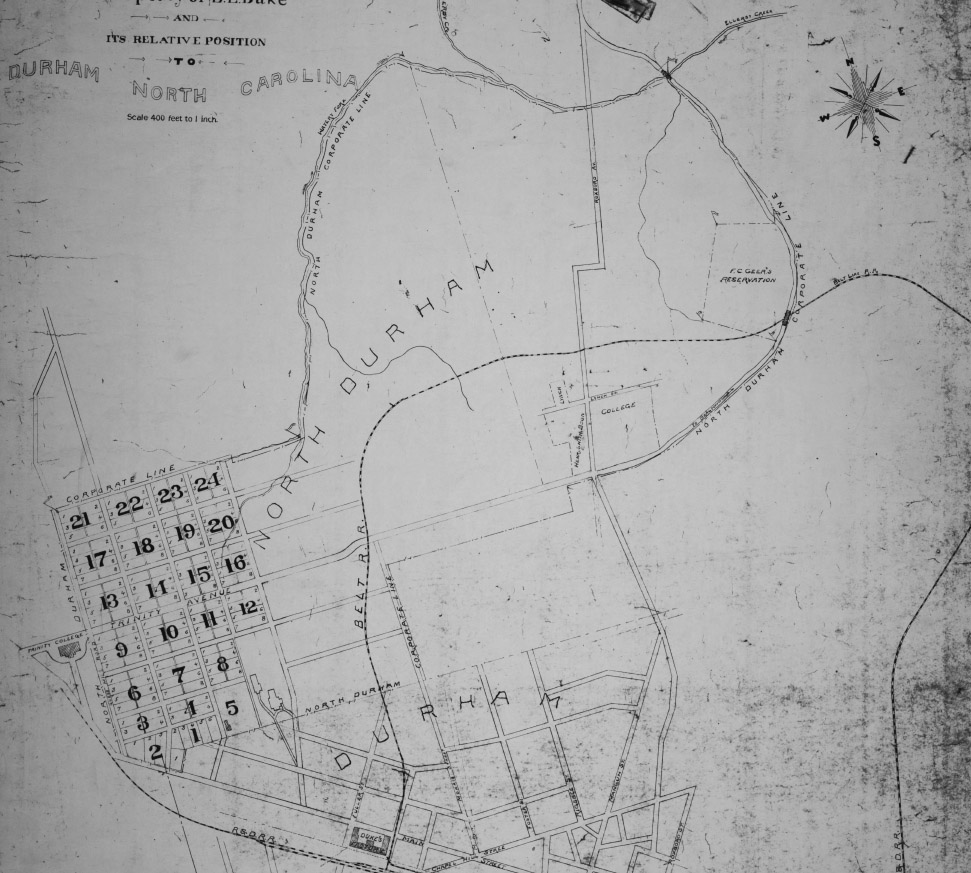 Prior to Duke's major subdivision activities in the 1900s, development in the district was minimal. Attorney James S. Manning and printer Henry E. Seeman had chosen to live in the country (North Durham). Durham's corporate limit was just north of the intersection of Corporation and North Mangum streets. Seeman built his home one block north of Trinity Avenue at 112 West Seeman Street, while Manning's house was built two blocks south at 911 North Mangum Street.
The William L. Umstead home, which predates Umstead's settlement in North Durham, at 106 West Seeman Street, was another early residence that predates the 1901 subdivision. It is unclear who the original owner / builder of this house was.
The final person whose settlement in the area predates Duke's formal subdivision was James B. Mason. Mason was a prominent figure in Durham's first bank, originally organized under Eugene Morehead, and had been living on Pettigrew Street prior to construction of his home at 113 East Seeman Street. J.B. Mason purchased this land from Fred Geer. The community's growth at the turn of the century was the catalyst for Duke's subdivision success. Prosperous tobacconists, professionals, and other businessmen had settled the Cleveland and Holloway Street areas, just south of Little Five Points, and additional areas for residential growth were needed.
Residential development in North Durham as the city's steady and rapid growth through the 1890s produced a need for additional housing. Construction proceeded north form LIttle Five Points at the end of Cleveland Street along North Mangum Street and North Roxboro Street to Trinity Avenue. In 1901, a north-south trolley line on North Mangum Street was con- structed that replaced earlier mule cars. The trolley line, built by the Durham Traction Company, secured a fifty-year franchise from the city for its lines. Not surprisingly, J.S. Manning was instrumental in the franchise's creation. Also in 1901, Brodie L. Duke began to subdivide his land and began to sell building lots.
North Mangum and and North Roxboro Streets were a portion of the original City street grid pattern and are oriented perpendicular to the downtown railroad tracks. Later street development in the district was oriented to the cardinal directions. Consequently, odd-shaped lots are particularly prevalent where cross streets intersect Roxboro and Mangum Street. The entire district is relatively flat with the exception of the northern segment of the district along Roxboro and North Mangum Streets. North Roxboro Street did not extend north of East Trinity Avenue prior to 1958. (It stopped and then restarted north of Markham in the first decades of the 20th century; this section was extended south to Lynch Street by the 1930s.)
Most homes were of the basic one and two-story single pile forms, but they included a rich collection of then standard millwork. A few homes had richer ornamentation and more variety. The McCracken-Mize house at 210 East Trinity Avenue is an example. The T.E. Carrington House at 1121 North Roxboro St. is one of Durham's few houses from this period that retains the then-popular two-tiered porch. Few of the iron fences that once typically surrounded the yards of these houses survive, the Flintom House at 914. N. Mangum St. being one exception.
Development blossomed along North Mangum Street. The trolley lines provided easy access not only to downtown, but to east and west Durham as well, and thus made suburbanization popular for not only wealthy merchants but for new city residents as well. The 800 block of North Mangum Street was the first block to develop. The Geers still owned this block and elected to sell their holdings in smaller parcels, usually single building lots. One of the few parcels sold prior to the trolley line completion was the lot at 822 North Mangum Street. This lot was sold in 1899 to Jeanette Rochelle, whose husband, Leander Sydney Rochelle, operated a mercantile establishment on Parrish Street. Jeanette Rochelle built the architecturally distinctive home at 822 North Mangum Street.
In 1910, Jeanette Rochelle's daughter, Wylanta, married sixty- three year old Brodie L. Duke, who was·forty years her senior. She soon began acquiring real estate in North Durhami purchasing property in the 800 block of North Mangum Street in 1911. In that same year, she purchased 821 and 823 North Mangum Street, already occupied by houses, and in 1912, she bought the large lot at 811-815 North Mangum Street from her brother, Zalpheus A. Rochelle. Wylanta's property acquisitions persisted for more than five decades. Wylanta Rochelle Duke not only purchased property but developed some as well. About 1917, she built three ~ouses at 811, 813, and 815 North Mangum Street.  These houses.were relatively plain two story boxes with a hint of styling in their forms. Their production line image reflected the investment purpose for which they were built. However, these homes catered to a market that was more affluent than the typical Durham rental market. For many years, it had been common practive to erect block after block of small, cheaply built housing targeted for Durham's laborers. Durham city directories reveal that early occupants of the Mangum Street rentals included Louis Gladstein, Jr., and Samuel Strauss, proprietors of downtown clothing stores. Their residence suggests the general movement of Durham's Jewish community from Hayti to Cleveland-Holloway, to the southern portion of North Durham, then westward to Trinity Park.
As early as 1910, the Little Five Points area was gaining in popularity. A merchant's publication in 1910 states that S.F. Rigsbee's grocery and dry goods business at 717 North Mangum Street in Little Five Points enjoyed "one of the best situations in the city for a business."
As North Durham grew, educational and religious institutions were established. The North Durham Graded School, sigce demolished, was built at the time of Duke's subdivision in 1901. In the same year, the Grace Baptist Church erected a sanctuary at the intersection of North Mangum Street and Trinity Avenue. The other major church in the area, the Calvary United Methodist Church, originally organized in the late 1880s and operated on the second floor of a commercial building in the 800 block of North Mangum Street, built its present sanctuary at 304 East Trinity Avenue in 1916, after a long period of fundraising led by Benjamin Duke.
Following the First World War, a second generation of settlement moved into the North Durham area and. filled in many of the vacant areas along North Mangum and adjacent streets. Many children of the first residents chose to live next to or near their parents, a pattern familiar in many urban neighborhoods in the South. Consequently, Ernest Seeman and his brothers purchased house lots on Seeman Street across from their parents' home. Mrs. Gamble moved into a modern International-style residence next to her parents, Mr. and Mrs. R.E. Dillard, who had built their home at 1311 North Mangum Street in 1917 (as of the early 2000s, considered part of the Duke Park neighborhood.)
Beginning in the 1910s, and continuing throughout the 1920s and 1930s, Colonial Revival houses, period revival houses, and the bungalow became the most popular form of construction. Most development in the neighborhood had occurred east of North Mangum Street to that point, but the sparsely settled area between N. Mangum and the Pearl Mill Village began to infill with these styles.
The bungalow quickly became a popular house type throughout Durham, including in North Durham. Some of the most imaginative and fanciful renditions of the style in Durham were built on the south side of West Seeman Street in five houses which exhibit very exaggerated bungalow characteristics. With time, bungalows became more eclectic, incorporating elements of period revival styes. The Tudor Revival style cottage also became popular during the 1920s and 1930s, and many such houses were built throughout the western part of North Durham.
Other residents were prosperous in the tobacco marketing and manufacturing industry, while a growing number of professional and service occupations were represented in the community. Residents included E.T. Rollins, President-Treasurer of the Durham Herald Company and Vice-President of Home Savings Bank, George McCracken, owner of Durham Plumbing Company, James S. Perry, bookkeeper and D.L. Boone, pharmacist.
The 1920s saw significant expansion of the Little Five Points commercial area and the rest of North Durham. Durham was growing rapidly between 1920 and 1930, the population grew from 21,719 to 52,037.  A commercial brick structure at 715-717 North Mangum Street was built in 1926 and replaced the earlier frame structure built by C.W. Rigsbee . Commercial buildings elsewhere in the district were mostly small grocery stores like the small brick building built by J.B. Mason in 1923. The Carpenter family operated this store at 1214 North Mangum Street until the end of world War II. Four different owners ran the store over the next fifteen years, until the last owner, Clyde Copley, closed the store in the early 1960s.
Apartments were also built in the 1920s. A high quality, four-unit apartment house was built at 901 North Mangum Street by a prominent business and civic leader, J.S. Perry, in the mid-1920s. The Markham Apartments at 201-203 West Broadway Street, two blocks west of North Mangum Street, were also built during this decade of growth.
By 1930, most of the residential properties along Mangum, Lynch, Seeman, and Glendale streets had been purchased for homesites. Sanborn maps show that most of the southern portion of the district was developed by 1930 with space set aside along Glendale Avenue and Lynch Street for a playground. Post-1930 residences in North Durham were of modest scale, consisting primarily of bungalows and period revival styles with frame or brick exterior and decorated with imaginative combinations of neoclassical elements. Two examples of period revival styles built on North Durham during this period include the Thomas Davenport Wright House and the Chambers House at 320 West Trinity Ave.
Until the late 1950s, North Durham remained a pleasant, middle- class neighborhood populated by most of the original families that had settled the community. Several factors contributed to the neighborhood's decline. Federal assistance for highway development promoted suburban settlement patterns. Veterans' and Farmers' Home Administration loan practives encouraged new home construction in the suburbs. The development of suburban shopping centers and the shifting of employment centers to suburban areas also encouraged flight from the central city. School desegregation in the early 1960s provided another contribution to the out migration of whites from the neighborhood.
The death of original residents, zoning changes, and the one-way pairing of Mangum and Roxboro streets also contributed to a gradual decline of the neighborhood until the mid-1970s. Many structures that had once been large estates were divided into apartments for low-income or student housing. Private organizations obtained ownership of some of the architectural landmarks in the community and adapted them for new purposes. Troy House at 1101 North Mangum Street occupied the former Umstead-Rollins House on Mangum and Seeman streets and served as a half-way house for first offenders. The Kempner Rice 'Diet Program operated out of the Maynard Mangum House at 1111 North Mangum Street. A Moose Lodge was headquartered at the former Cheek estate at the southwest corner of East Trinity Avenue and North Alston Avenue. Higher density housing  replaced single family residences, and many large houses were subdivided into 3-6 apartments. Changing land use and transportation patterns had a negative effect on the neighborhood for many years. Several houses were allowed to decay by absentee landlords. 
Demolition became a problem as well, although primarily limited to the eastern and southern edges of the district. The Cheek estate was demolished in 1985; much of the 800 block of North Mangum was demolished in the 1990s, forming a more significant divide between the Little Five Points area and the residential area of Old North Durham. A smattering of renovations occurred during the late 1980s and early 1990s, but while neighborhoods to the west, such as Trinity Park, began to see revitalization during this period, Old North Durham remained, overall, a depressed neighborhood. 
This began to change in the late 1990s and early 2000s with the purchase of multiple properties along North Mangum Street by owner-occupants, who renovated the structures. An influx of renovators into smaller houses began to occur by the mid-2000s, and Old North Durham became one of Durham's most desirable inner neighborhoods. 
Pages