WALNUT HALL - WILLIE P. MANGUM HOUSE
Built in
1842-1845
/ Modified in
1933
/ Demolished in
1980
In tours
This building does not appear in any tours yet.
Last updated
Mon, 09/30/2013 - 3:16pm by gary
Location
36° 12' 1.0656" N, 78° 51' 29.4444" W
Comments
Built in
1842-1845
/ Modified in
1933
/ Demolished in
1980
Willie Person Mangum, son of William Person Mangum was born in 1792. He was educated at "academies in Hillsborough, Fayetteville, and Raleigh" before attending the University of North Carolina. He studied law with Duncan Cameron and was admitted to the bar in 1817. He was elected to the state legislature at 26 years old, served as a Superior Court judge in 1819 (the same year his was married to Charity Alston Cain of Hardscrabble) and elected to the U.S. House of Representatives in 1824. He was a North Carolina Superior Court judge from 1826-1830, and he was elected to the U.S. Senate in 1830. He served in the U.S. Senate until 1853, serving as president pro tempore.
Mangum built his Greek Revival residence "Walnut Hall" as an addition to his father's home, which had been about around 1800. Walnut Hall was constructed from 1842-1845. The style was similar to that of Fairntosh, the home of his mentor Duncan Cameron. Several other buildings were constructed on site as well: an office, a kitchen, an icehouse, a smokehouse, a carriage driver's house, and several barns. In 1860, there were three houses for enslaved people on the property. The house was named for two large walnut trees extant on the property; he planted the yard with specimen trees and other plants procured in Washington.
His wife Charity managed his 600 acre plantation; Mangum kept 20 people enslaved in 1850, which decreased to 12 people by 1860, and 4 by 1861. The plantation grew wheat, corn, and tobacco. Mangum evidently inherited significant bad debts from his father and struggled with his financial affairs, but his father-in-law, William Cain, repeatedly saved him from financial ruin.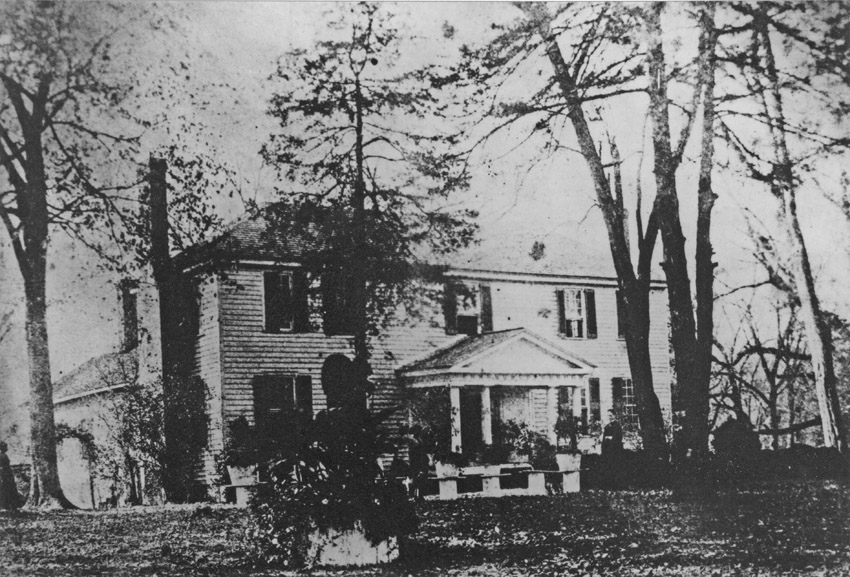 Walnut Hall, 1870s
(Courtesy Durham County Library / North Carolina Collection)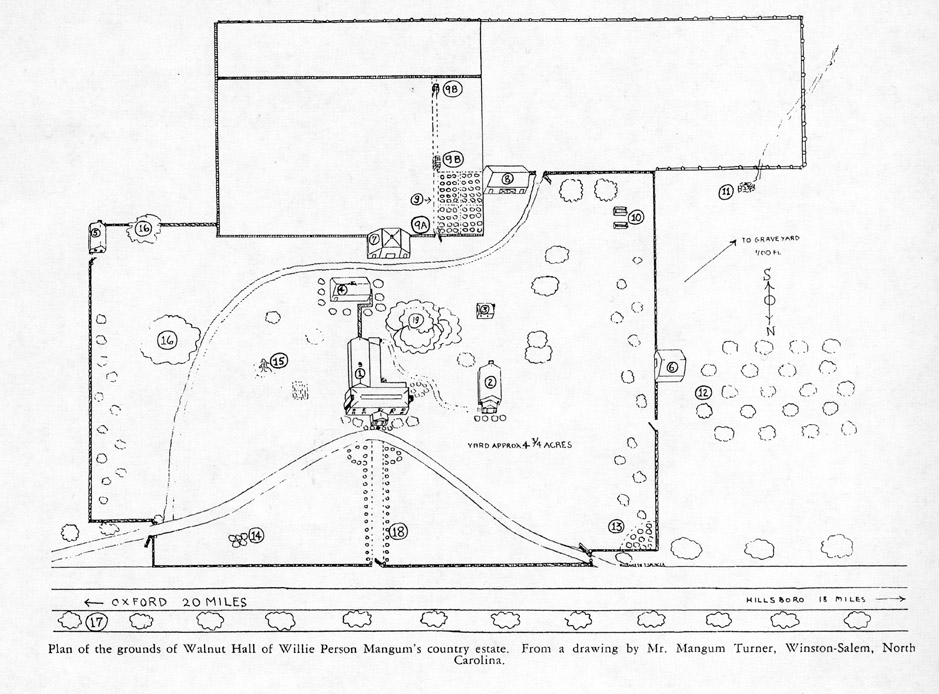 Walnut Hall Site Map, drawn by Mangum Turner.
Key: (1) Residence, front completed in 1844, ell about 1800; (2) New office, 1844; (3) Old office; (4) Kitchen with huge fireplace; (5) Carriage driver's house; (6)Ice house; (7) Smoke house and woodhouses; (8) Feed barn and carriage house, constructed about 1800; (9) Rose garden; (9A) Rose arbor on entered wide garden walk which was bordered with shrubbery; (9B) Two very large scuppernong vines; (10) Corn cribs; (11) Walled spring; (12) Orchard; (13) Rare shrubbery, "some from foreign lands; (14) Summer house of cedars, tops fastened together with chains; (15) Well; (16) Two huge sugar pear trees planted about 1820 - scions from trees brought by Mangum's grandparents from Pennsylvania prior to the Revolution; (17) Both approaches to grounds and in front was avenue of cedars; also grove cedars each end of grounds; (18) English box bordered walk ending in circles in front of residence; all walks covered with crushed white flint rock; (19) Two enormous walnut trees, each in 1899 measured 18 feet in circumference; longest limb was 86 feet.
(Courtesy Michael Hill)
From the U.S. Senate biography:
"Originally a Jacksonian Democrat, Mangum opposed protective tariffs and instead supported states' rights. In 1834, he broke with Andrew Jackson over several issues, especially the removal of federal deposits from the Bank of the United States. Mangum resigned from the Senate in 1836 after refusing to