In tours
This building does not appear in any tours yet.
Last updated
Tue, 09/16/2014 - 12:48pm by gary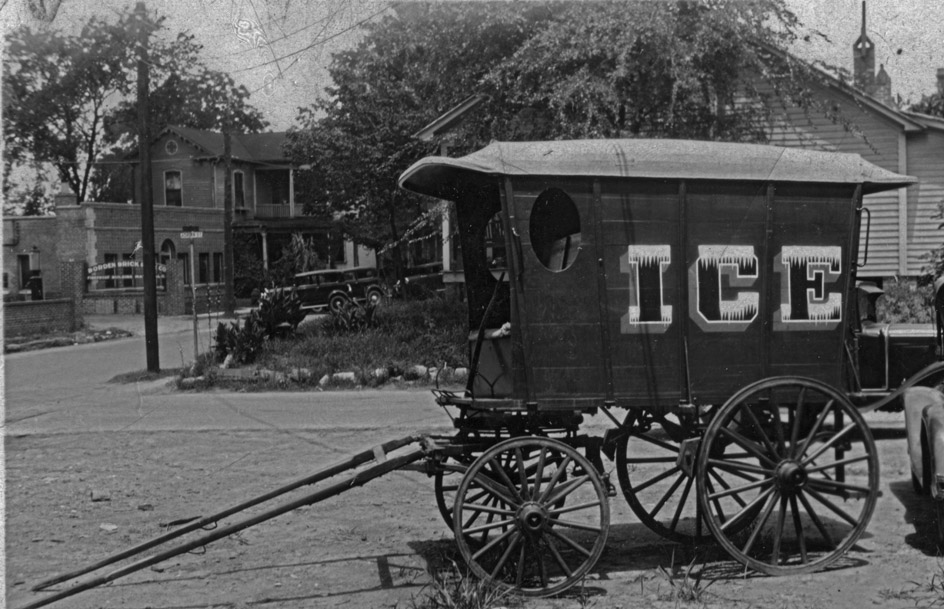 Looking east, 1940s
(Courtesy Duke RBMC - Wyatt Dixon collection)
So, the location of this picture remained an obsession of mine for quite awhile - it appears in Joel Kostyu's book, without any location identification - nor is the location identified in the original Wyatt Dixon column it appeared with. Eventually, I got my hands on the original, and scanned it at high enough resolution to be able to read the street sign - "Adrian St." is what it says.
I then thought perhaps it wasn't actually Durham, but there was an Adrian St., now named Newman St.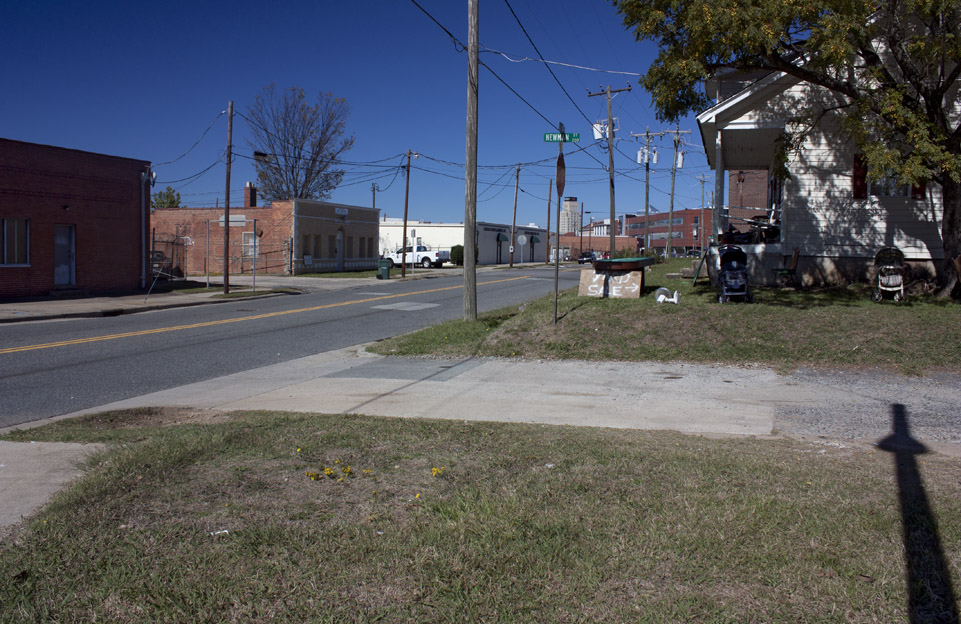 Same viewpoint, 10.22.10 - looking west from Newman and Ramseur. (Photo by Gary Kueber)
The picture gives a good sense of how residential Hood Street, Adrian,S. Elizabeth, and Ramseur were well into the early to mid 20th century, as is clear from this mid-century bird's eye view:


1950 view across Durham Hosiery Mills No. 1 and No. 6, looking southwest. (Herald-Sun)
The residential uses have almost completely disappeared - the boarded up apartment building at 215 Hood and a few small residential structures (one of which recently burned) on Newman aside. A few other reminders, such as the patterned brick sidewalk on Ramseur, remain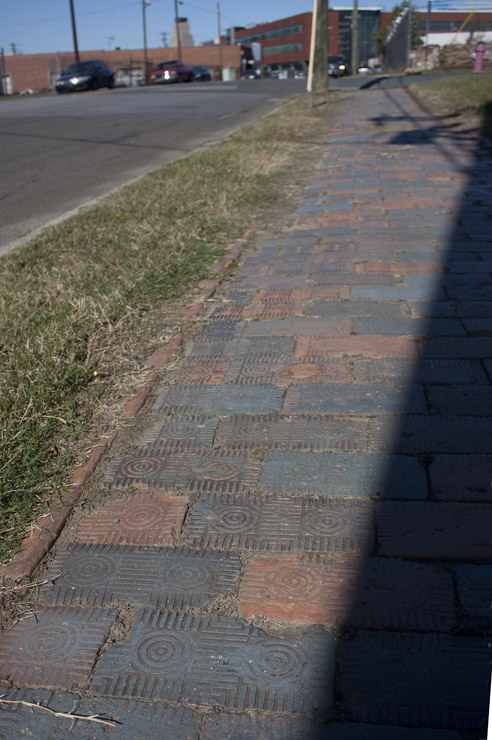 704 Ramseur Street was built for the Borden Brick and Tile Company. (Photo by Gary Kueber)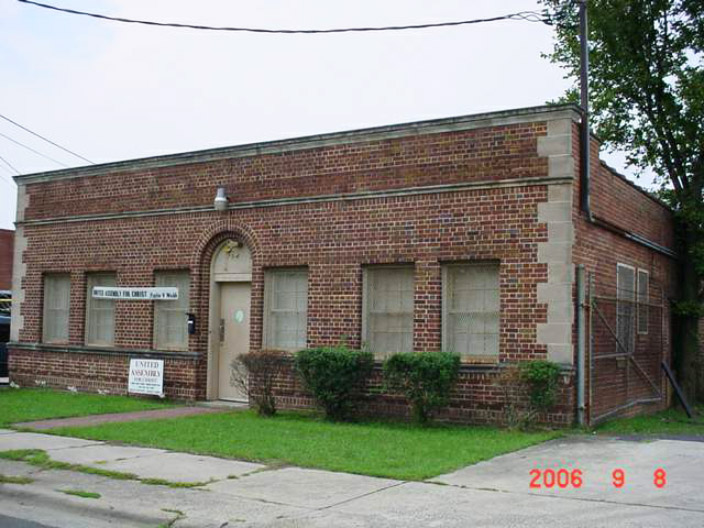 09.08.2006
It's been painted since the above picture.
It's currently used as a church.
I feel like this area is a truly missed opportunity - if only 305 South could have survived long enough to see Golden Belt open, the Bull City Connector, etc. And if the county hadn't been so bound and determined to plow under two blocks of historic structures for parking, this area could be seeing the kind of growth that Geer/Rigsbee/Foster is now seeing, which could provide some much needed activity between Roxboro and Golden Belt. But if the local government keeps shutting down and plowing under structures for people to revitalize and overbuilding parking, it cannot happen. This isn't some radical notion - I don't understand why it doesn't sink in.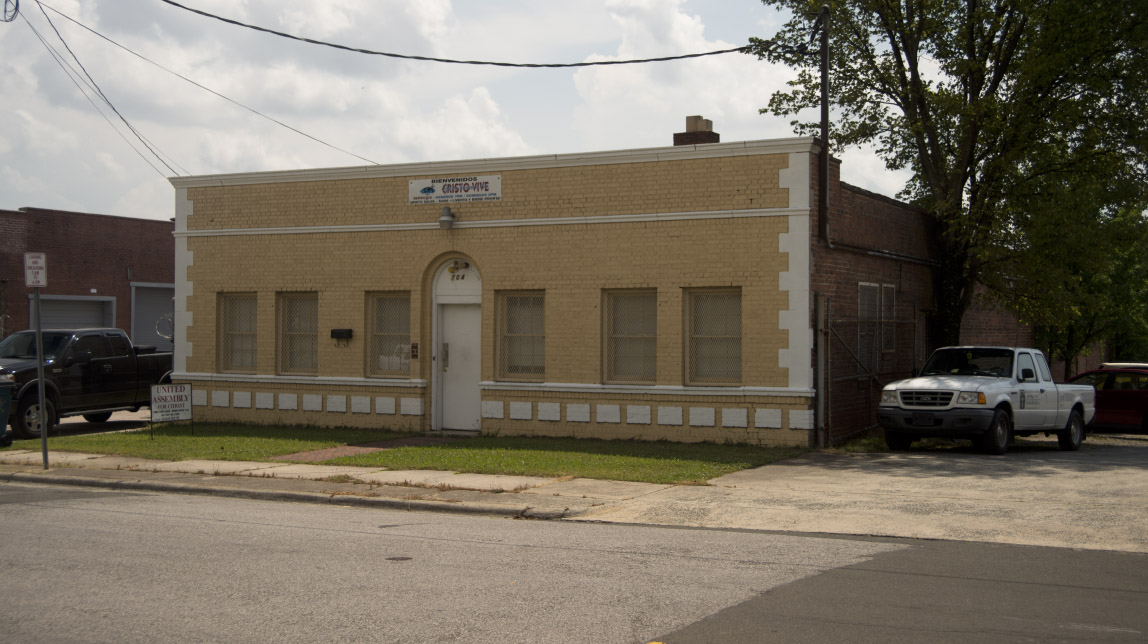 06.25.13
(Photo by Gary Kueber)