122 MASONDALE AVE. – ALMA W. & NOAH H. BENNETT, JR. HOUSE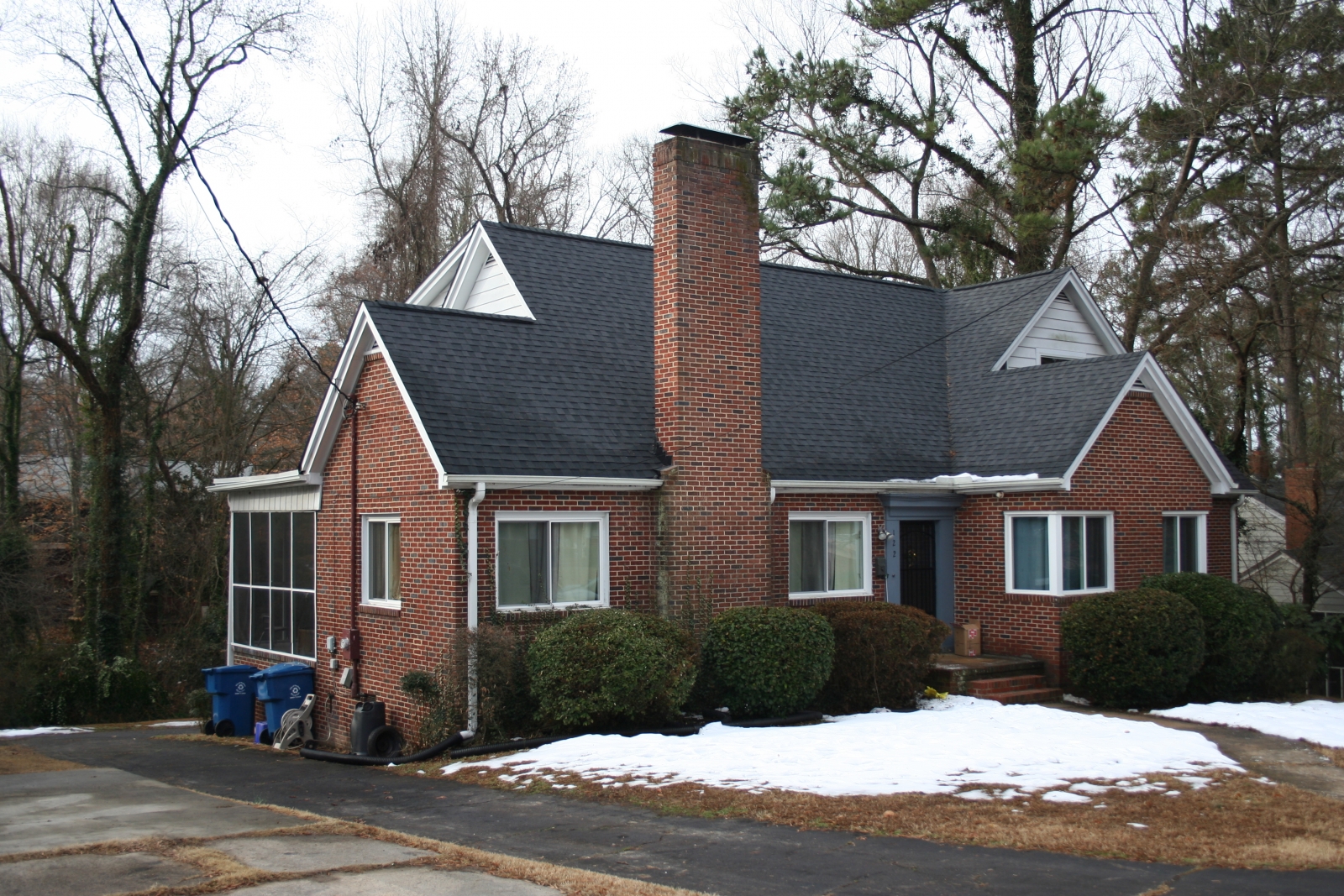 From the National Register Historic District description:
The elongated form of this one-and-a-half-story, side-gabled Period Cottage differentiates it from other post-World War II houses of the type. It is six bays wide and double-pile though the right (west) and left (east) bays are single-pile and are subsequently under lower rooflines. The house has a brick veneer, vinyl siding in the gables, vinyl slider windows throughout, and an exterior front-facing, brick chimney on the façade. A projecting, front-gabled wing near the center of the façade has windows that wrap around its front corners. To the right of the wing is a gabled dormer with vinyl siding and a single, fixed vinyl window. To the left of the wing is a six-panel door with classical surround with flat pilasters, accessed by an uncovered brick stoop. A shed- roofed dormer with vinyl siding extends nearly the full width of the rear (south) elevation and there is a flat-roofed screened porch at the left rear (southeast) supported by square posts. County tax records date the house to 1950 and the earliest known occupants are Noah H. Bennett Jr., assistant secretary and associate actuary, who became the senior vice president and chief actuary at NC Mutual Life Insurance Company, and his wife, Alma W. Bennett, a teacher at Lyon Park School, in 1955.
According to deed records, Nathaniel B. White and his wife, Jean E. White, sold two lots to Noah H. Bennett, Jr. and his wife, Alma W. Bennett on January 4, 1949.  The Bennetts had their home built and began residing there in 1950.  They were the parents to one daughter.
Their daughter, Noma, was quiet and friendly.  As children, girls in the neighborhood really enjoyed visiting and playing with her at her house.  Visiting Noma's house was like entering a toy store in her room.  All of us remained good friends through graduation from Hillside High School when we embarked to different colleges to further our education.
Dr. Noma B. Anderson is a published author on human communication disorders.  She was Chairman and Professor in the Department of Commmunication Services Disorders at Florida International University.  In 2010, she became Dean of the College of Allied Sciences at the University of Tennessee.
On July 16, 2001, County deed records and tax records show that Alma W. Bennett sold the house to Tawynna Maria Gordon.  Ms. Gordon still owns and resides in the house as of 2020.
Standing (L-R):  Asa T. Spaulding, Charles C. Spaulding, Jr., Noah H. Bennett
Seated:  Louise K. Lawson
Board of Directors,  North Carolina Mutual Life Insurance Company
Photograph from the NC Mutual Collection,circa 1970s
Duke University Libraries Exhibits