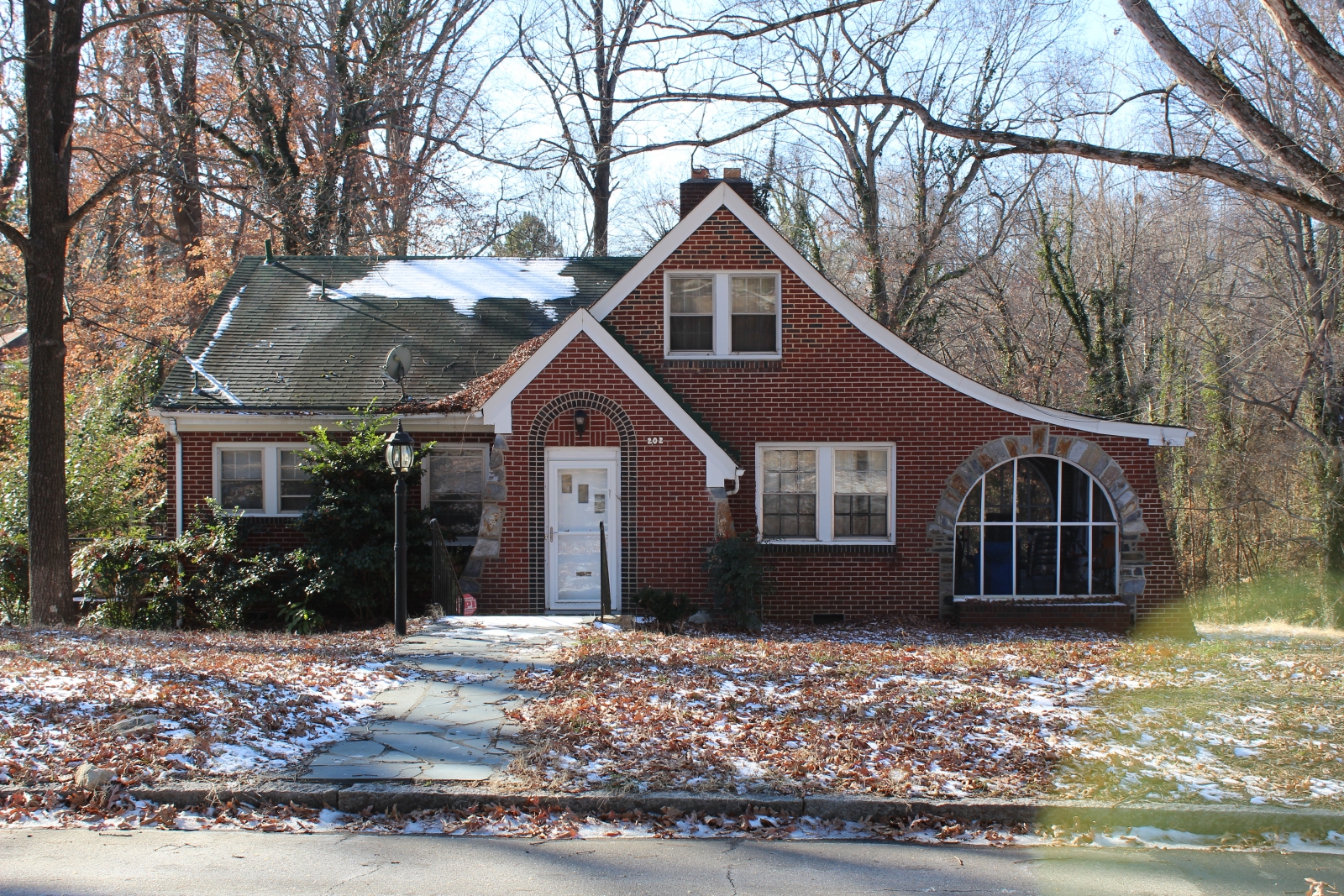 From the National Register Historic District description:
S
et back from the road on a large lot, located near the intersection with Formosa Avenue, this one-and-a-half-story, front-gabled Period Cottage is two bays wide with a large, side-gabled wing on its left (south) elevation. The house retains high material integrity with a brick veneer, six-over-six wood-sash windows, flush eaves, and an interior brick chimney. A projecting, front- gabled entrance bay on the left end of the façade has a batten wood door with three lights and flared stone buttresses. Above the door is a brick arch made of two courses of header brick in a dark brown color and infilled with brick in a basketweave pattern. There are paired windows on the right (north) end of the facade and in the front gable. A flared, shed-roofed porch on the right elevation is supported by brick piers with an arched stone opening on the façade and arched wood spandrel on the right elevation. Both openings are enclosed with screens. The side-gabled wing on the left elevation is two bays wide and three bays deep with paired windows in the gable and an entrance on the left elevation that is accessed by an uncovered concrete terrace with steps down toward the rear of the house. The site slopes down to the rear to reveal a basement-level garage on the left elevation. A one-story, flat-roofed, basement-level wing at the right rear (northwest) has very small windows on its north elevation. The earliest known occupants are James J. Henderson, assistant to controller at
NC Mutual Life Insurance Company
, and his wife, Julia H. Henderson, treasurer at
De Shazor's Beauty System
, in 1950.  Because of his work as Chairman of the Durham Housing Authority Board of Commissioners,  the
J.J. Henderson Housing Center
was named in his honor in 1978.
Mr. and Mrs. Henderson were the parents to two children.  Their daughter, Dr. Carol-Ann Henderson Brokenborough, was a respected speech pathologist.  Their son, James Jackson "Biff" Henderson, Jr. was the stage manager for Late Night with David Letterman for 30 years.  Growing up, Biff was a notable tennis player on the junior tennis circuit and played against Arthur Ashe, who would stay in the Henderson's home when playing in tournaments in the area.
In April 16, 1999, Julia Henderson (by this time a widow) sold the house to Christopher Morant and his wife, Tamah C. Morant.  The house has been rental investment property since that time.  As of August 2020, the house is being renovated internally and is vacant.