MLK in Durham : what is the future of civil rights history in Durham?
Submitted by

gary

on Mon, 01/21/2008 - 1:31pm
Martin Luther King, Jr., speaking at the old Hillside High School - 10.15.56 (Courtesy Herald-Sun)
Today we celebrate the work of a remarkable man, one who had that unique ability to both fight against the worst elements of society and appeal to the best. It's a quality desperately needed in the modern era of fractious and polarized discourse. While it seems commonplace to consider King's mission and legacy to begin and end with the fight against racial injustice, his fight extended to an equally insidious problem - the multiple compounding effects of entrenched, systemic poverty, and the disenfranchisement of people based on their economic status. To me, this remains a fundamental, if not the fundamental problem of human society. Unfortunately, King's efforts on this front, culminating in the Poor People's Campaign of 1968, were unable to be sustained after his assassination on April 4, 1968, which touched off protests and property damage around the country, including Durham.

Demonstration following the assassination of Dr. King in front of City Hall - now the Arts Council - April 5, 1968 (The view is southwest from near the corner of Morris and Morgan). Multiple fires broke out later in the evening, and a curfew was imposed on following nights.

A police officer in riot gear, standing at Corcoran and West Main, April 7, 1968. (Courtesy Herald-Sun)
The Poor People's Campaign continued into the summer, including the "Poor People's March" in Durham a little over 1 month after King's death, which coincided with the larger march in Washington DC of the same name.

"Poor People's March", May 16, 1968. The marchers are standing at the entrance to the old ballpark, with the photographer facing southeast.(Courtesy Herald-Sun)
Dr. King visited Durham on at least 5 occasions that I know of, the first occasion being the above visit to Hillside High School in 1956; just 10 months after Rosa Parks and before the founding of the SCLC. The second, per Dorothy Jones' "End of an Era" was a visit to St. Mark's AME Zion church in 1958.
The most well-known visit was in February 1960, when King preached at White Rock Baptist and attempted, with Durham leaders, to do a sit-in at the Woolworths at West Main and Corcoran.

Rev. Douglas Moore, King, Ralph Abernathy, and two other men who I can't identify, walking west on the 100 block of West Main St., February 16, 1960. (Courtesy Herald-Sun)

A closer view of four of the men, same location and date. (Courtesy Herald-Sun)

Inside the Woolworth's. It appears that Woolworth's closed the lunch counter "in the interest of public safety" rather than allow the sit in to occur. (Courtesy Herald-Sun)
Later that night, King spoke at White Rock Baptist Church.

I love this picture; King preaching in White Rock Baptist, 02.16.60. (Courtesy Herald-Sun)
The last visit I know of to Durham by King was on November 13, 1964; he spoke at a political science convention at the Jack Tar Hotel (nee the Washington Duke.)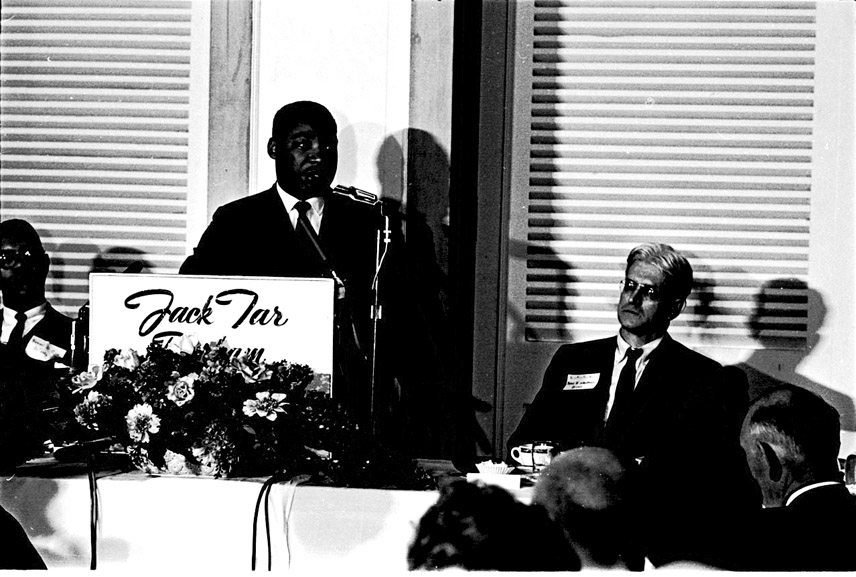 King speaking at the conference, November 13, 1964. (Courtesy Herald-Sun)
King spoke at Duke's Page Auditorium on this same day. I don't have a picture of this speech, but you can listen to audio excerpts here.
What common thread links 4 out of the 6 locations I've mentioned that King visited in Durham over a period of 8 years?
They have all been demolished (the exceptions being Duke's Page Auditorium and St. Mark's.)
Therein lies my concern - while White Rock Baptist was lost in the late 1960s to urban renewal, and the Jack Tar/Washington Duke in the mid 1970s, Woolworth's and Hillside were demolished in the 2000s.
When considered with the demolition of the Royal Ice Cream parlor, we have shown a callous disregard for the places in Durham that held the echoes of Durham's local civil rights movement - and its strong ties to the national civil rights movement. Unfortunately, we cannot place our trust in historically-Black institutions to be any better stewards of these places than anyone else. Hillside was torn down by North Carolina Central, and Royal Ice Cream by Union Missionary Baptist church.
Even now, North Carolina Central continues to push to demolish the Alex Rivera house, across Fayetteville St. from the campus. The well-known civil rights photographer and one-time photographer for the Nixon administration lived in the house while at NCCU. The house is in a local historic district, and thus they must come before the Historic Preservation Commission to have it torn down, but we haven't demanded that our political leaders arm the HPC with the power to prevent demolition of any structure in Durham.
The cavalier attitude that Durham has towards its history - at least when it comes to substantive policy and action rather than just lip service - continues to baffle me. Do we really find this all so unimportant? This history doesn't exist in the abstract - it happened here. Would it not be of value to someone growing up in Durham to know that he/she is standing in the same spot Dr. King stood? Are parking lots and apartments and vacant lots and highways really that much more valuable?