1026-1028 HOLLOWAY STREET
In tours
This building does not appear in any tours yet.
Last updated
Tue, 11/13/2012 - 8:27am by gary
Location
35° 59' 39.5412" N, 78° 52' 55.1568" W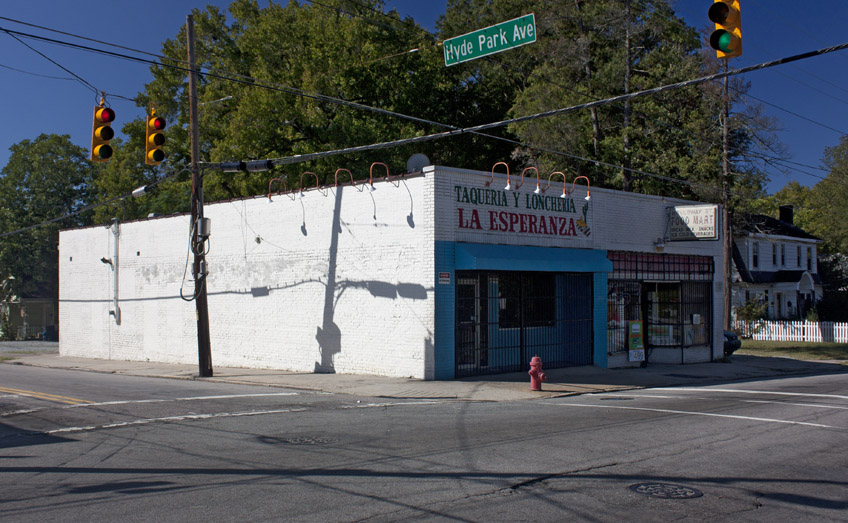 1026-1028 Holloway Street, 10.02.10
1026-1028 Holloway Street appears to have been built between 1923 and 1928. In 1928, Inscoe Market (run by Genada Inscoe) is located at this address. In 1934, Edward Henley, druggist, is located at 1026 and Inscoe Market at 1028.
1026 was known as the Holloway Street Pharmacy by 1941, and 1028 remained Inscoe Market. These remained in place through the 1940s and through the mid 1950s. By 1957, 1028 had become the Shankle Laundrette.
In the 1970s and 1980s, the building housed Adcock's BBQ.
It currently houses Taqueria La Esperanza and the Holloway Street Food Mart.
(Below in italics is from the 2004 National Register listing; not verified for accuracy by this author.)
1-story brick flat-roofed commercial building with 2 stores. The brick is laid in 1-to-5 common bond. The upper facade features plain brickwork. No. 1026 has an original storefront with a recessed center door, plate glass display windows, and a transom. No. 1028 has a remodeled storefront. 1925-1955: H. O. & G. B. Inscoe Grocery. 1960 CD: Shankle Laundrette. Cunent tenants: Holloway Street Food Mart and El Compadre Taqueria