THE BLUE LIGHT / SAM'S QUIK SHOP
Built in
1946
/ Modified in
1949
/ Demolished in
2019
One of the classic "drive-ins" of the 1950s, Sam's catered to high school and college students; by the 90s-00s, it had transformed multiple times, becoming primarily known in the 00s-10s as a source for an incredibly diverse beer selection.
In tours
This building does not appear in any tours yet.
Last updated
Mon, 11/11/2019 - 2:05pm by gary
Location
36° 0' 20.4876" N, 78° 55' 20.9352" W
Comments
Built in
1946
/ Modified in
1949
/ Demolished in
2019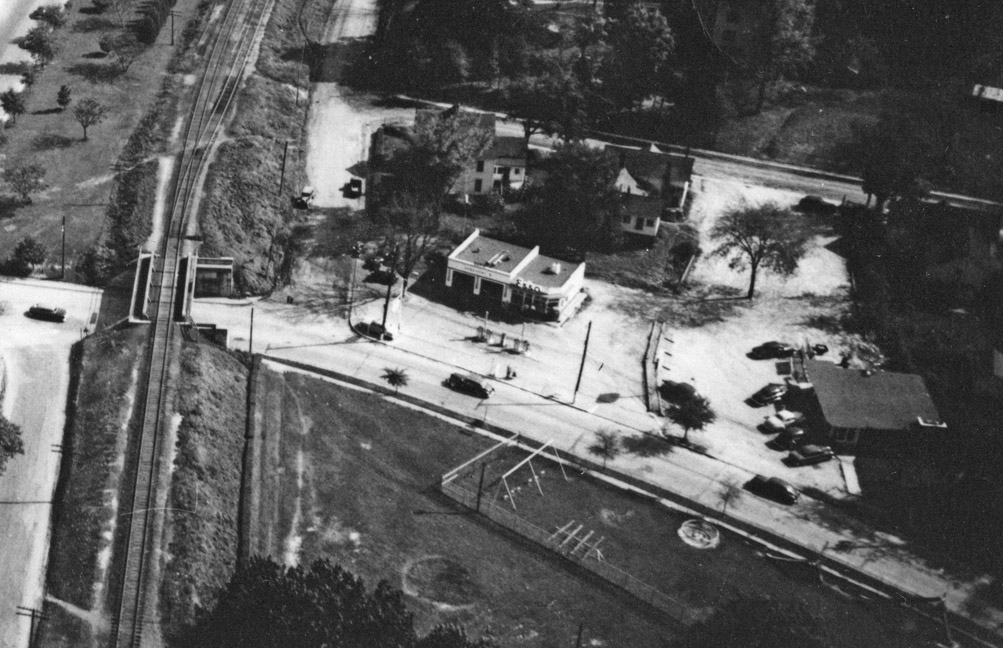 Looking east at Boy's Esso Servicecenter and the Blue Light, ~1950. Erwin Park is in the foreground.
(Courtesy Durham County Library)
The Blue Light, and later Sam's Quik-Shop, had its origins in an Esso Station opened at the corner of West Pettigrew Street and Erwin Road by Carl Boy and his sons Sam, Carl Jr., and James. The site had been associated with Erwin Auditorium and the adjacent Erwin Park as the location of showers and tennis courts. I'm not sure what led to the decision to sell off this portion of the property, but the Boy family opened Boy's Esso Servicecenter in 1946.
Soon after opening, a friend of the Boy brothers asked permission to open a hot dog stand adjacent to the Esso Station. The friend did so, but lost interest. The brothers considered operating the hot dog stand, but soon tore it down and in 1949 constructed a drive-in restaurant instead, which they called The Blue Light Restaurant.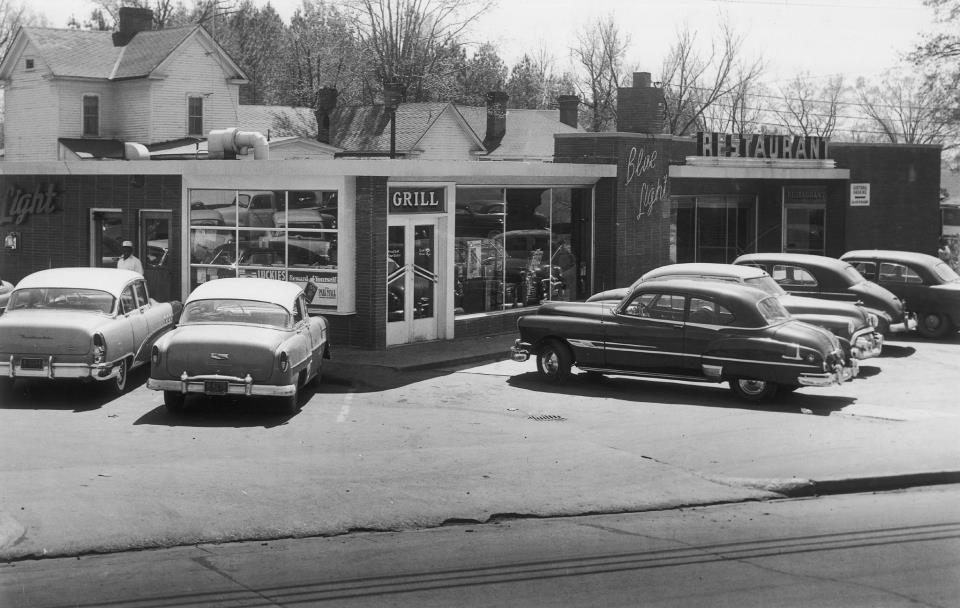 1950s (Boy family)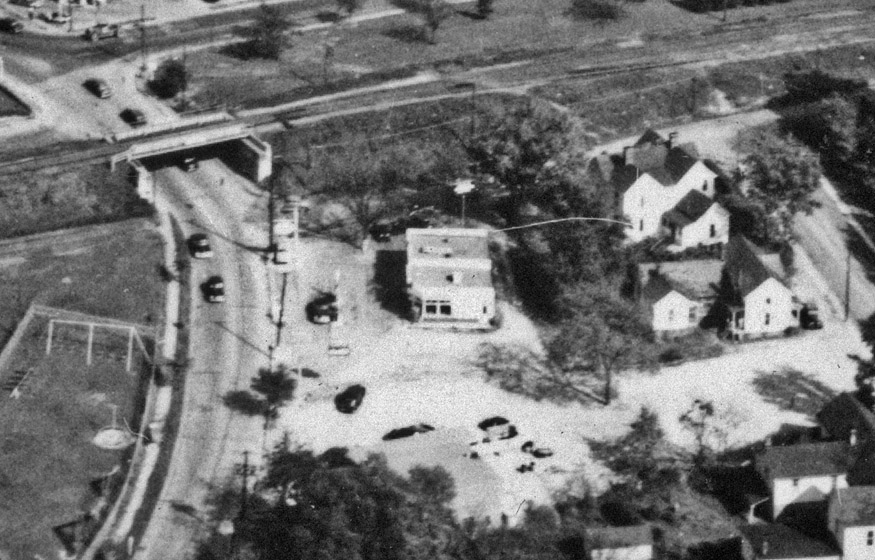 Looking north at Boy's Esso Servicecenter and the Blue Light, ~1950
(Courtesy Durham County Library)
The Blue Light immediately became a popular destination with local teens. After movies on Friday or Saturday nights, teens would drive up to the Blue Light and order typical drive-in fare: grilled cheese sandwiches, burgers, shakes, french fries - even a "Fishwich".
The Blue Light was a typical date destination, or a destination for groups of guys. A Herald-Sun article in 1999 clarifies the social strictures of the day for young women:
"Back then, a bunch of girls couldn't just go out to the Blue Light to grab a bite.... They either went to the drive-in with a date or with a group of guys and girls because 'girls didn't go out by themselves.' And unless there was a special occasion such as a school dance, girls had to be home by 11 or 11:30 p.m."
Duke students frequented the Blue Light as well, notably because beer was not available on campus, but was at the Blue Light.
Up to 50-60 cars could park at the Blue Light, and car hops went from car to car taking orders; music could be heard from the Blue Light throughout the parking area. By the mid-1950s, the Blue Light had a miniature golf course as well, although this doesn't seem to have endured for long.
By the late 1950s, cars would evidently make a circuit from the Topps Drive-In - which I believe was on West Main St. at Iredell St. - down to the Blue Light and back. The Blue Light expanded with an indoor dining area as well. An oral history from the Old West Durham website states that the "Rathskellar" was in the basement, which was a common hangout for Duke students.
By the mid-1960s, Duke allowed drinking on campus, lessening the impetus to go elsewhere, and the popularity of drive-ins had waned. By the mid-1970s John Boy and his wife Gerry, who had run the Blue Light, decided to convert the restaurant into a convenience store, which they named Sam's Quik-Shop. By the late 1980s, their son John took over the business. At some point, the houses on the Case Street side of the store were torn down and replaced with a car wash.
My own memories of Sam's date from this era, where I remember it as an eclectic place with decent beer (nothing like they have now) and an absolute ton of magazines, as well as a video rental business. Over the intervening years, the videotapes disappeared, then the magazines, and they now focus on an incredible beer selection - made all the more unusual by finding it in a convenience store.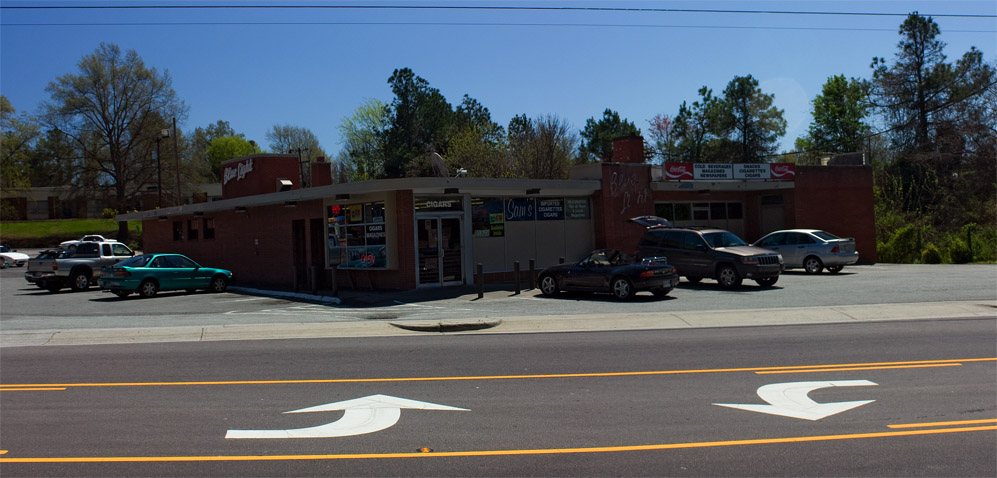 Sam's Quik Shop / The Blue Light, 04.04.09
If there is any happiness in the Triangle Transit train having been summarily dismissed by the Feds, it was the intent of Triangle Transit to demolish Sam's Quik Shop in its entirety for a parking lot for the 9th Street train station. Why, with the quantity of vacant land across the street, owned by NCDOT, they felt it was necessary to destroy a vibrant part of Durham is beyond me. I sympathize with Triangle Transit trying to meet Federal standards thrust upon them - but this need to provide gobs of parking places around a train station in an urban setting seems to be sort of missing the point - ? We are still trying to persuade them of this with regard to the Graybar building downtown, but it remains an uphill fight.
So I may not be able to take a train to Raleigh to ride their free "R line" bus around their downtown, but I can relax comfortably with a cold Dogfish Head Palo Santo Marron in my hand and be thankful that Sam's is still around. (2009)
Update 2019:
While the repeated failures of Triangle rail may have spared Sam's from the wrecking ball, the Boy family sold the parcel containing Sam's to a developer in 2019; the Blue Light/Quik Shop was then demolished.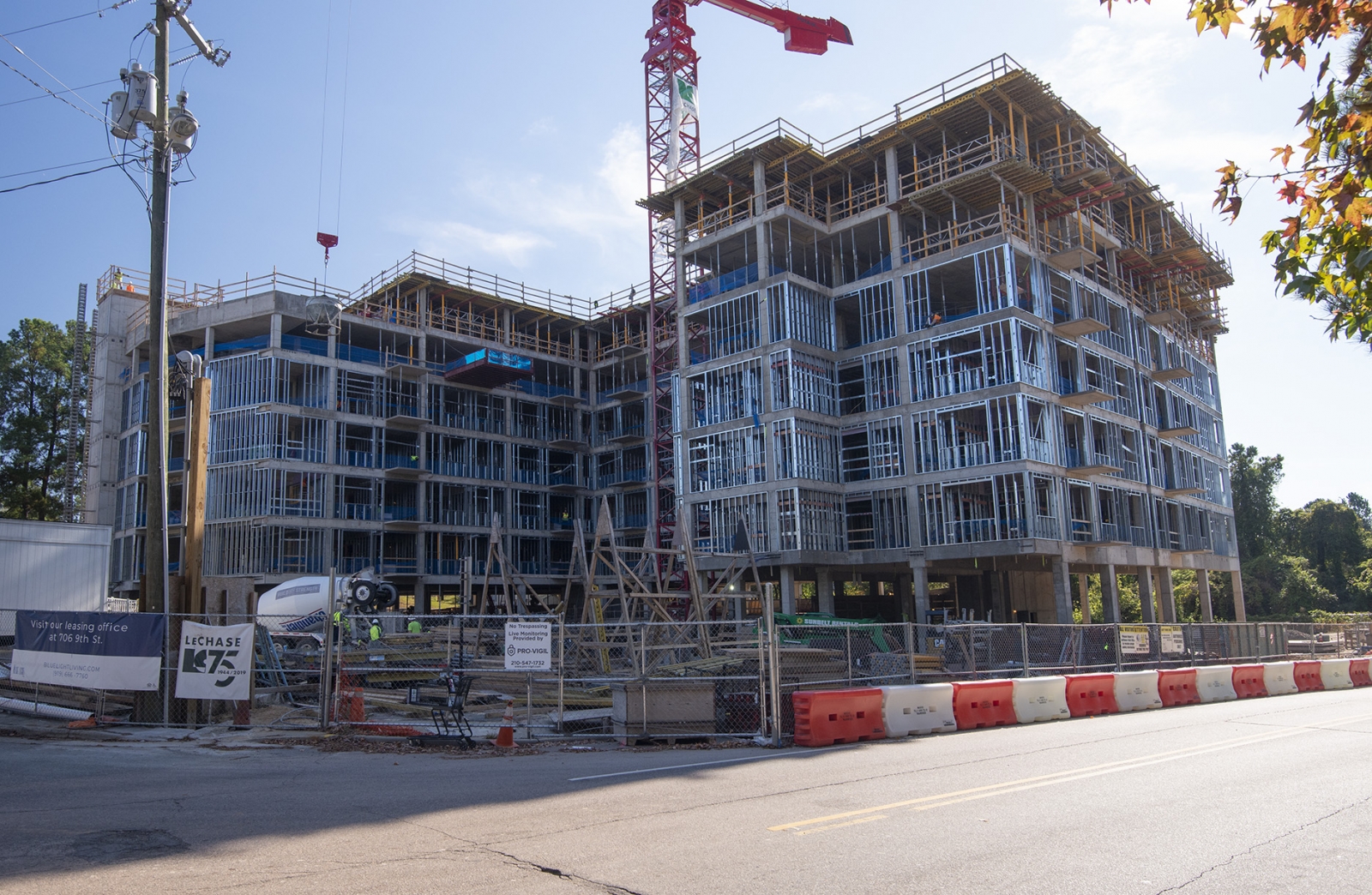 11.11.2019 (G. Kueber)