In tours
This building does not appear in any tours yet.
Last updated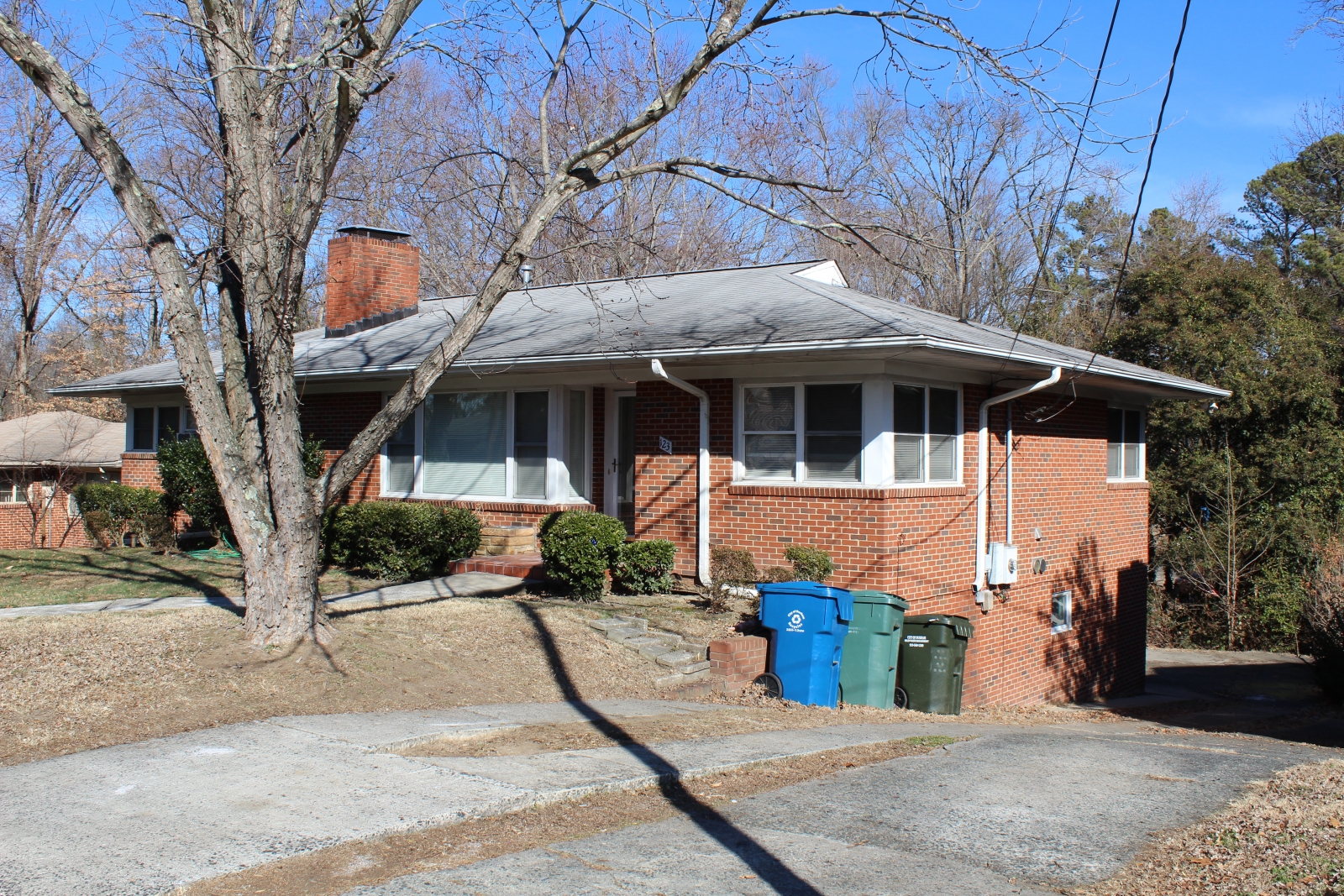 Photograph taken by Cheri Szcondronski, National Historic Register Submission, January 2018
This one-story, gable-on-hip-roofed Ranch house is four bays wide and triple-pile with louvered vents in the prowed gables. It has a brick veneer, deep eaves, an interior brick chimney, and vinyl windows that wraps around the four corners of the building, likely replacing metal-framed windows common throughout the district. An inset entrance near the right (southeast) end of the façade has a replacement door and vertical wood sheathing. To its left is a wide picture window flanked by double-hung windows. The site slopes to the rear with a basement-level garage on the rear (northeast) elevation. County tax records date the house to 1956 and the earliest known occupants are Joseph S. Parker, a teacher at Merrick-Moore School, and his wife, Loretha B. Parker, a teacher at CC Spaulding School, in 1960. Joseph later earned a doctorate and became a professor of Biology at North Carolina College (later North Carolina Central University).
County deed records indicate that C.C. Edwards and his wife, Annie, sold the lot to Louis Williams and his wife, Lucille Z. Williams on July 13, 1949.  After owning the lot for a few years, Mr. and Mrs. Williams sold the lot to Joseph S. Parker and Loretha Parker on August 1, 1953.  The Parkers built their home and began living there in 1956.  After living in the home until their passing, George W. Miller, Jr., administrator of the estate of Loretha Parker, conveyed the property to Edmond A. Parker on December 2, 2009.  On September 21, 2011, Edmond Parker sold the home to Courtenaye Lawrence.  Ms. Lawrence remains the owner and occupant of the property.
Dr. Joseph S. Parker, Professor of Biology
North Carolina Central University Faculty and Staff, 1910 - 2005
The James E. Shepard Memorial Library