In tours
This building does not appear in any tours yet.
Last updated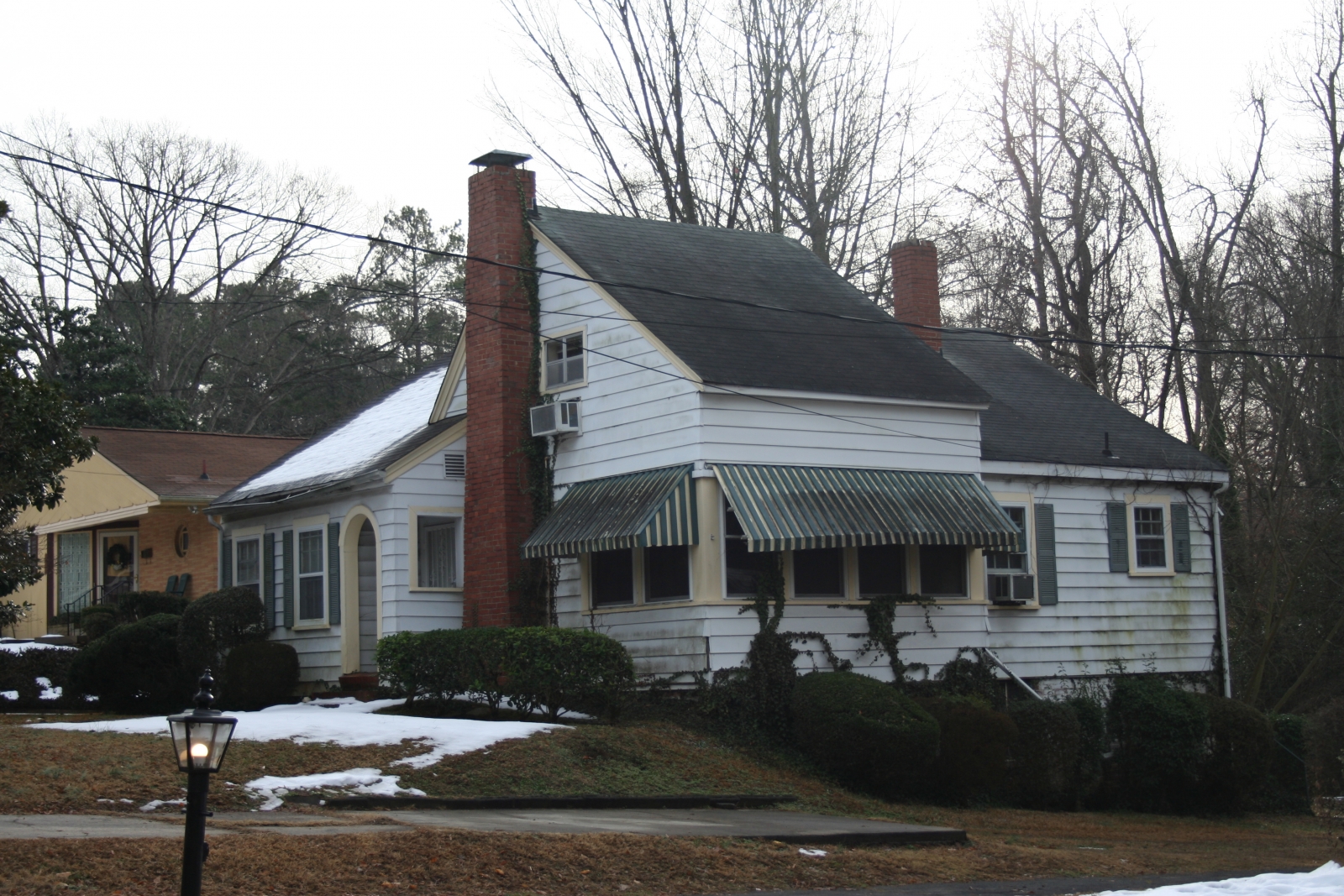 Photograph taken by Heather Slane, National Historic Register Submission, January 2018
Unique features of this one-story, side-gabled Period Cottage include an asymmetrical front gable on the right (west) end of the façade and an arched opening at the inset entrance bay. The house is four bays wide and triple-pile with a gabled ell at the right rear (southwest). The house has vinyl siding, flush eaves, and six-over-six wood-sash windows throughout. Near the center of the façade, the six-panel door is located in an inset entrance bay with an arched opening on the façade and a square "window" with no sash on the right side of the bay. The right end of the façade is recessed slightly under a higher, front-gabled roofline with a tapered front-facing brick chimney centered in the asymmetrical gable. The chimney is flanked by small, double-hung, metal-sash windows. The right end of this section was likely constructed as an open porch, but has been enclosed with grouped double-hung windows on a sided knee wall. The rear ell is two bays deep. The earliest known occupants are Harold M. Holmes, principal at Hillside High School, and his wife, Felice W. Holmes, a Latin teacher at Hillside High School, in 1955.
Mr. Holmes was the principal at Hillside High School for several years.  He retired in 1962 due to illness.
On September 11, 1945, Ida Mae Bass sold the lot to Norman Candice and his wife, Eugenia Cordice.  Deed records show that on February 2, 1950, Dr. Cordice and wife sold the lot to Mr. and Mrs. Holmes.  After the completion of the building of their home, Mr. and Mrs. Holmes became the residents of this property in 1955.
Miriam R. Holmes, aka Miriam Rosemond Holmes, transferred title of this property to Walter VanBuren Holmes, as sole and separate property, on January 23, 1992.
Ownership of this house remains in the Holmes family,
Harold M. Holmes
Carolina Times, May 19, 1962, page 1