In tours
This building does not appear in any tours yet.
Last updated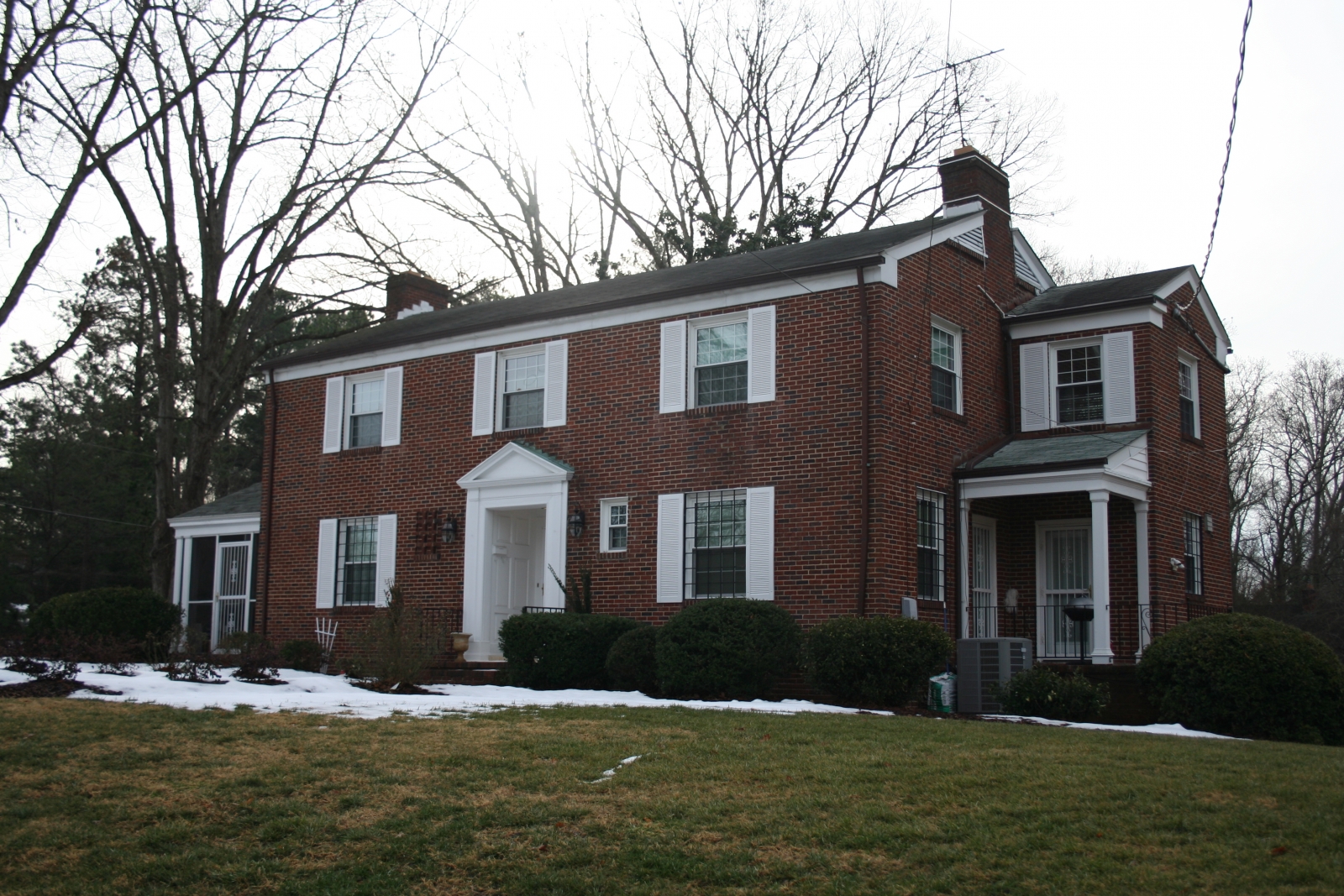 One of only a few two-story buildings in the district, this Colonial Revival-style house is the most stately house on Masondale Avenue. The house is five bays wide and double-pile with a brick veneer, flush eaves, and a wide, flat fascia board. The house has replacement vinyl windows throughout, an interior brick chimney in the right (west) gable and an exterior brick chimney in the left (east) gable, each flanked by louvered vents. An inset, paneled entrance bay, centered on the façade has a classical surround with flush pilasters supporting a pediment. It shelters a two-light-over-four-panel door. A small window to the right of the entrance is balanced by a decorative brick panel of the same size to the left of the entrance. A two-story, side-gabled wing on the right elevation aligns with the rear of the building and has a shed-roofed porch on its front, supported by square columns and sheltering entrances on the front of the wing and the east elevation of the main block. A one-story, side-gabled, screened porch on the left elevation is supported by grouped square columns and has vinyl siding in the gable. A two-story, hip-roofed wing is centered on the rear elevation. County tax records date the house to 1949 and the earliest known occupants are John L. Stewart, later president of NC Mutual Savings & Loan Association, and his wife, Otelia J. Stewart in 1950.  The Stewarts were the parents of three children, Ethel Marie, Janetta, and James.  James is the Chairman of the Board of Mechanics and Farmers Bank and the owner of Stewart Commercial Investments.
According to county deed records, James T. Peace sold the lot to J.S. Stewart and Otelia J. Spaulding Stewart on October 28, 1948.
Mr. Stewart was the second African American elected to the Durham City Council, serving from 1954-1971, and as mayor pro tem from 1970-1971.  Mrs. Stewart was the niece of C.C. Spaulding.  Her sister, Martha S. Dooms, lived across the street from the Stewarts at 131 Masondale Avenue.
Mrs. Stewart died in June 1991; and Mr. Stewart died in May 1995.
On October 24, 1996, Frances L. Dyer, Ethel Marie Foley, Charles E. Steele, Janetta S. Steele, James A. Stewart, John S. Stewart Trust, John S. Stewart Estate, John S. Stewart Revocable Trust sold the house to William C. Turner, Jr. and Joyce R. Turner.  Reverend Turner is the Pastor of Mt. Level Baptist Church.  The Turners are the current owners and occupants of the house.
                 John S. "Shag" Stewart
                   Carolina Times