In tours
This building does not appear in any tours yet.
Last updated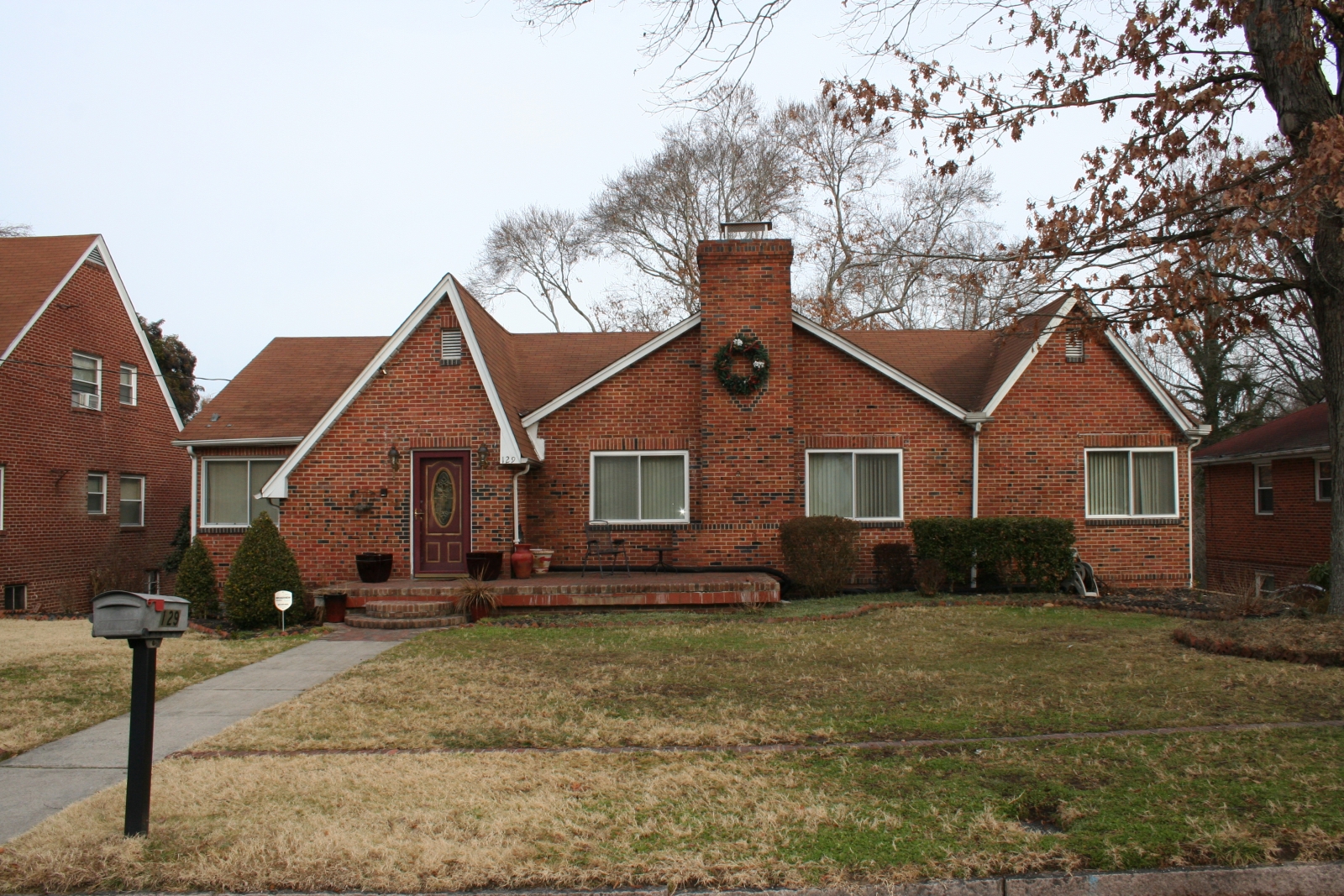 Photograph taken by Heather Slane, National Historic Register Submission, January 2018
This one-story, side-gabled Period Cottage is five bays wide and triple-pile with two decorative gables on the right (east) end and center of the façade and a projecting, gabled entrance bay on the left (west) end of the façade. The house has a brick veneer, vinyl windows throughout with soldier-course brick lintels and brick sills, rectangular louvered vents in the front gables, and an exterior front-facing, brick chimney centered in the center gable. The entrance bay has an asymmetrical gable and a replacement door that is accessed by a two-bay-wide, uncovered brick terrace. An inset porch at the right rear (northeast) has been enclosed with vinyl siding and windows and the site slopes to the rear to reveal a basement level on the right elevation. A brick wall extends along the left side of the driveway, connecting to the foundation of the house. According to the current owner, daughter of the original owners, the house was built for Archie C. Artis, a barber and owner of Bull City Barber College, and his wife, Evelyn B. Artis, a teacher at CC Spaulding School, in 1948.
Mrs. Artis was a second grade teacher at C.C. Spaulding Elementary School and taught many of the children in College Heights.
According to deed records, on August 20, 1943, P.N. Baldwin and wife, Esther G. Baldwin sold a lot to Archie Artis and his wife, Evelyn B. Artis.  Mr. and Mrs. Artis purchased a second lot from Hattie White on February 3, 1945.  On August 4, 1953, W.L. Dooms and his wife, Martha Dooms, sold a lot to them as well.  At that time, they built their home.  They were the parents to one daughter.  Their daughter is the owner of a beauty salon.
Even though there were not permits in the county records to show modifications, when this house was originally built, it was much smaller than what is pictured and was a white frame house.
On March 27, 1998, Mrs. Evelyn Bryant Artis Drake transferred the title of this house to her daughter, Elaine Cardin, who still owns and lives in the house.