In tours
This building does not appear in any tours yet.
Last updated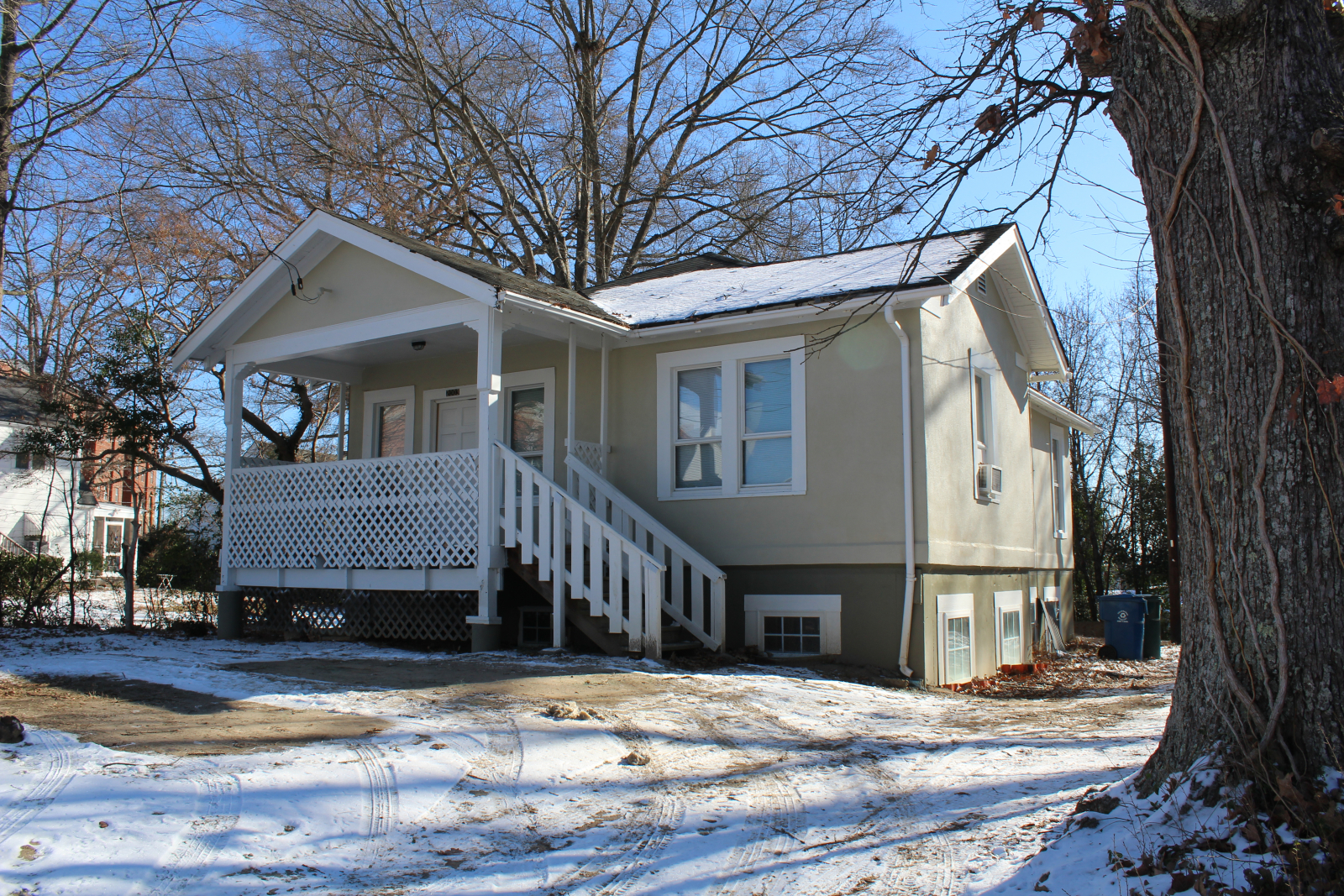 Photograph taken by Cheri Szcondronski, National Historic District Submission, January 2018
This one-story, hip-roofed bungalow is three bays wide with a one-bay-wide, gabled wing on the right (southwest) elevation, flush with the façade. The house has a stuccoed exterior, deep eaves with exposed rafter tails, and vinyl windows throughout made up of fixed windows with operable hopper sashes below, replacing original six-over-one wood-sash windows since 1981. A six-panel door is centered on the façade, flanked by single windows, and sheltered by a front-gabled porch on replacement square posts with brackets made up of stacked wood blocks to create the triangular forms. A later railing and wood lattice extends between the posts. Beyond the gabled wing on the southwest elevation is a shed-roofed wing, likely an enclosed porch. The left (northeast) elevation has a gable near the front (north) end and paired casement windows at the rear (east) end. An open porch on the rear elevation is supported by square posts on a weatherboard-covered knee wall. County tax records date the house to 1935 and it appears on the 1937 Sanborn map. The earliest known occupants are William A. Peddy, a clerk at County ABC Board Store #2, and his wife, Wynella C. Peddy, in 1940.
County deed records show that North Carolina Mutual Life Insurance Company sold the lot to W.A. Peddy on February 12, 1936.  On May 18, 1953, W.A. Peddy and Elma W. Peddy sold the property to Stanley Paul Hebert and his wife, Mary Lou Hebert.  The Heberts sold the house to J.H. Wheeler and his wife, Selena W. Wheeler on June 28, 1955.  Selena Wheeler, the daughter of Dr. Stanford L. Warren, sold the property to Justice F. McConnell, a neighbor who lives at 305 Pekoe Avenue, on June 3, 2005, and is the current owner who bought it for rental property.