In tours
This building does not appear in any tours yet.
Last updated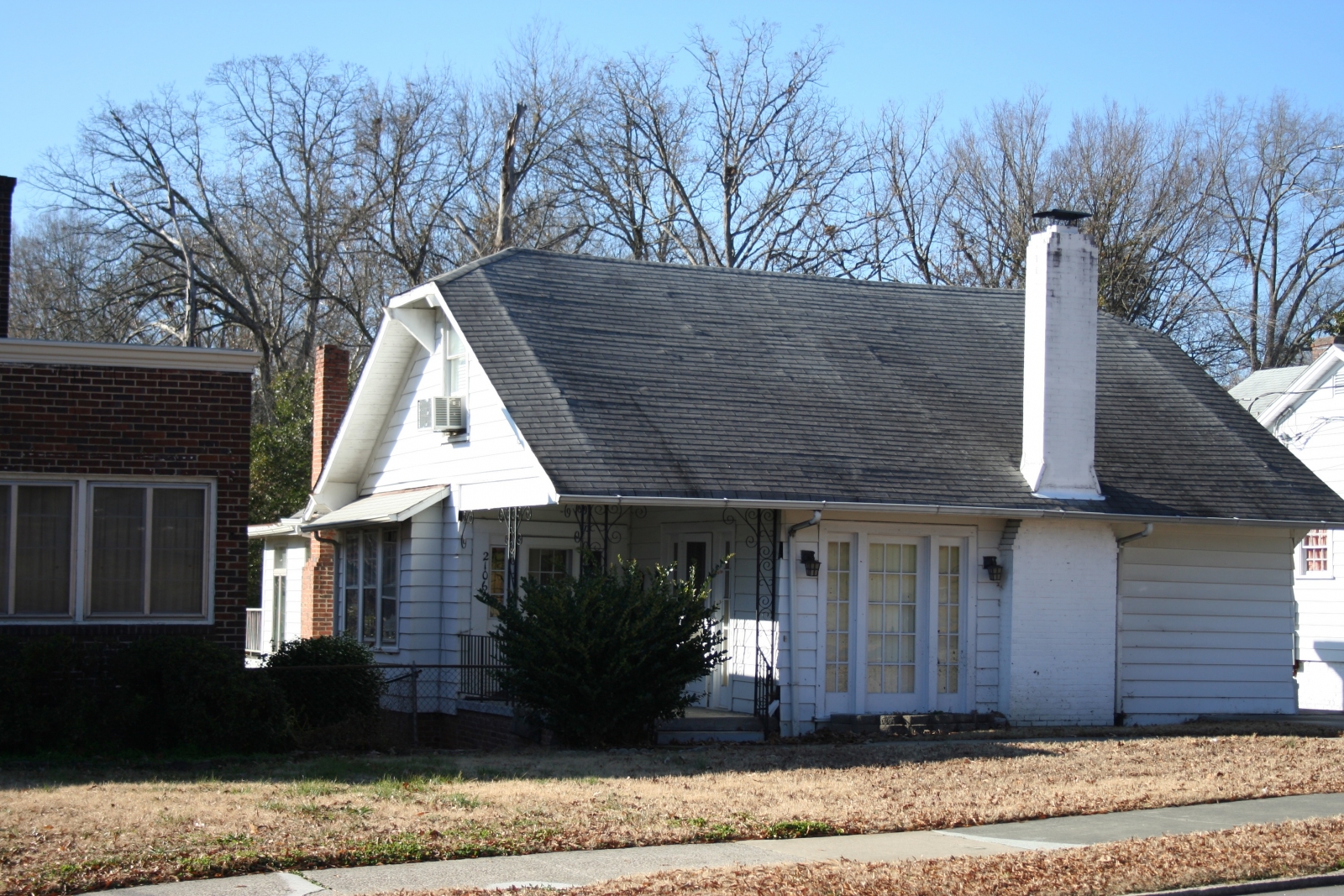 Photograph taken by Heather Slane, National Historic District Submission, December 2017
This one-story, clipped-side-gabled Period Cottage is two bays wide and double-pile with a wide, gabled rear ell. The house has aluminum siding, vinyl windows, aluminum-covered knee brackets in the gables, and an exterior front-facing brick chimney near the center of the façade. A fifteen-light French door left (south) of the chimney is flanked by ten-light sidelights. An inset porch on the left end of the façade is supported by decorative metal posts and shelters a nine-light-over-two-panel door with three-light-over-one-panel sidelights and a second entrance with five-light sidelights on the right (north) side of the inset bay. There is a projecting, shed-roofed bay on the left elevation with a group of three windows. The house has a single window in each gable, an exterior brick chimney on the south elevation of the rear wing, and a shed-roofed dormer on the north elevation of the rear wing. A gabled ell at the right rear (northwest) has a shed-roofed bay to its south and a modern wood deck at its rear. The earliest known occupants are James T. Taylor, a professor at North Carolina College (later North Carolina Central University), and his wife, Gertrude E. Taylor.
On May 23, 1928, R.L. McDougald and his wife, M.L. McDougal, and E.R. Merrick and his wife, Lyda V. Merrick, sold this lot to James T. Taylor and his wife, Gertrude Taylor.  According to the 1930 City Directory, Mr. Taylor and his wife were residents of the home.
Mr. Taylor was the first chair of the Psychology Department; and was Dean of Men from 1926-1943.  He received  an honorary Doctor of Law degree at the NCCU 40th Commencement.  Dr. Taylor, Executive Secretary of the Shepard Foundation, presented the statue of Dr. James Shepard in front of the administration building in 1957.  Dr. Taylor died in 1970.
County Deed Records, show that Mechanics and Farmers Bank, executor of James T. Taylor estate, sold the property to Marjorie L. Browne on July 10, 1970, where she resided for several years.  On October 13, 1980, with Mechanics and Farms Bank acting as executor of the estate of Marjorie L. Browne, sold the house to Fred J. Williams and his wife, Janice Gill Williams.  On January 26, 2009, Fred J.Williams transferred title of the home to Janice G. Williams.
According to tax records, Janice G. Williams sold the house to the state of North Carolina on September 22, 2015.  The house is being maintained; although it is not stated as to its use.
Dr. James T. Taylor, NCCU Faculty and Staff Photograph
Records 1910-2005, The James E. Shepard Library,
North Carolina Central University