In tours
This building does not appear in any tours yet.
Last updated
Sun, 07/17/2011 - 12:25pm by gary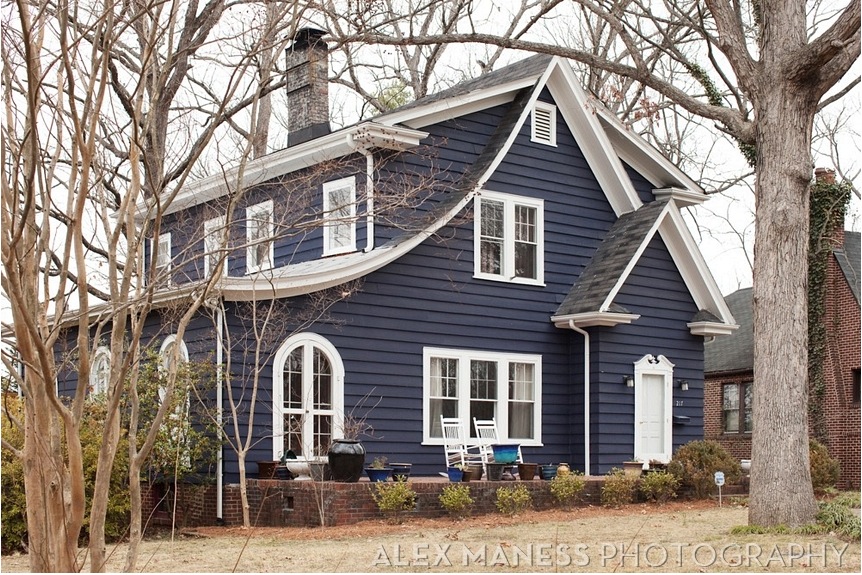 217 Knox Circle, 2011
(Courtesy Alex Maness)
Text in italics from the writeup for the 2011 Preservation Durham House Tour:
J. Grover Lee House, 1929
217 Knox Circle
J. Grover Lee, an attorney who maintained offices on Main St., bought this house in 1939 and moved in with his wife Ila, the daughter of funeral home owner R. T. Howerton, and their two sons James, Jr. and Thomas. Mr. Lee died in 1959, and his widow lived in the house until her death in 1977. The Lee sons sold the house to Steven Ford. Ford set the bar for a succession of later owners, winning a Preservation Durham Pyne Preservation Award in 1981 for work he had done on this charming house. The current owners, the seventh family to live in the house since the Lees, purchased the house in 2005. Despite the frequent change of hands, the house is little changed and retains many of its original features.
The façade is dominated by a dramatic curved gable that swoops down from a high central peak to form the roof over the room at the south side of the first floor. The curved roof line, combined with the shallow slope of the main roof and a steeply pitched gable over the front door, creates a dramatic façade of interlocking planes accented with Colonial Revival details. The back of the house also has a curved gable that mirrors that on the front.
Inside the house, the floor plan and structural details are nearly original. A narrow vestibule welcomes visitors under its arch to the living room, which has built-in bookshelves and an original coal-burning fireplace that now burns wood. The ceiling with its pot lights is new, installed after a plumbing leak in the upstairs bathroom. The sunny porch room on the south side extends the depth of the house, with arch-topped French doors to the front porch and back deck and three arched windows on the south wall. The dining room features a built-in corner cabinet. The kitchen has a shallow breakfast alcove delineated by another wide arched doorway. The wide staircase leads upstairs to three large bedrooms and a bathroom. The whole house has original hardwood floors that have been recently refinished.
At the back of the house, a deck stretches across the entire width, creating the outdoor living space that 21st century families enjoy, a contemporary compliment to the classic, comfortable, and convenient indoor space that has housed so many families for more than seventy years.
Find this spot on a Google Map.
36.013279,-78.889621