In tours
This building does not appear in any tours yet.
Last updated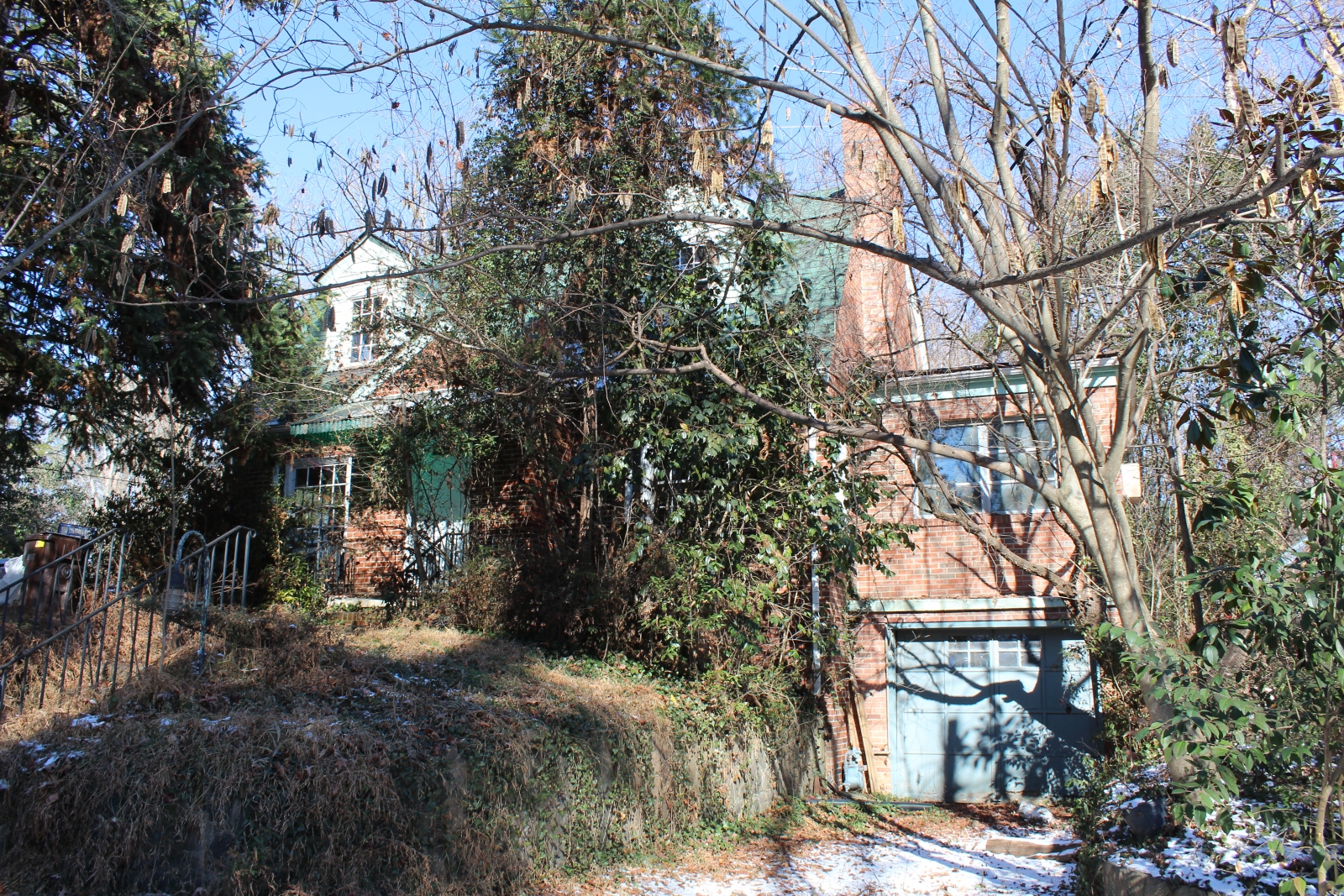 Photograph taken by Heather Slane, National Register Historic District Submission, January 2018
Difficult to see through the dense foliage in the front yard, this one-and-a-half-story, side-gabled Period Cottage is three bays wide and double-pile with a brick veneer and aluminum siding on two gabled dormers on the façade. Centered on the façade in a projecting, front-gabled bay is a replacement door sheltered by an aluminum awning and accessed by an uncovered brick terrace that extends across the right (east) two bays of the façade. On either side of the entrance bay are eight-over-eight wood-sash windows, each flanked by glass-block sidelights. Windows on the right elevation and in the dormers are six-over-six wood-sash windows. There is an exterior brick chimney on the right elevation and a one-story, flat-roofed wing with stacked, metal-frame awning windows and a basement-level garage with paneled overhead wood door. The flat-roofed wing extends the full width of the rear (north) elevation and connects to a flat-roofed carport at the left rear (northwest) that is supported by metal posts. The house is located on a slight rise with a stone wall at the front of the property. County tax records date the house to 1942 and the earliest known occupants are Leroy R. Swift, a medical doctor at North Carolina College (later North Carolina Central University) as well as in private practice , and his wife, Gladys M. Swift, in 1945. He was the first certified OB-GYN physician  at Lincoln Hospital.  The house was later occupied by Dr. Robert Randolph, a medical doctor at North Carolina Central University, and his wife Emma, an operating room supervisor at Lincoln Hospital and a relief nurse at North Carolina College.
Dr. Swift and his wife, Emma moved to his commercial building, where his private practice was on the first floor and their living quarters were on the second floor at 1111 Fayetteville Street, in May, 1956.  North Carolina Mutual Life Insurance Company sold the house to Robert P. Randolph and his wife, Emma.  They did not have any children.  Dr. Randolph was Student Health Services Director at North Carolina Central University from 1957 until 1966. He practiced Family Medicine during this period as well and would make house calls to residents in College Heights.  According to deed records, Dr. Randolph gave power of attorney to his niece Frances Dyer on December 23, 1991.  Ms. Dyer sold the home, after his death, to Catherine L. Evans.  On March 28, 2003, the house was sold to Justice McConnell, who is the current owner and occupant.