806 JACKSON STREET - More teardowns for the good of the community
In tours
This building does not appear in any tours yet.
Last updated
Sun, 08/14/2011 - 4:47pm by jwood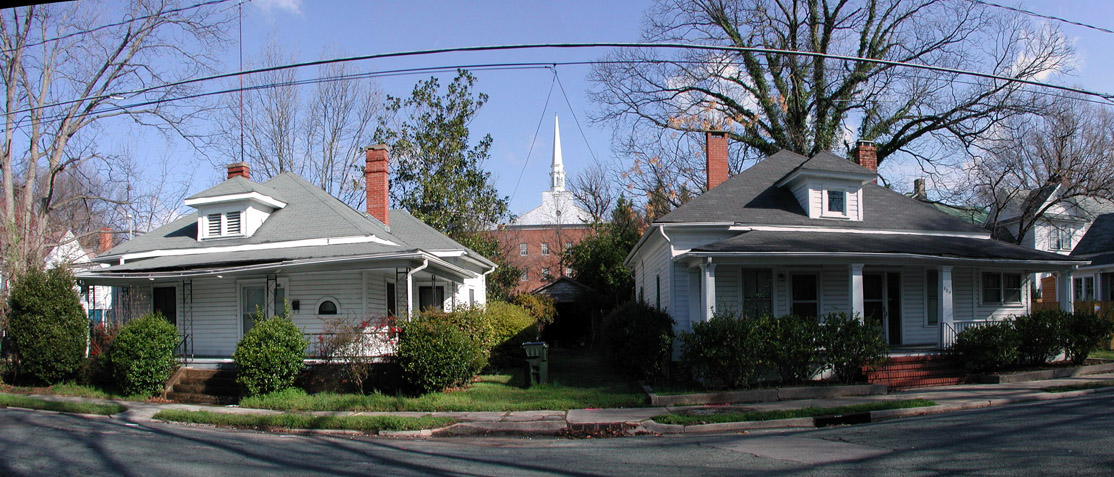 804 and 806 Jackson Street, framing the steeple of the former Temple Baptist - now Healthy Start Academy, 03.16.08.
I can't tell you too much in the way of history about 804 and 806 Jackson Street. Most likely, they were built by the same builder, and they were built sometime between 1913 and, probably, about 1925. When they were built, the houses closed off the entrance to a public alleyway down the center of the block.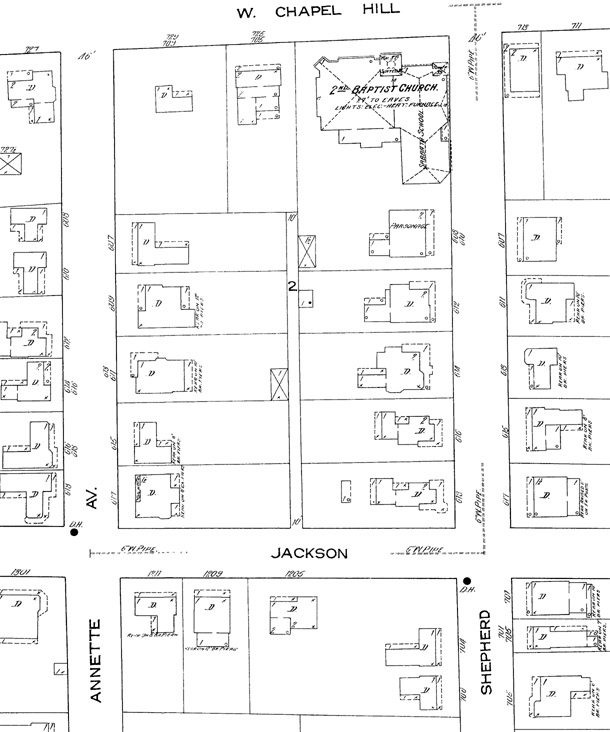 800 block of Jackson, 1913, prior to the houses being built.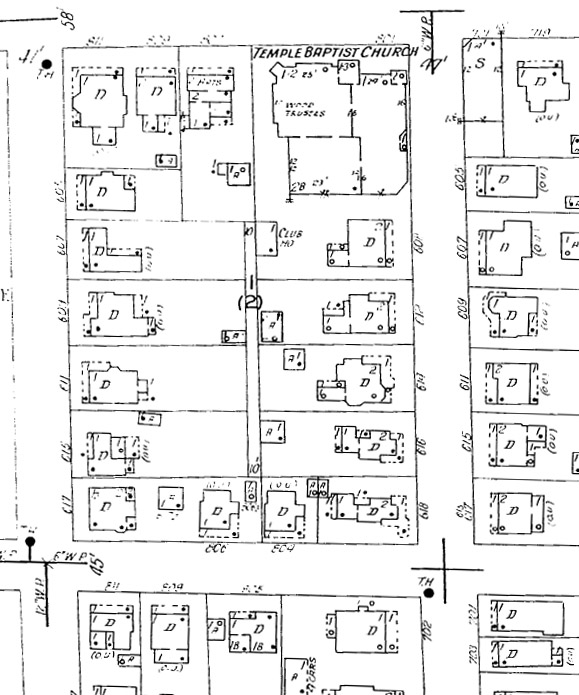 800 block of Jackson, 1937.
You'll notice in both pictures the church, first 2nd Baptist, later Temple Baptist. I profiled this church back in 2006. Both of these Sanborn maps show the church's original sanctuary on the corner of Shepherd and West Chapel Hill St.
By the time of the below aerial photo, from 1959, the church had built a new sanctuary, in the center of the West Chapel Hill street frontage.

By the mid-to-late-1960s, the church had torn down the original sanctuary, but the church persevered here through the 70s, 80s, and 90s. In 2001, Healthy Start Academy - North Carolina's first charter school, bought the church from Temple Baptist for $2 million - the Baptist congreation continued to hold services in the new sanctuary until 2003, when they moved to the boonies.
Healthy Start has some interesting history, which you can Google and read about from the John Locke folks / Reason magazine.
As their website proudly notes, Healthy Start has received some substantial Federal grants, and appears to be financially quite successful.
And what do churches, schools, and churches-that-become-schools do when they are financially successful? They... Must... Grow.
Healthy Start seems to have acquired these parcels from Temple Baptist in a somewhat complicated arrangement that makes it unclear when they actually took control of the property. That Temple Baptist may have planned to expand this way isn't exactly surprising either - note the decrement in houses between the aerial shots above and the 2007 aerial shot, below.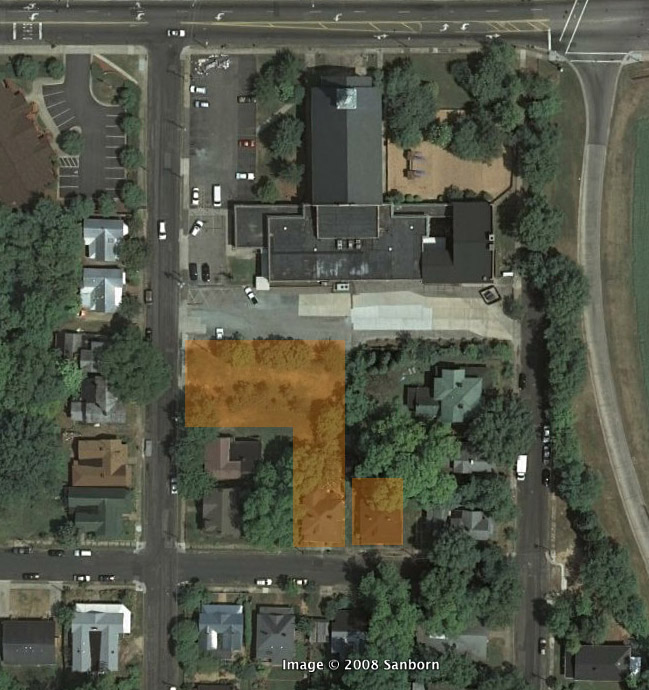 800 Block of Jackson, showing property south of the current parking lot owned by Healthy Start in orange.
Healthy Start hasn't been shy about making their intentions known; evidently the director, present at the West Chapel Hill charrette, drew on her map the school taking up the remainder of the Jackson/Arnette portion of the block.
But wait, you say, isn't Morehead Hill a local historic district? And GK, you keep going on about how places like Trinity Park and Old North Durham should be local districts? They are contributing structures to the district - i.e. they had architectural and historical merit that helped make the historic district a historic district. So these houses are protected, right?
No, not really.
The big, gaping (intentional) loophole in the local historic district statute is that the Historic Preservation Commission (HPC) is not empowered to prevent demolition. The only power the HPC has is to delay demolition - for up to one year. Various conditions - such as an 'unsafe' structure or financial hardship - allow the demolisher to avoid even that delay.
Beyond that, the city attorney has recently decided that if NIS declares a structure "unsafe", then the inspections department can issue a demolition permit to an owner without them needing the HPC's approval at all. So the savvy demolisher neglects their property until it is unsafe, then can do what they want - not that NIS is exactly conservative in their declarations of what property is 'unsafe.' Turns out this is what happened over in Cleveland-Holloway to 605 Holloway.
So Healthy Start could acquire the whole block, wait a year, and then tear it all down. It could acquire the whole next block of the historic district for a high school and a football field - wait a year, and then tear it all down.
So I tend to laugh a bit when people start trotting out their property rights and distrust of gummint as reasons that they just won't accept a local district. I generally say "If you knew just how weak it was, you'd be a proponent."
Does the local district have value? Yes, of course - it usually provides for a public process, so at least the neighborhood can be aware and have a dialogue with the owner/try to find an alternative solution. It probably dissuades somebody from demo-on-a-whim, and the design criteria for new construction deter some people from thinking they can put up any-ol-piece-of-junk if they demolish.
Back to these cool little houses - the neighborhood has gone through a great deal of effort to create a local district - and there is nothing statutory that they can do to save them from Healthy Start (although one neighbor cleverly noted that the center alley still exists on the map and may remain an easement of some kind.)
The school has said that they want to expand to expand their playground - maybe so, I don't know. But it also sets up the argument a lot better than saying you need to expand the parking lot. It's pretty much the ultimate setup in the 'save-the-houses or save-the-children' dichotomy that will be argued.
People will undoubtedly argue that the school does good, you're denying children saved from falling through the cracks a place to run around, etc. It's only two houses. They aren't anything special. They aren't repairable. They have foundation problems. Etc.
But where does it stop? With the block? Then it will be a few houses in the next block for additional parking. People, including Healthy Start, moved to this neighborhood as a historic district - shouldn't they be able to rely on the district to deliver?