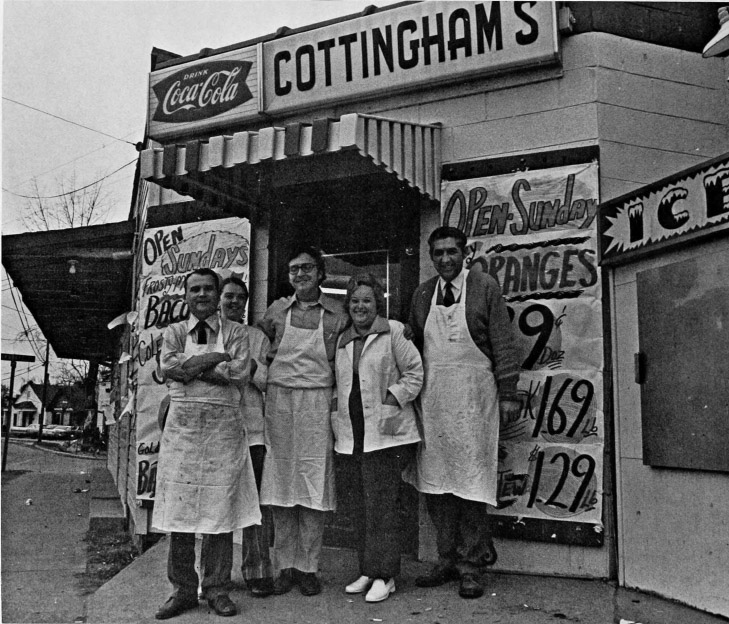 1974
The triangular building at the corner of Hillsborough and Lawndale appears to have housed a neighborhood store from the 1930s.
Per the son of the owner, his father, Jack Cottingham, began his business in the building around 1940, with a specialization in making sausages.
To quote Charlie Carden from one of several wonderful personal histories on the Old West Durham website:
"When I was growing up, my Mama never cooked a turkey for Thanksgiving or Christmas; she and my Daddy said the meat was too dry. Instead, Mama would get Mr. Wagner, from Jim Wagner's store on Ninth Street, or Mr. Cottingham, from Cottingham's Grocery at the corner of Hillsboro Road and Lawndale Avenue (depended on where we lived), to order her a fresh hen and ham."
The building had a tall Coca-Cola cutout sign perched above the vertex of the triangle, lighted, and reaching about 10 feet high, and similar to the logo below which "probably saved the building from being utterly destroyed by tractor trailer trucks too many times to count." The sign greeted travelers along highway 70, entering Durham.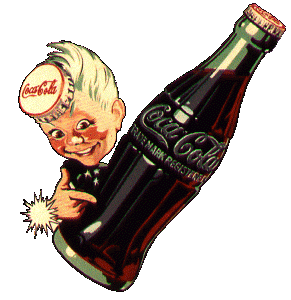 Longtime manager of the store Benny Bolling was well known to neighborhood residents, and lived nearby on Alabama Avenue. In the 1960s, the store began to transition from a grocery store to a convenience store.
The roof was evidently always flat, and refrigeration equipment was visible from the ground. The siding was white clapboards; in the 1970s, architect Charles Knott designed the mansard roof (which was orange) and new siding consisting of grey vertical panels.
The store later became a "high-end wine and cheese shop" and then a camera store. Later, it became the Sock Shop; it appears to currently house the Spirit and Way Christian Church.