DURHAM SADDLE CLUB aka SADDLE & FOX
Built in
1946
/ Demolished in
2009
In tours
This building does not appear in any tours yet.
Last updated
Thu, 08/22/2013 - 12:24pm by gary
Comments
Built in
1946
/ Demolished in
2009
'The Saddle Club' was built in 1946 by Charles Haynes, Jr., known to friends as Charlie or Sonny.  Haynes has enough interesting stories to fill a book with. Haynes was born in 1921, and at 13 years old was Durham's youngest Eagle Scout. After attending Durham High School, he attended Duke University and played football in the famous 1942 Rose Bowl, held at Duke because of worry of a West coast strike during the war. Also while at Duke, Charlie taught riding classes to undergrads in the physical education department.  Before there was a restaurant in this location there were riding stables, and before that, a fox club.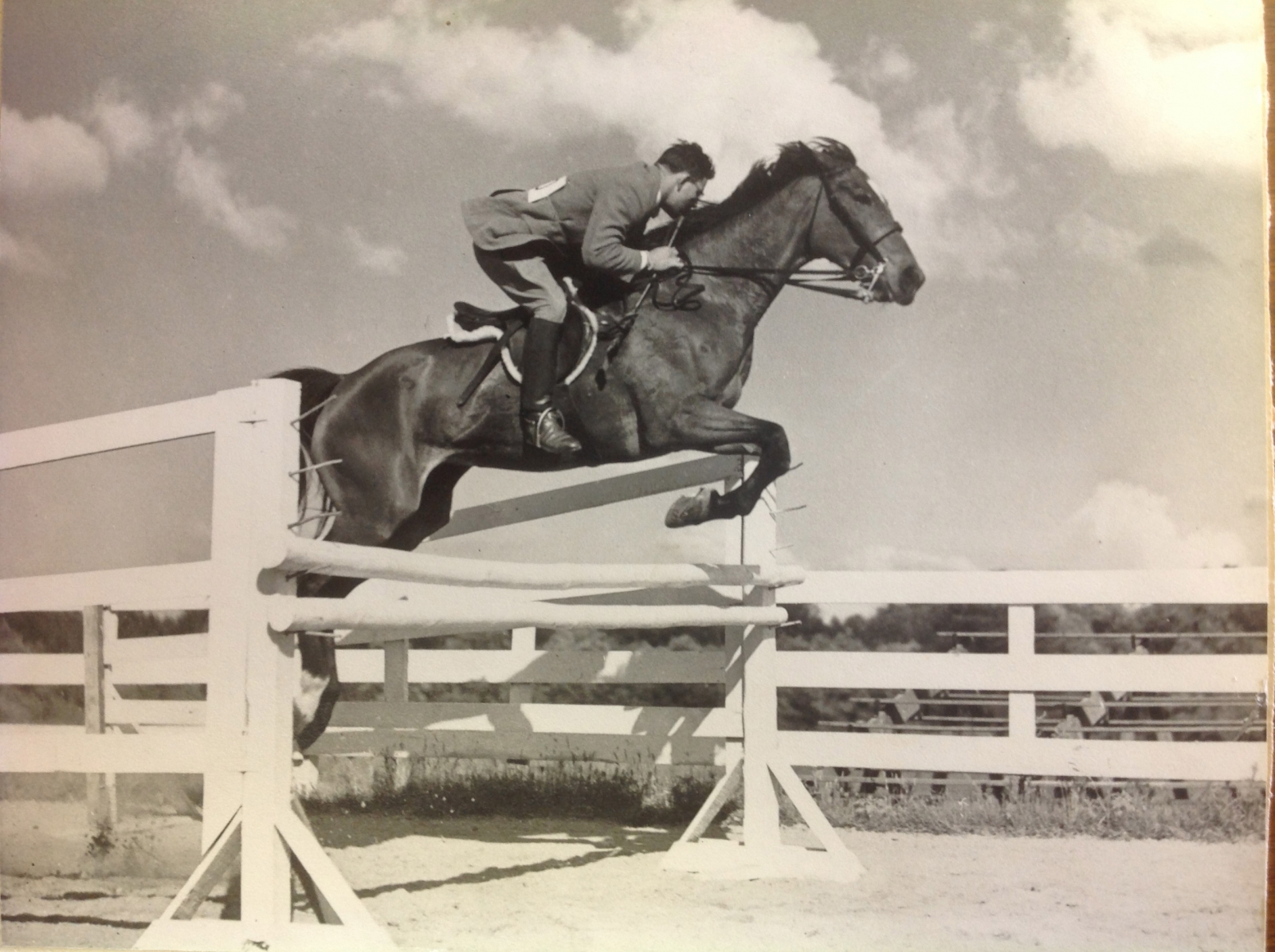 Haynes on a horse in competition. (Charles C. Haynes Papers #5398, Southern Historical Collection, The Wilson Library, University of North Carolina at Chapel Hill.)
On July 4, 1941, Charlie Haynes and his mother opened a riding school and polo grounds on this site called Hillandale Stables. The family also owned Durham Livery Stables.  Within 2 years of starting the stables though, Charlie had, by his own account, faked his way through his military eye exam and was on his way to war, leaving his mother to run the Hillandale Stables.
His mother had apparently taught many children from wealthy families how to ride, including Tom Kenan (Kenan Oil, Kenan Stadium). From what I can gather, they got additional business from Camp Butner, the nursing school and college kids taking summer school classes. One letter states that on Feb 24, 1944 (unusually sunny) they did $123 in business. 
The family home was at 1208 Arnette Ave. In wartime correspondence between son and mother, they spoke of possibly moving to "the farm" and selling the house on Arnette. While I have no records to verify this, it seems that the Haynes owned a large parcel of  land along Hillsborough Road, of which the restaurant and stables were only a part. He also ran a large construction company from 1948-56 on the same property. 
There were many offers on portions of their land in the 1943-44 time period, as the city expands West. One correspondance mentions that Buck  Marshburn has inquired about buying the land "at the corner" to build a filling station. A letter from overseas in March of '44, Haynes writes to his mother offering advice of what to do about another offer for a portion of their land that had stables, of $5,000 (a month earlier she noted they were down to $6500 owed).  If they sold that particular portion, they had to move the stables and buildings. Haynes was worried how his mother would handle this on her own, as labor was short due to the war(as was building supplies) and she aleady was doing most of the labor. He instructs her to build new stables from their own timber, using this diagram. I do not know if any of this ever occured but the timing makes sense.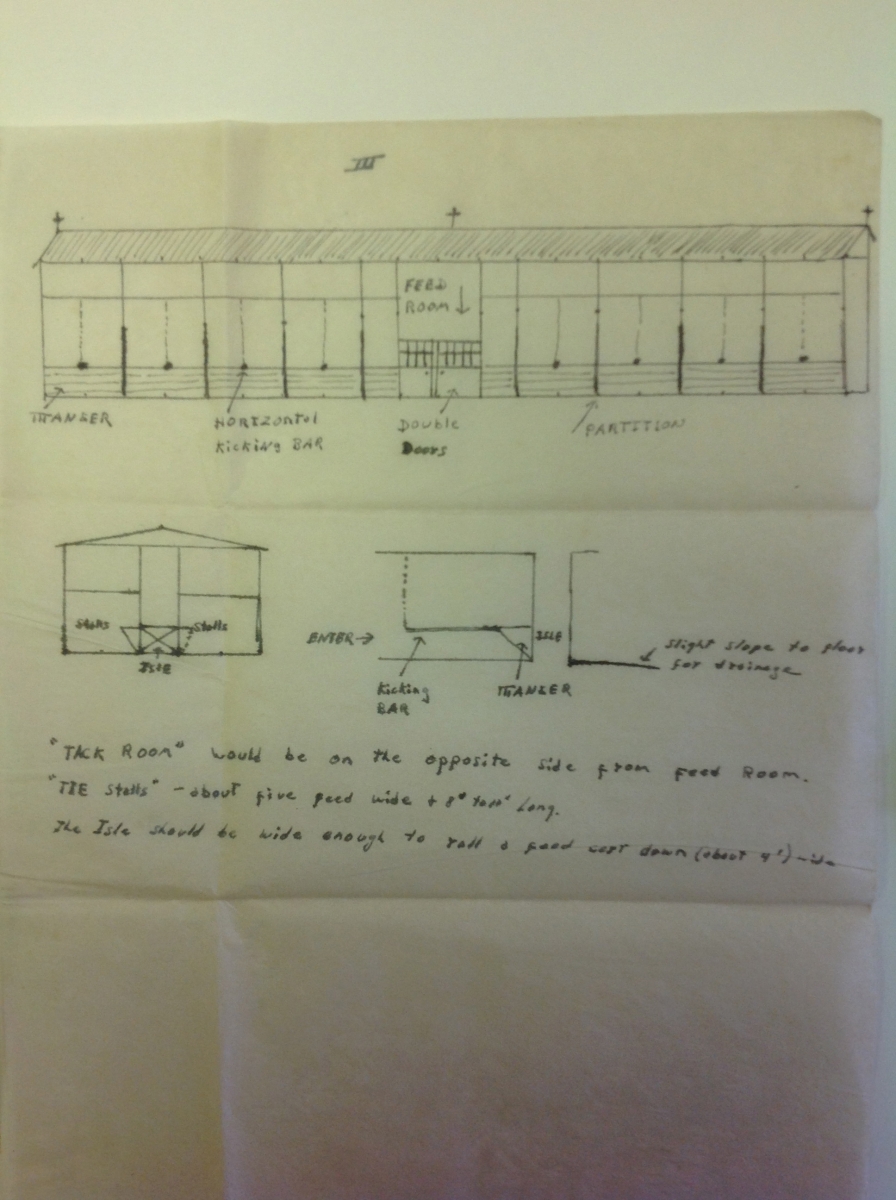 As the city encroached their property, the riding paths became less and less rural. Where 50 years earlier men would come here to this same land to foxhunt (possibly called Hillandale Hunt Club) , now the idea of hunting or horseriding in this location proved unrealistic. Increasing industrial development along the once rural road meant the demise of the club by the 1950s or possibly earlier. 
Luckily, Haynes was a born businessman and was thinking ahead. With every letter he wrote home to his family while stationed overseas, he included money to sock away. While in North Africa during WWII, Charlie had been eating C-rations for weeks. One night, he and his buddies were invited to the French Foreign Legion for a seven course, candle lit dinner with case after case of wine. He said in numerous interviews that that meal was what convinced him to be a chef. This trip was soon followed by a long stint in the Italian Alps where he learned about food from the locals. (At some unknown point in time he did attend culinary school).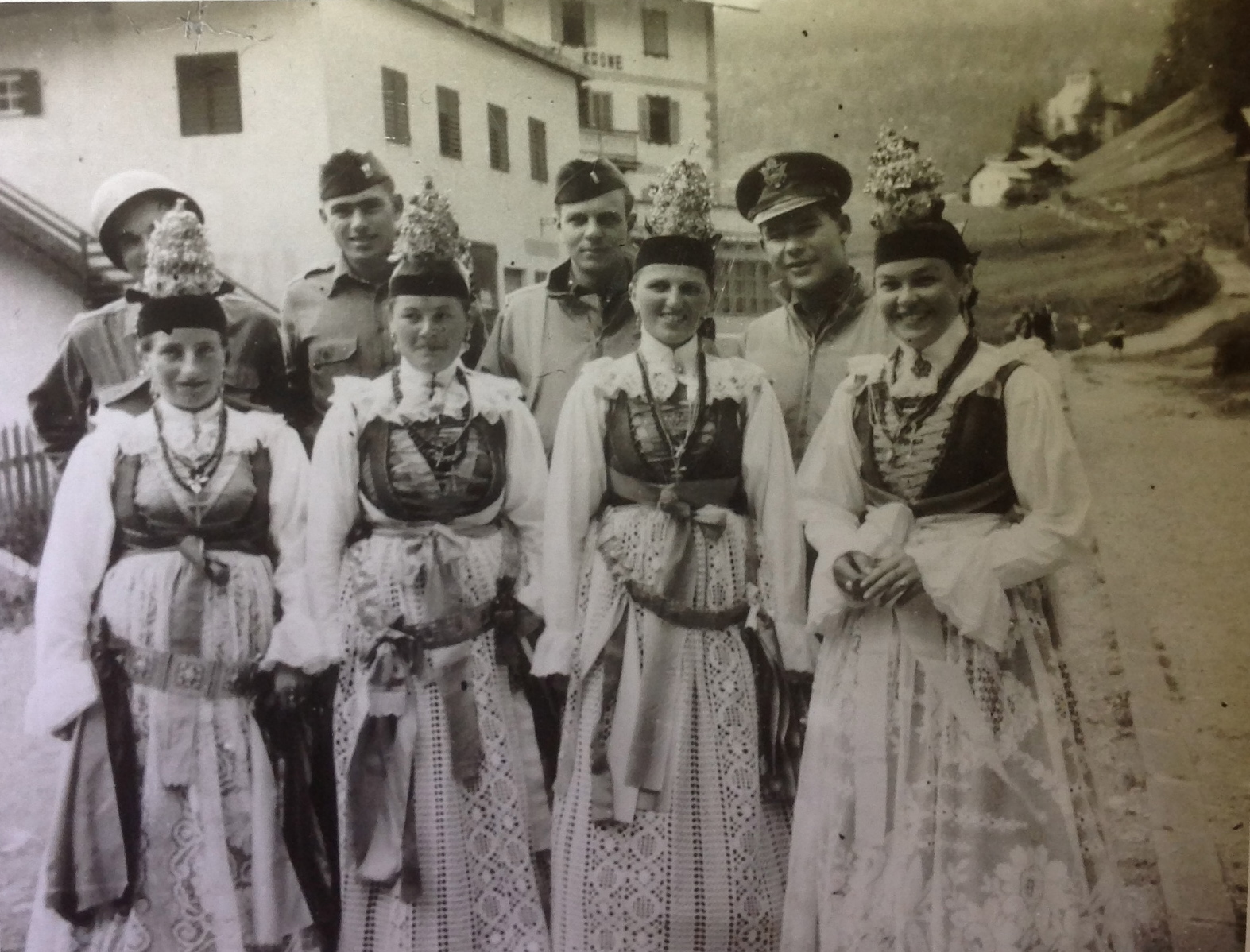 Charles C. Haynes Papers #5398, Southern Historical Collection, The Wilson Library, University of North Carolina at Chapel Hill.
Along with fellow Duke alumnus and vet Tom Huckabee, they get the plan in motion to open their own restaurant to monopolize on the traffic about to come their way. Receipts show formica tabletops, steam tables, plates and silverware, among other kitchen equipment, mainly purchased second hand from Camp Butner before Haynes had even returned home yet. 
According to the story that Haynes himself told of the restaurant's origin, they built it with wood from their own land. The rocks from the fireplace were also local, and were brought from the other side of their property by a horse drawn wagon. The artist who was putting the "SC" in the fireplace put in the S backwards somehow and Haynes said he didn't have the heart to tell him so it was just always wrong. When it came time to put in the mantle on the fireplace, Huckabee, the partner, stood at one end and they laid the mantle on top of his head, to balance one side while they affixed the other. So the mantle sat at 5'5", Huckabee's height. To keep with the homemade vibe, they took the wheels off of the horsedrawn cart they had used and put them on the wall and ceiling. The restaurant opened in June of 1946.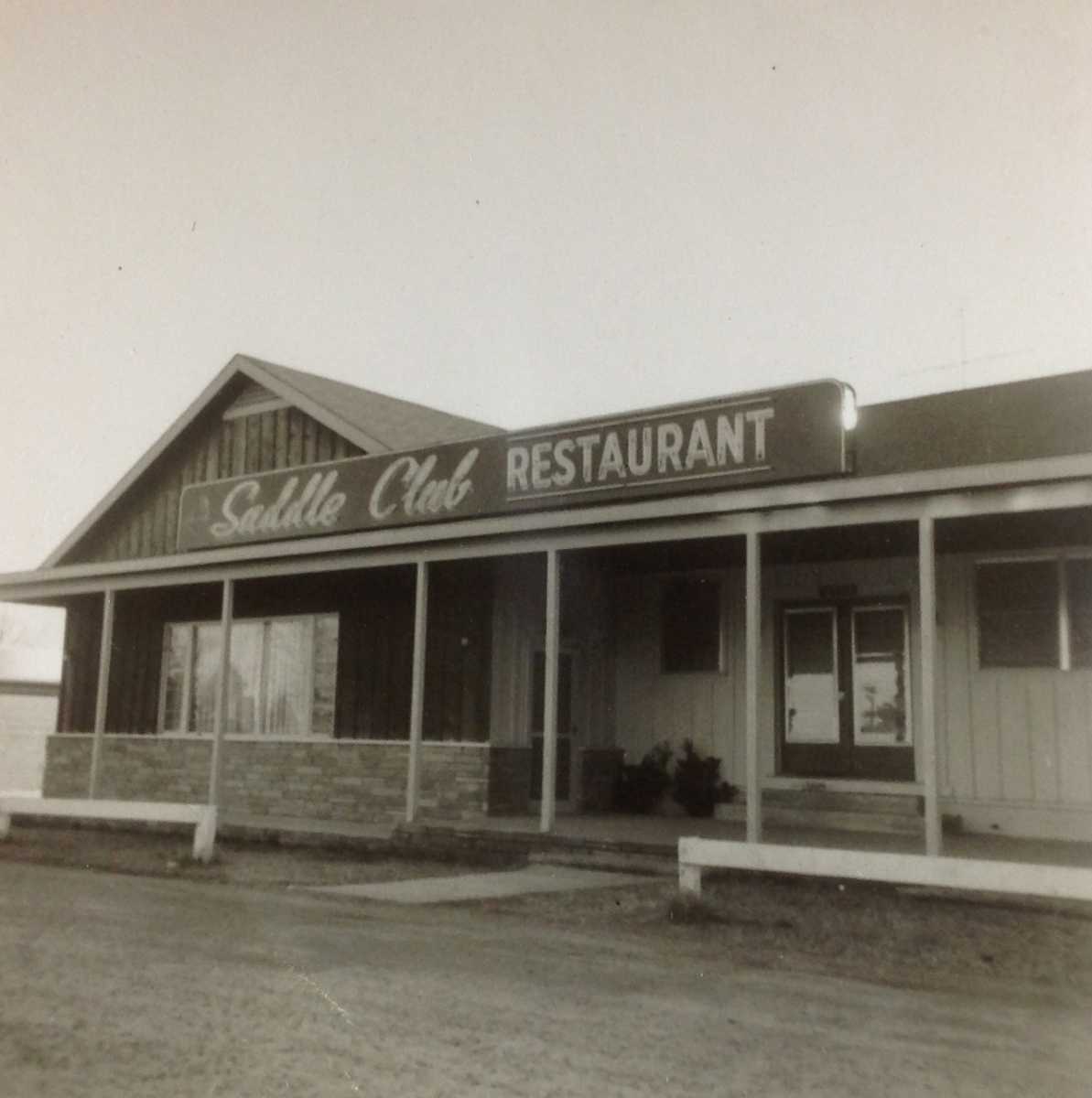 Photo from 1948 (Charles C. Haynes Papers #5398, Southern Historical Collection, The Wilson Library, University of North Carolina at Chapel Hill.)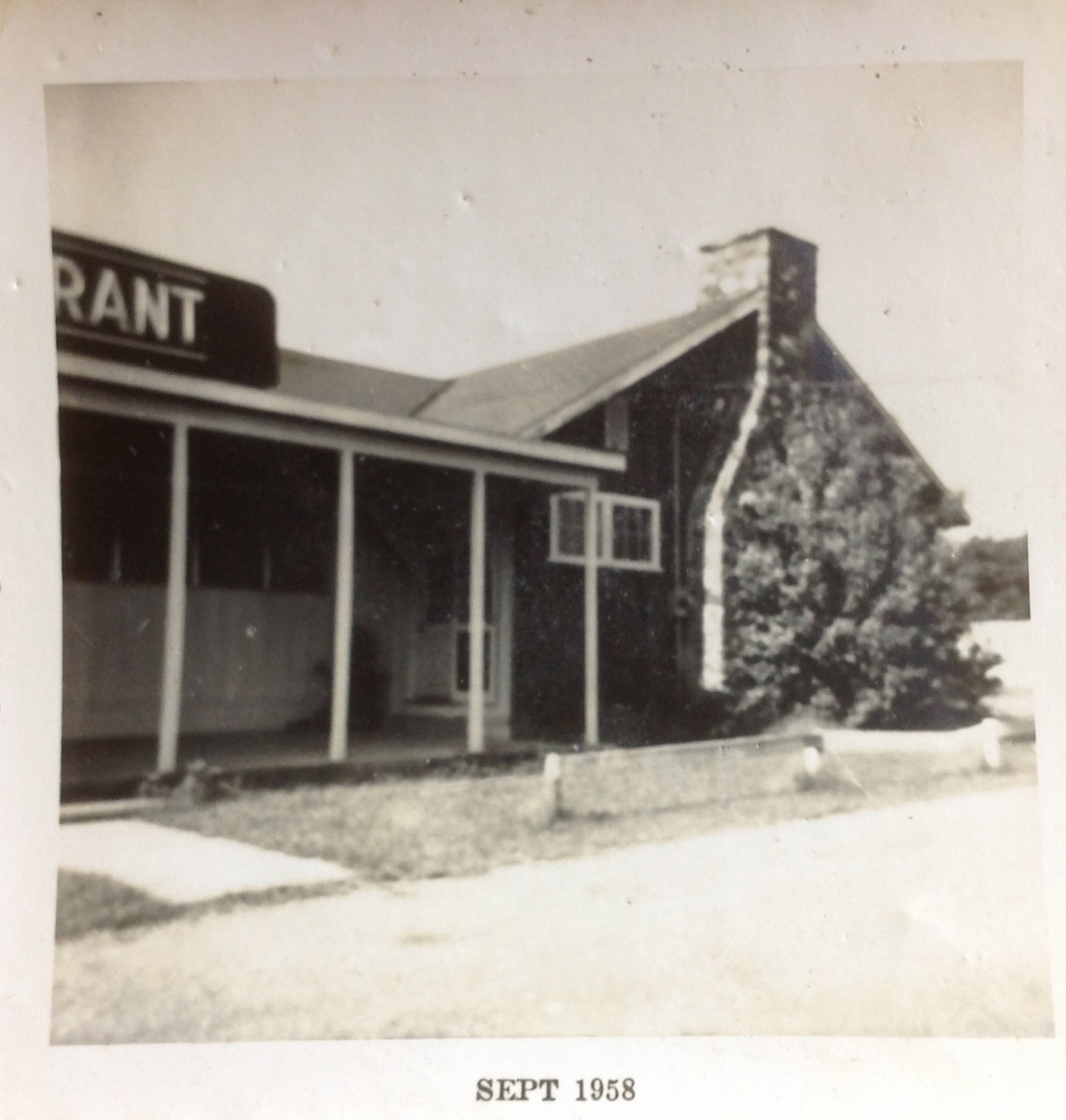 Photo, September 1958. Charles C. Haynes Papers #5398, Southern Historical Collection, The Wilson Library, University of North Carolina at Chapel Hill.
When Charlie Haynes, Jr. came home from the war, it was with a Purple Heart and Silver Star, and he became a local hero of sorts. Business was booming. In its earliest years, the restaurant was advertised as a "dine and dance".  The Saddle Club had a small orchestra pit, and had live bands  numerous nights a week. Haynes said that dancing under the stars was the thing to do before they had air conditioning! His first wife, Jane, used to be on Broadway, and may have influenced the addition of a dinner and a show portion that was shortlived. During the 1970s there was a regular piano player. 
The Saddle Club, which was renamed the Saddle and Fox, had the same Maitre d', Walter Grandy, for over 35 years. In the beginning, they gew all of their own vegetables for the restaurant (I am not sure if this was out back or elsewhere), but they mentioned they were the first place around to have a salad bar. They did tableside cooking as well as a full French menu (later adverts call it an English Pub, other ads show Charlie in front of the Leaning Tower of Pisa). The most popular menu item was oysters. They would pile up the shells out front along the road for passersby to see, as seen in the photo below.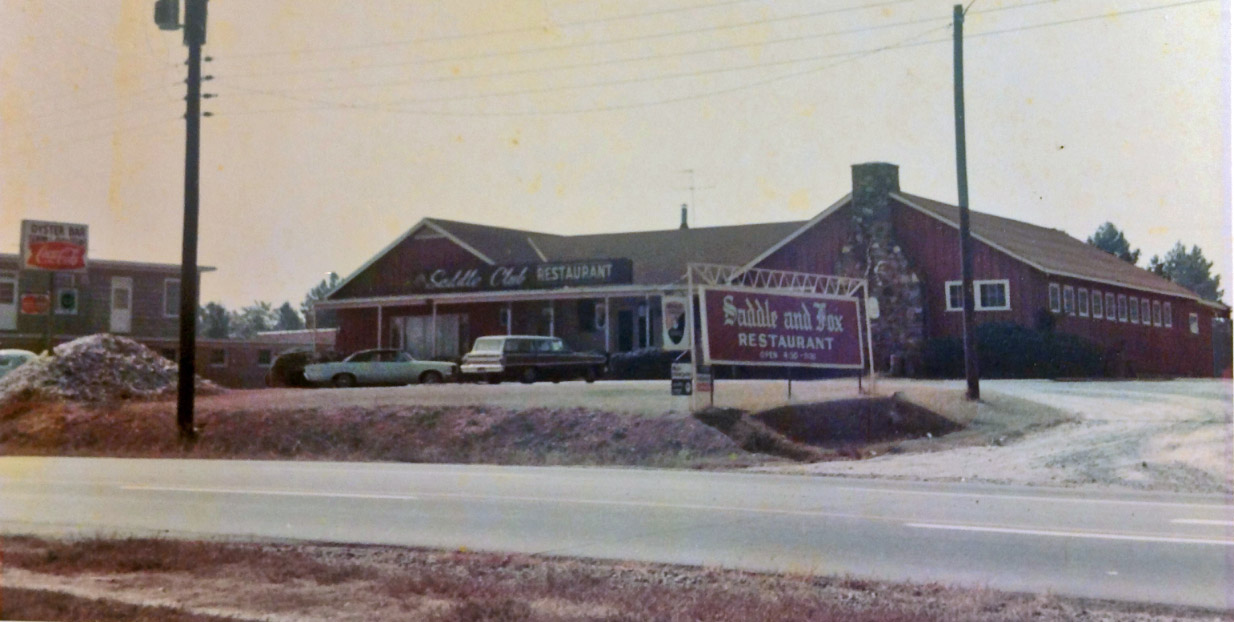 Charles C. Haynes Papers #5398, Southern Historical Collection, The Wilson Library, University of North Carolina at Chapel Hill.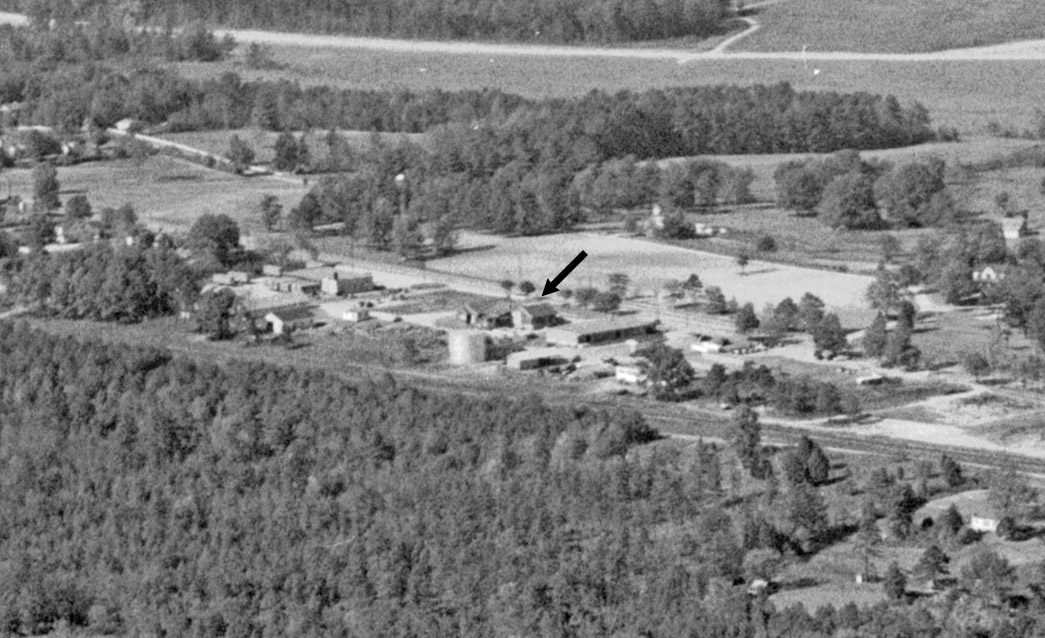 Aerial view of Hillsborough Road and the Saddle Club, 1950s.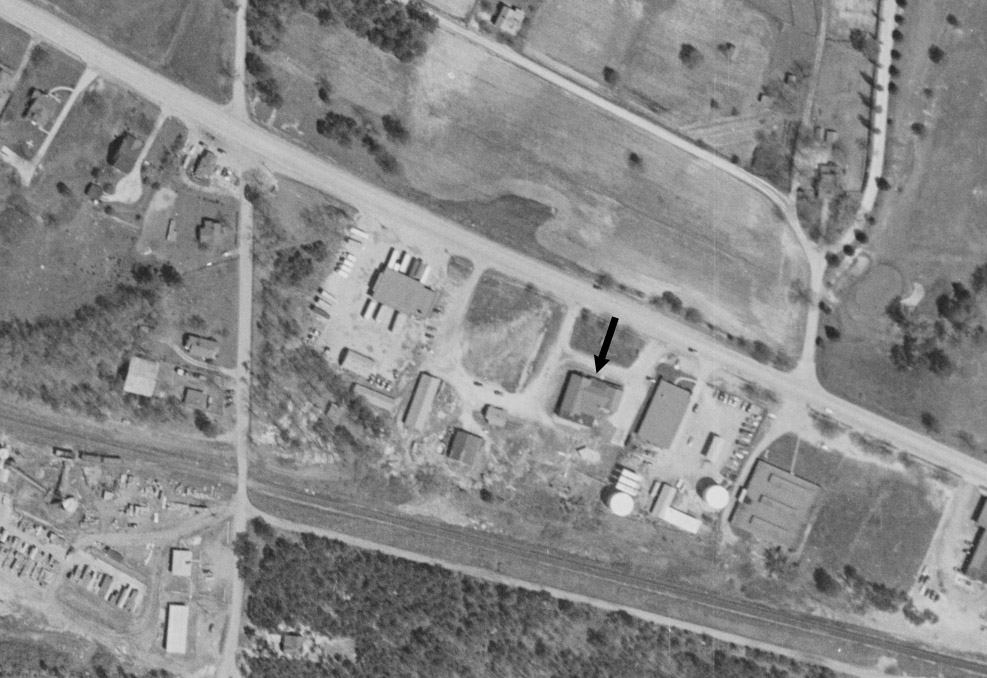 Aerial view of Hillsborough Road and the Saddle Club, 1955.
The Saddle Club was, from customer recollections,  a popular destination for fancy dates as well as just for drinks. In later years, Haynes was instrumental in getting liquor laws loosened, so that they could stop selling  Irish Coffee (hold the coffee and cream).  Charlie Haynes kept his close ties with his alma mater, and the Saddle Club/Saddle and Fox was a popular location for date nights, graduation dinners and football weekends among the Duke crowd. Fourty three school penants hung from the walls of the bar.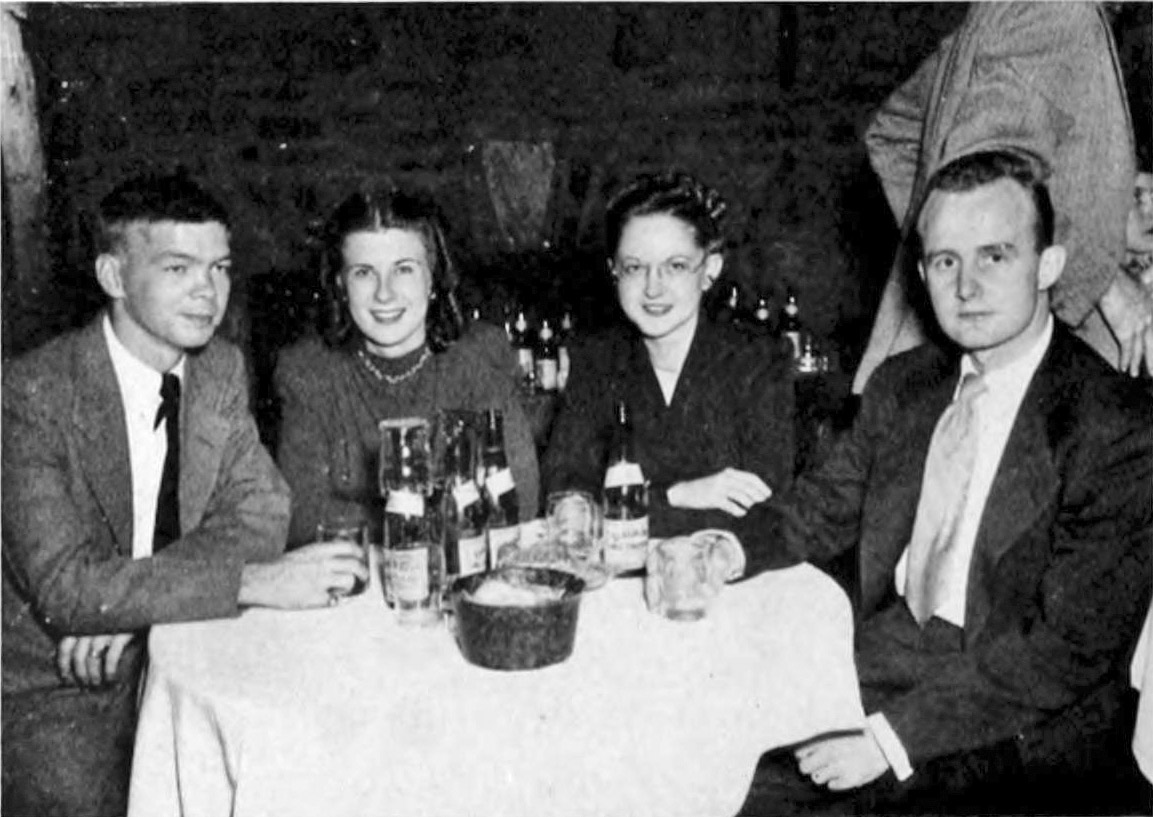 "Interfraternity council president Chuck White, the Shapleigh sisters and Neal McQuire spend a very quiet evening at the saddle club." (Chanticleer, 1948.)
"While East sits home, West stags it at the popular Saddle Club bar. Drowning sorrows in glasses of beer, stags crowd the bar and avoid the cover charge in the main dining room. Students help out behind the bar as well as in the check room, making them feel that the Saddle Club belongs to the college crowd." (Chanticleer, 1948.)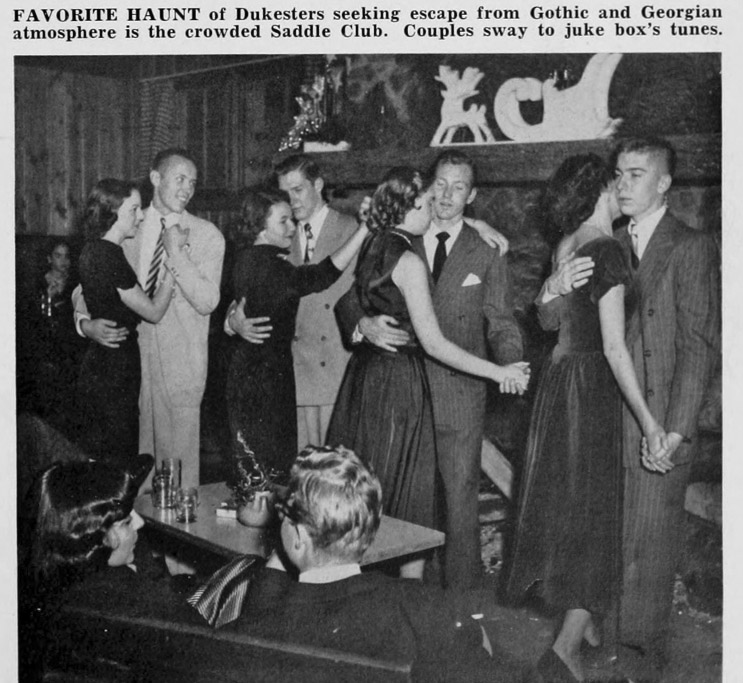 "Favorite haunt of Dukesters seeking escape from Gothic and Georgian atmosphere is the crowded Saddle Club. Couples sway to the juke box's tunes." (Chanticleer, 1952.)
By the 1980s, it had become the seemingly incongruous Cattleman's steakhouse / Italian Garden restaurant.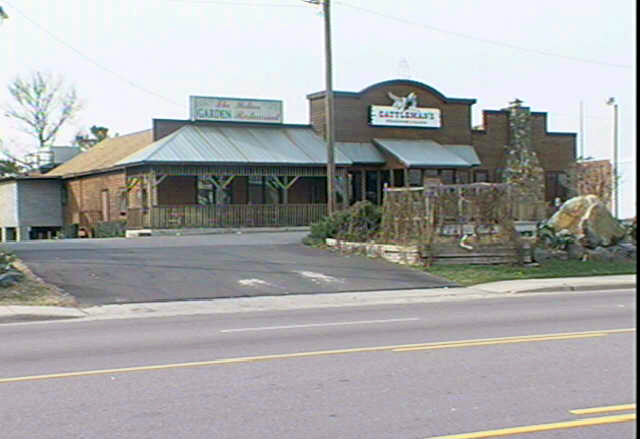 1999 tax photo (DC tax office)
The building was torn down in 2009 and replaced with an O'Reilly Auto Parts.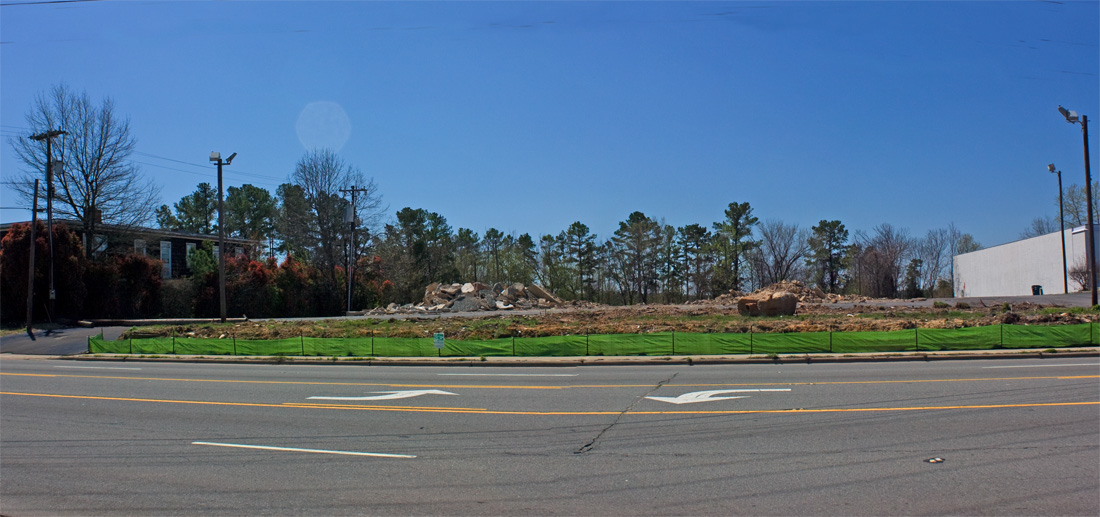 Site of the former Saddle Club, 04.04.09 (Photo by Gary Kueber)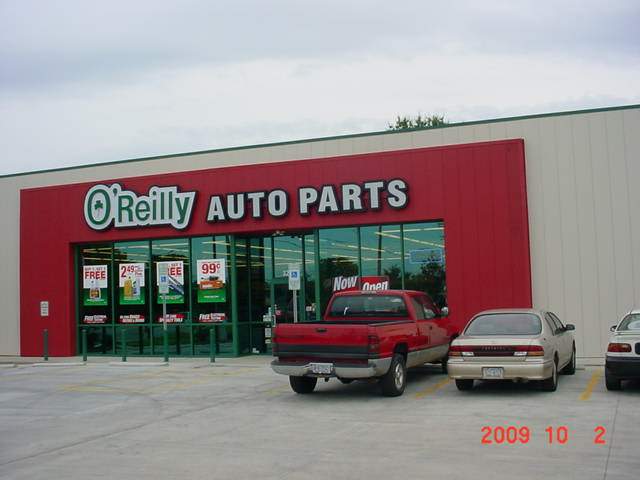 October 2009 (DC tax photo)