Taking on a full parcel-by-parcel, blow-by-blow history of Edgemont is simply more than I can take on, I'm afraid. Much like Hayti and the semi-nameless neighborhood west and east of American Tobacco, it has been, architecturally, completely obliterated, and the street layout bears only a passing resemblance to its original form. Unlike those neighborhoods, much of the demolition of the neighborhood is similar to the Plastic Attack that still plagues much of the historic housing in more impoverished parts of Durham - wholesale demolition of abandoned or poor-condition houses to replace them with low-income new residential construction.
Edgemont was developed as a mill village by Julian Carr in the first decade of the 20th century to house workers at the Durham Hosiery Mill No. 1 and, later Durham Hosiery Mill No. 6. Unlike Morning Glory, the mill village north of East Main associated with Golden Belt, Edgemont was built with less architectural and street rigidity - perhaps in part because houses along Angier Avenue and Ramseur St. - with their follow-the railroad/ridgeline angles, pre-dated those of the mill village. Why the architectural forms showed more individuality than the typical mill village, I don't know.
Edgemont was the location of Prattsburg and its Towne Taverne. The area became known as Smoky Hollow during the later decades of the 19th century - an area well known for prostitution and accessible alcohol after the town banned saloons. No records indicate what the 'built environment' of Smoky Hollow was - a collection of small houses, frame saloons or similar. Regardless, Julian Carr and his well-to-do neighbors between Roxboro St. and Parrish Place (Hood St.) were none too fond of the activities just east of their homes.
With the establishment of the new Golden Belt Manufacturing Company plant and its mill village, Morning Glory as well as Durham Hosiery Mill No. 1 and its mill village, Edgemont, Carr cleared a vast area between the well-to-do neighborhood and the undeveloped land farther to the east, west of the spreading development of East Durham.
Whether Carr laid out streets patterns or not, he definitely attached flora-related names to the streets as part of his beautification project - names like Elm and Morning Glory survive today, while Laurel, Verbena, Red Rose, Walnut, and Lilac do not.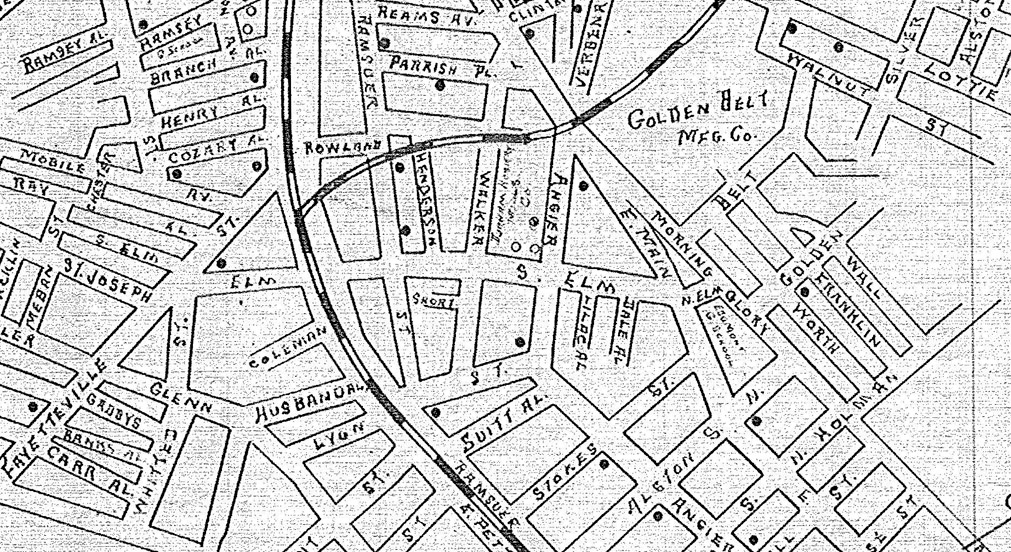 1914 Map of Edgemont and Morning Glory, showing the initial street layout.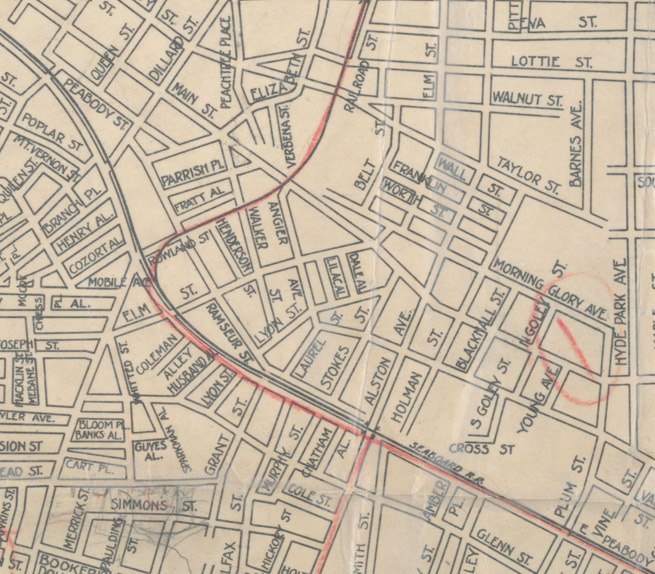 1925 Map of Edgemont and Morning Glory, showing further development of the street pattern. The disconnection between East Durham and Carr's development is apparent at Hyde Park Avenue.
It's also of interest that Elm St., the nexus for commercial/community uses, formed a more direct connection with the commercial/community use center of Hayti than any other part of north-of-the-tracks Durham. St. Joseph's was a great terminating vista at the end of South Elm, which isn't at all apparent today, unless you stand at the present-day termination of S. Elm at Ramseur and look along its former path across tracks and the Durham Freeway - like this.
Despite the physical connection, Edgemont and Morning Glory were 'white neighborhoods' in the segregated era (not that our neighborhoods aren't still significantly racially segregated.) The fascinating public works map below from 1937 shows the racial makeup of Hayti, Edgemont, Morning Glory, and East End, moving south to north. Nowhere in Durham was there as stark and as large of a railroad track divide.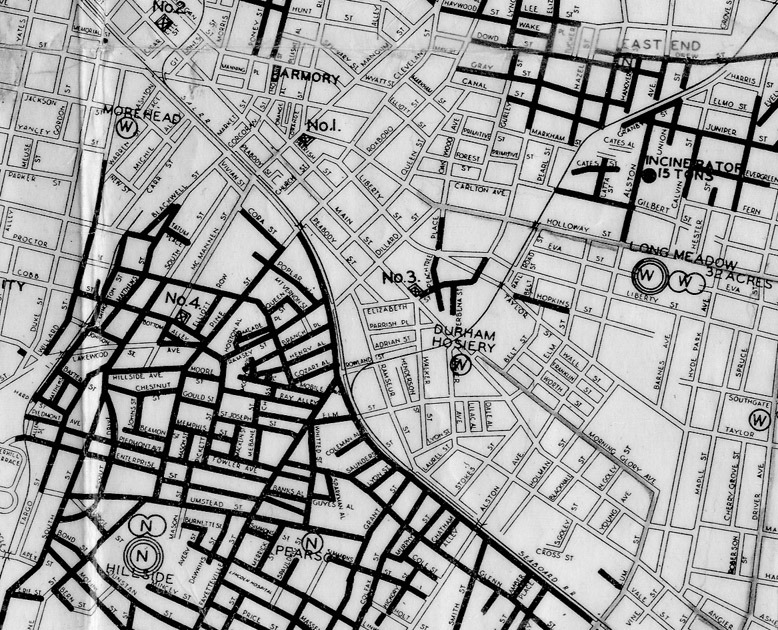 The rejuvenation of the area was not long-lived, unfortunately. The factories of eastern Durham were almost exclusively textile, and the textile industry started to show signs of weakness after World War I due to competition from foreign imports. The boom economy of the 1920s masked increasing weakness in several economic sectors. The 1922 tariff act did little to change the fundamentals - the lower wages of the southern United States as compared to the northeast, combined with the production advantages of mechanization, had only provided a competitive advantage for ~30 years, until mechanization and even cheaper labor abroad could undercut it.
Textile companies were hurt badly by the Depression and whatever role the Smoot-Hawley tariff act played in accelerating it. In short succession in the late 1920s-1930, the Commonwealth/Morvern Mill and the Durham Cotton Mfg Co. were out of business. I don't know if Julian Carr had lived past 1924 (he had been preceded in death by his son JS Carr, Jr., who he had groomed to take over the Durham Hosiery Mill) he might have found a way - since he always seemed to - to keep the mill afloat.
However, in a sign of worsening times, the Durham Hosiery Mill sold off all of its houses to investors in 1934. The mill itself shut down in 1938.
As I've conveyed on many tours, the effect of this on a mill village is devastating - not only is the economy bad, and you or your neighbor might have lost their job when their company shut down, but the entire neighborhood just lost their collective jobs.
Thus began the first modern notions of an East Durham neighborhood in trouble; Edgemont was widely seen as a community problem, and civic bodies pondered "what to do about Edgemont." Words like "truancy" and "juvenile delinquency" appear not infrequently.
Community centers / outreach programs in communities fitting this description would not surprise anyone today - but that sort of organized outreach, targeted at the social ills of a specific community (rather than the more general efforts of churches, the YMCA, etc.) were not common in 1940. In that context, the formation of the Edgemont Community Center in 1941 is a novel and creative attempt to attack the worsening social conditions in the community.
The construction of Few Gardens as Durham's first housing project in 1952-53, on vacant land east of Morning Glory and west of East Durham, began a cycle that would change the face of the community. The miserable two-headed monster (Title I and Title III) of Federal funding for Urban Renewal ("slum clearance") and Garden CIty-style new public housing thrust into the world by the Housing Act of 1949 would seal the fate of the Edgemont as it existed in 1940.
The initial inhabitants of the new public housing in Durham (Few Gardens, a 'White project' was closely followed in 1954 by McDougald Terrace, a 'Black project') and most cities were the marginalized working class - low-paid factory workers who could no longer afford housing or could not find housing near their work. Thus many of the initial inhabitants of Few Gardens were substantially similar in their economic (mis)fortune to their immediate neighbors in Edgemont and Morning Glory. The same held true in McDougald Terrace.
Both were widely praised by their new residents - many who had lived in tenement-like conditions in early 20th-century housing badly neglected by landlords.
Not that the economics of Edgemont weren't continuing to worsen. Jean Anderson notes:
"In 1960, Edgemont had a population of about 6500, slightly more black than white, with a median family income of $2300. The equivalent figure nationally was $4976. Fifty-six percent had less than 5 years of schooling; 63.4% of the housing was unsound or without plumbing."
For comparison, that median family income is ~$16,500 in 2010 dollars.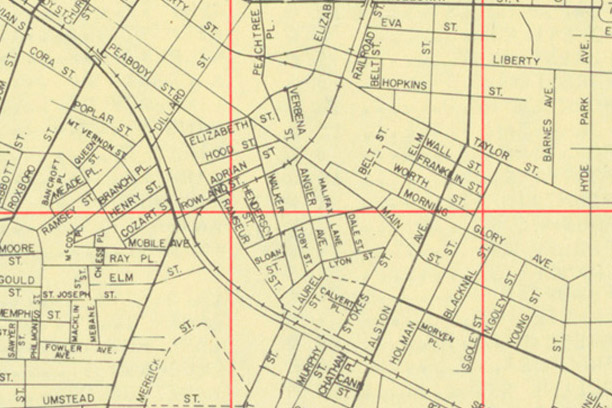 Edgemont and Morning Glory, 1957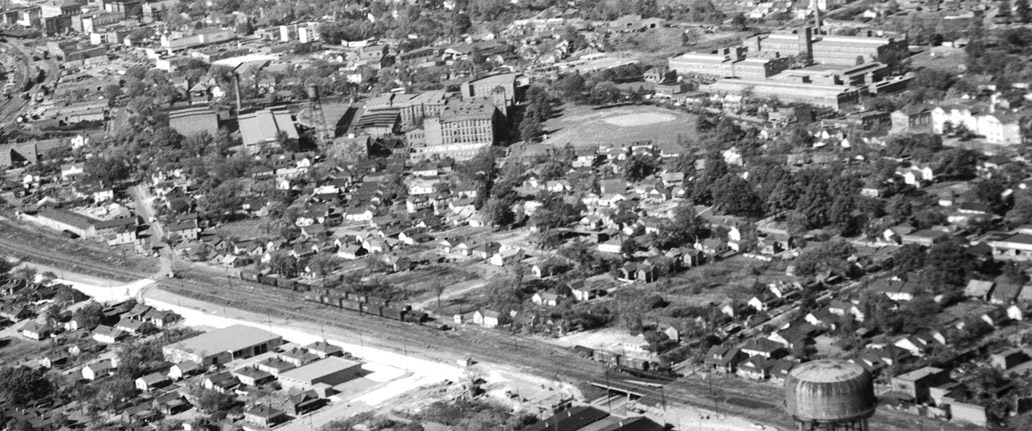 Edgemont Birds Eye, looking northwest, mid-1950s (prior to 1958)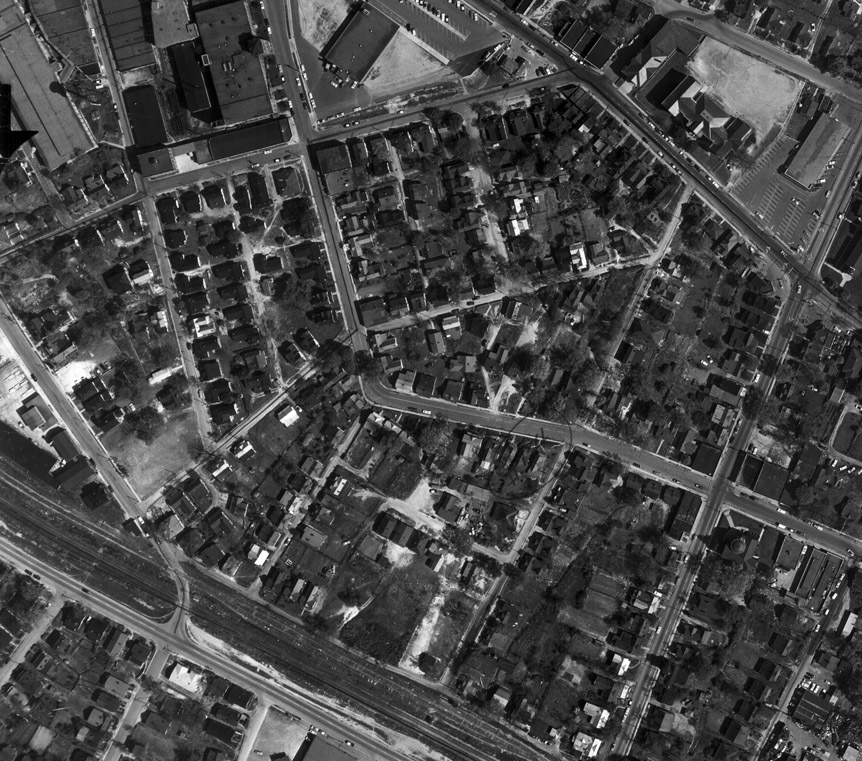 Aerial, 1959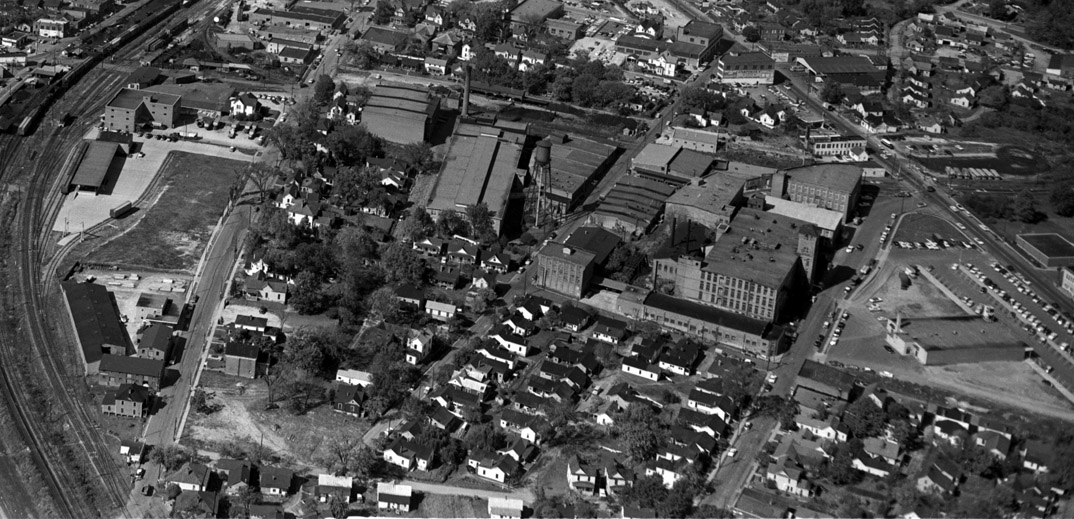 Aerial, 1960 - note, interestingly, that the S. Elm connection between Hayti and Edgemont has been severed, a new Southern Railway freight depot built in its place, and the grade crossing eliminated.
The strong, and misguided bias that existed in the 1950s, and still exists among today's descendants of the public housing providers - whether DHA , NIS, or an assortment of non-profits providing low-income housing - is a determined fixation on the notion that old houses - whether in terrible condition or okay condition - need to be demolished and replaced with new, shiny housing in the architectural style du jour. I'd call it faith, for lack of evidence, that this is the best outcome, and the only proper way to provide affordable housing. In the 1950s and 1960s, rather than putting money into rehabilitating houses in Edgemont and Hayti, local forces implemented government programs biased towards new public housing and "slum clearance."
In Durham, huge swaths of land were cleared between ~South Elm on the east, Duke Street on the West, the NCRR tracks on the north, and Piedmont Avenue to the south. In addition, approximately a 1/3 of the buildings between Elizabeth St. and the Liggett factory in downtown were demolished.
The Federal government had made it a priority to house these displaced residents - by providing them priority placement in public housing.
In Durham, this meant that suddenly displaced and homeless people, from the most deeply impoverished parts of Durham, suddenly flooded into public housing - as well as into other areas that had been impoverished, and into older housing divided into cheap apartments - which abounded in Edgemont.
Combined with the fact that nearly all of the deeply impoverished, newly displaced residents were African-American - moving/moved en masse into a traditionally 'white neighborhood', and a tipping point was reached - where longstanding residents of the neighborhood, and most anyone in the neighborhood - white or African-American - with the economic means to leave - left.
The result was almost complete turnover of the neighborhood with a disruption of social ties that had previously existed, and worsening conditions in the historic housing stock of Edgemont as capital invested in the neighborhood decreased further.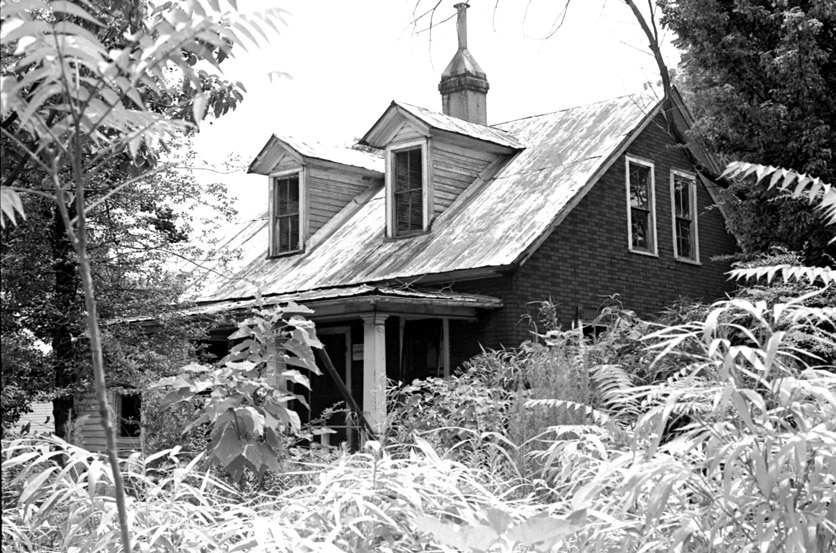 Edgemont, 07.17.69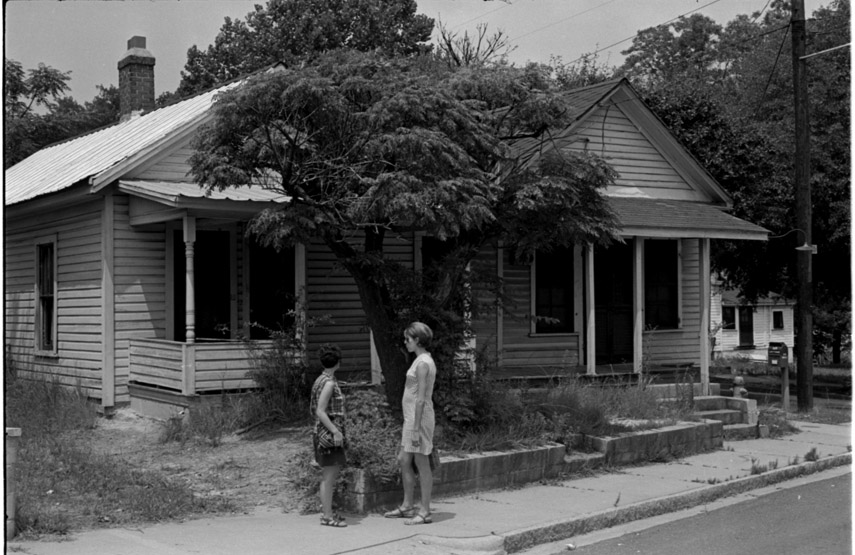 Edgemont, 07.17.69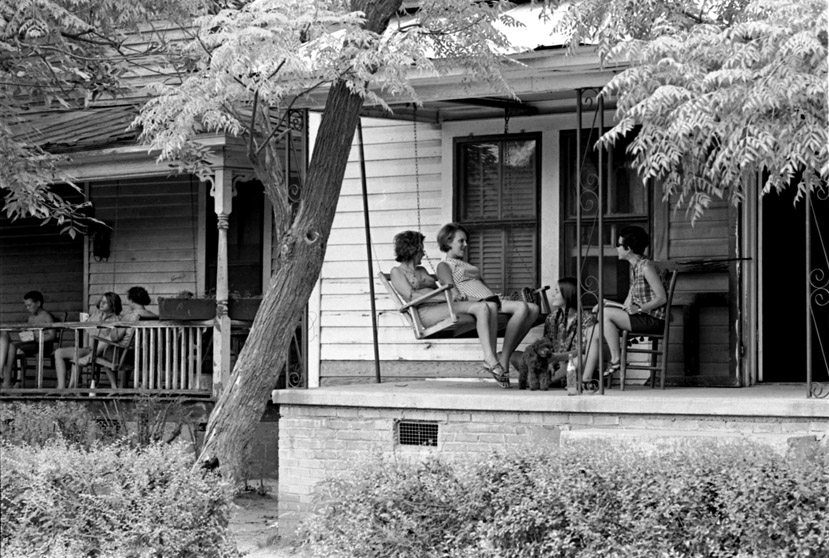 Edgemont, 07.17.69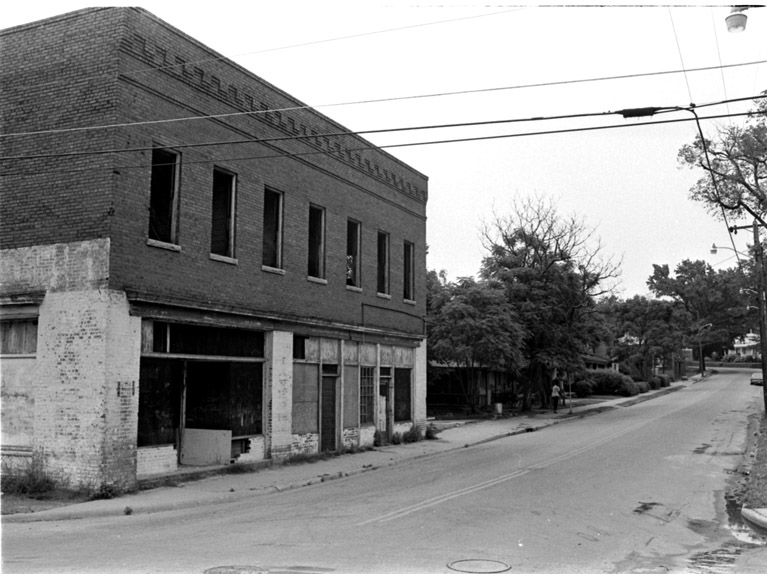 Commercial Corner at S. Elm and Angier Ave., looking east-northeast, 07.17.69
By the 1970s, the programs of the Housing Act of 1949 had been mostly repudiated and replaced with the Community Development Block Grant program. The housing stock of Edgemont was in poor shape; despite programs that would have allowed more rehabilitation to be enacted, Durham has never lost its 50-year affection for demolition and new housing.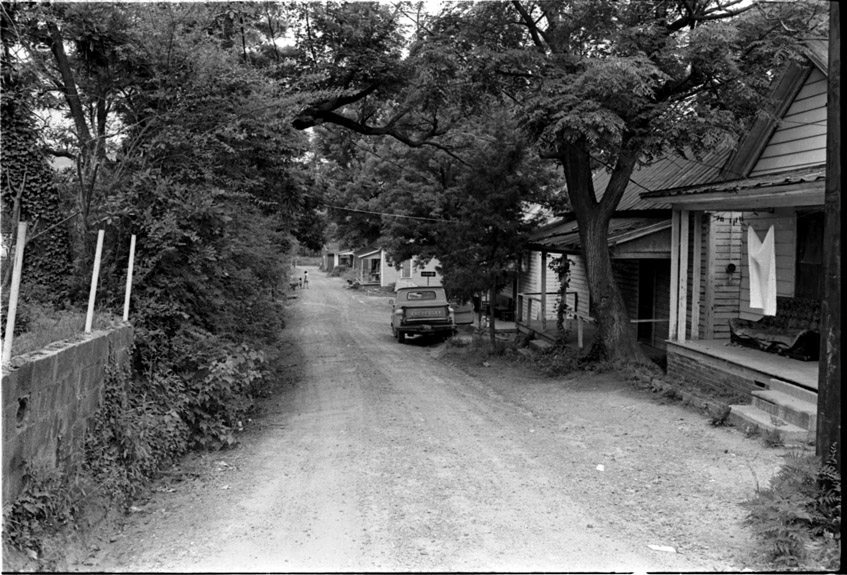 Edgemont, 06.06.79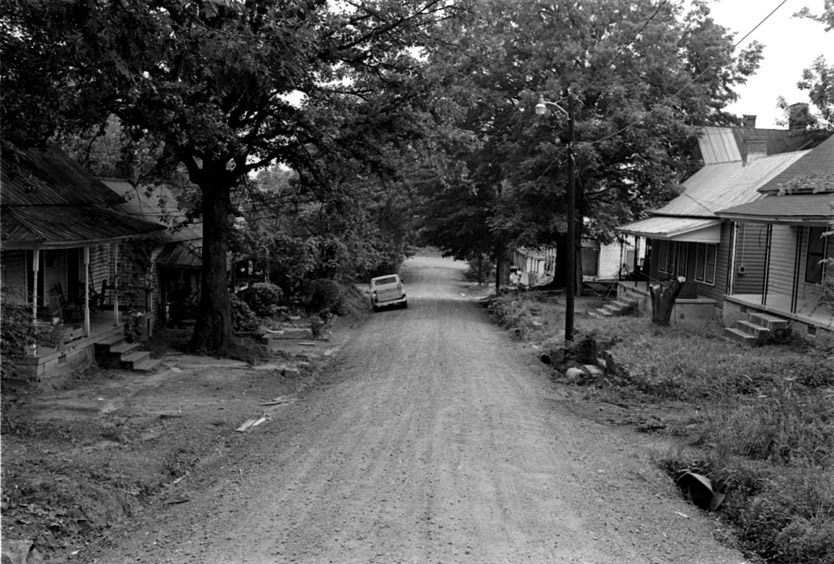 Edgemont, 06.06.79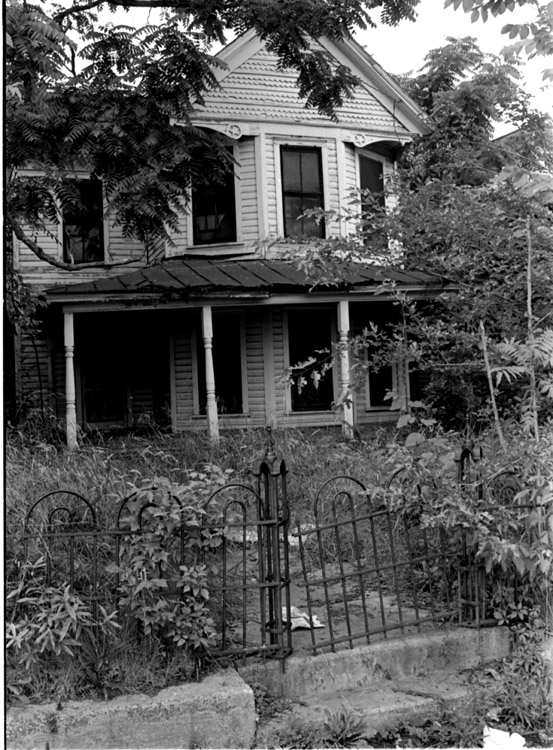 Edgemont, 06.06.79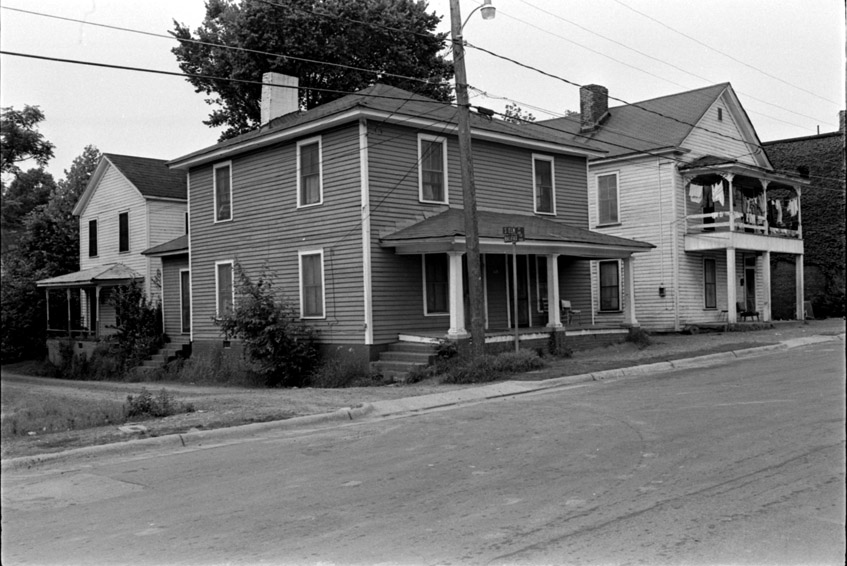 Edgemont, 06.06.79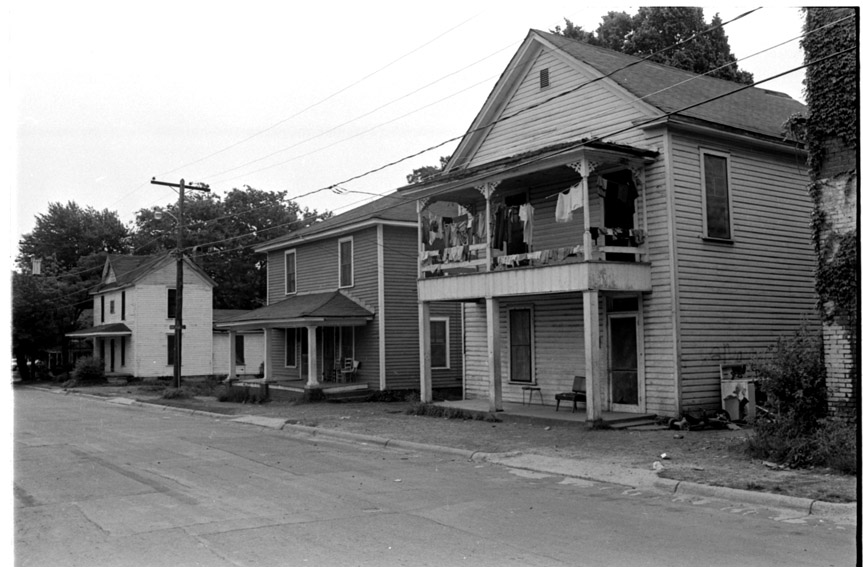 Edgemont, 06.06.79
Durham began the process over the 1980s and 1990s of demolishing Edgemont and replacing it with new housing - always mimicking the suburban style du jour - cul-de-sacs in the 1980s and early 1990s, new urbanism in the late 1990s-now.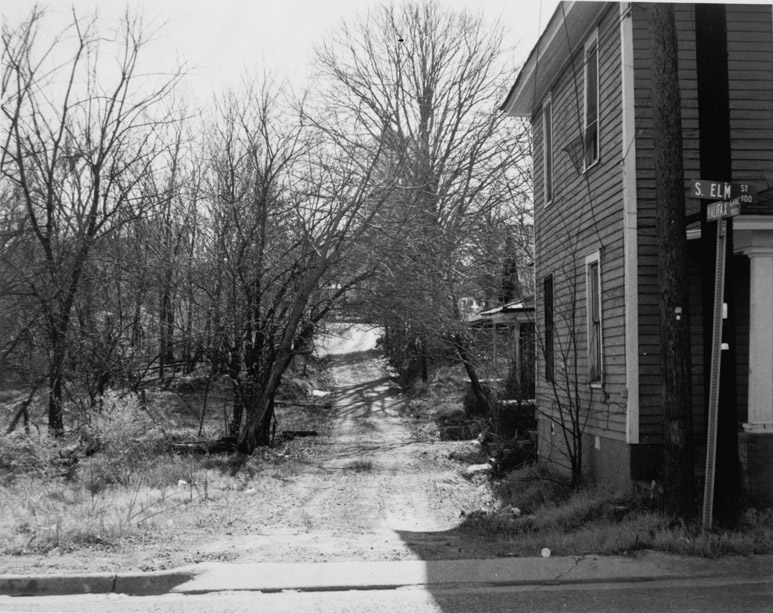 Edgemont, undated, likely 1980s.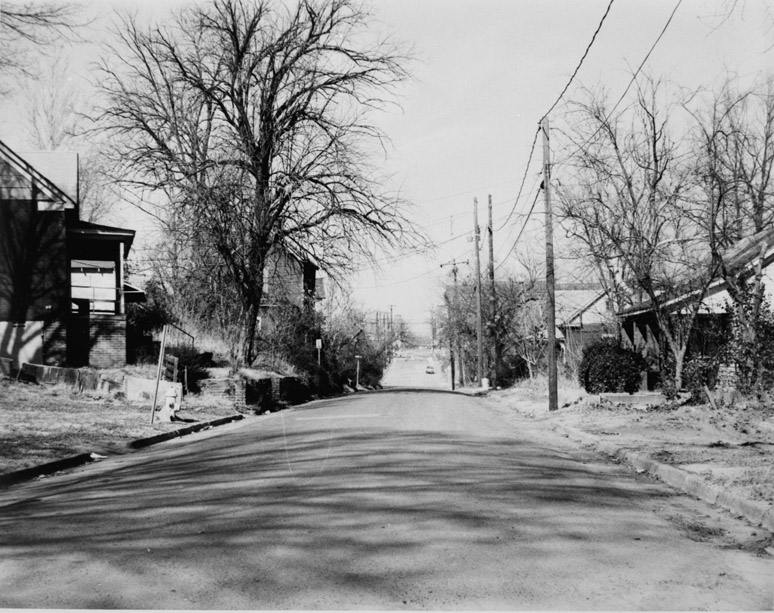 Edgemont, undated, likely 1980s.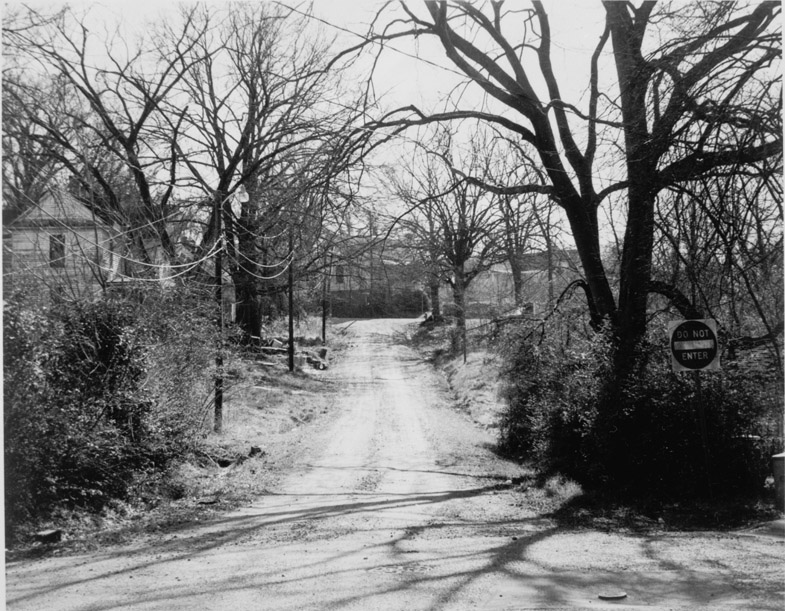 Edgemont, undated, likely 1980s.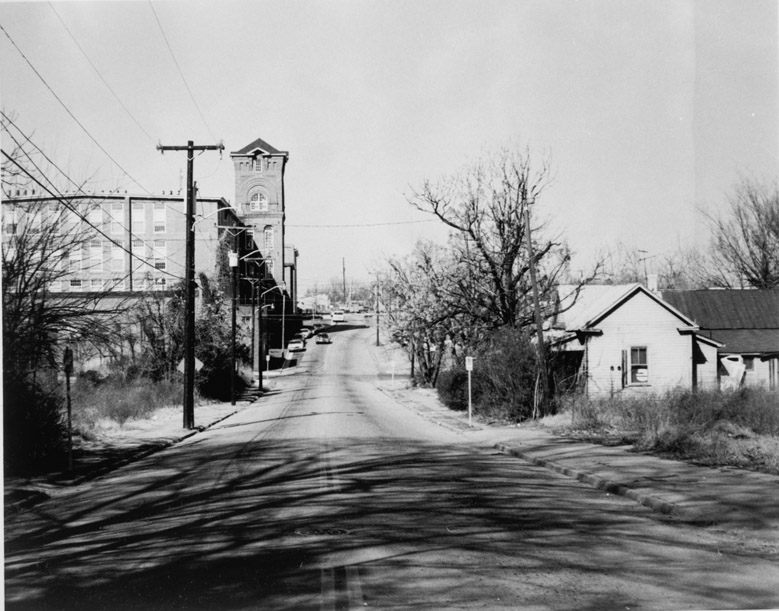 Edgemont, undated, likely 1980s.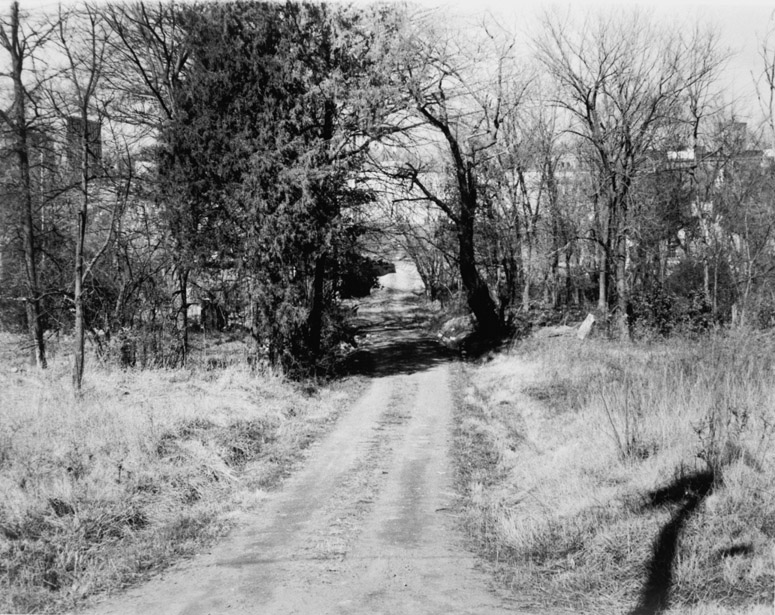 Edgemont, undated, likely 1980s.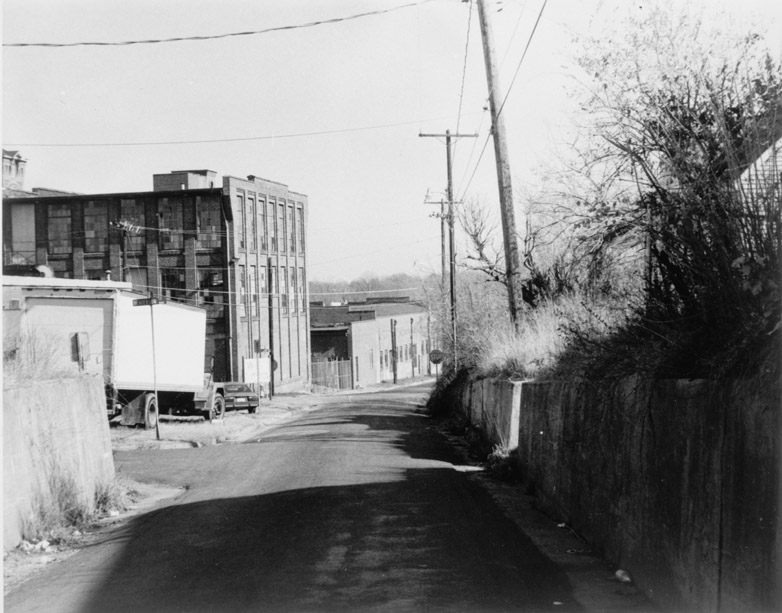 Edgemont, undated, likely 1980s.

Edgemont, undated, likely 1980s.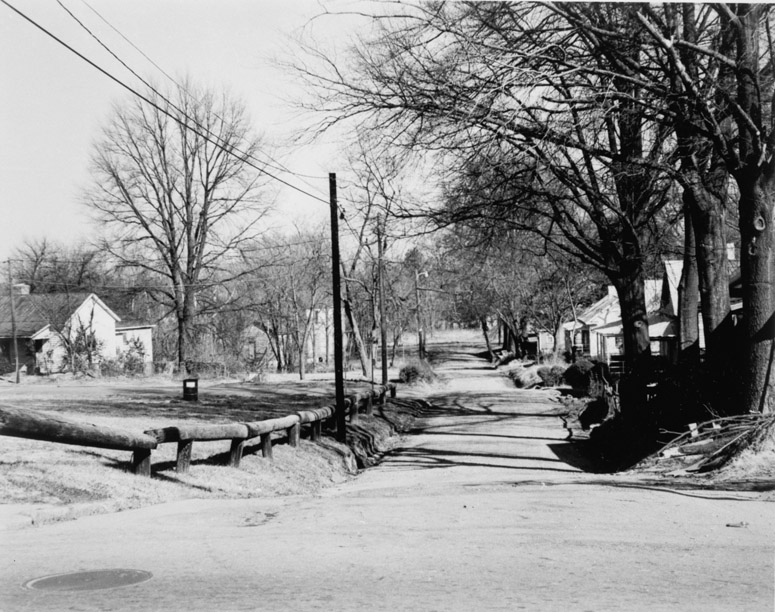 Edgemont, undated, likely 1980s.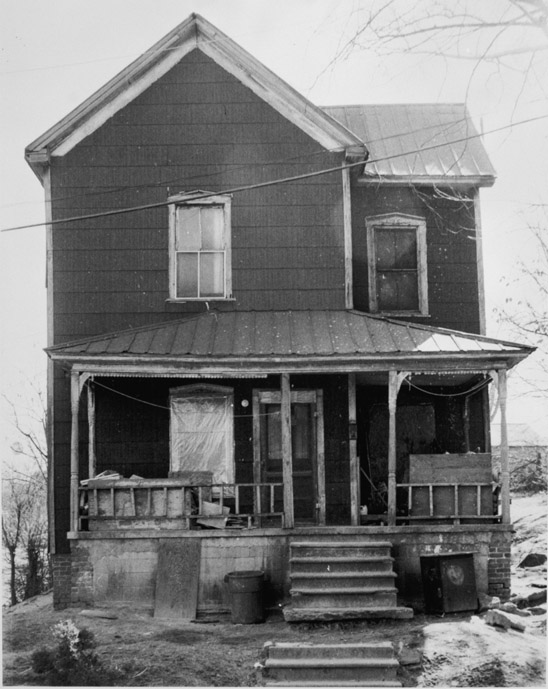 301 Sloan St., undated, likely 1980s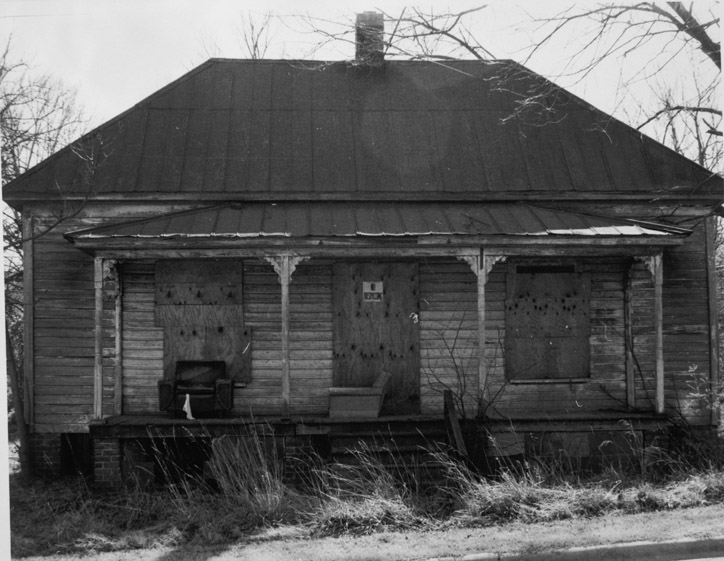 211 S. Elm St., undated, likely 1980s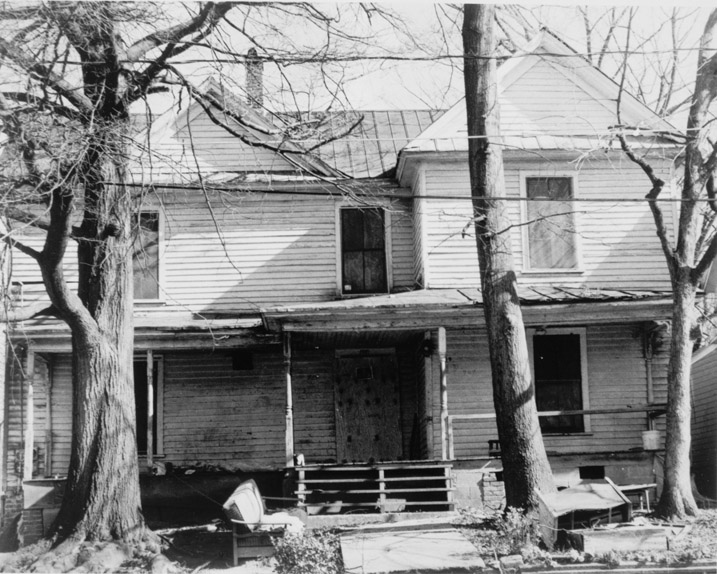 909 Dale St., undated, likely 1980s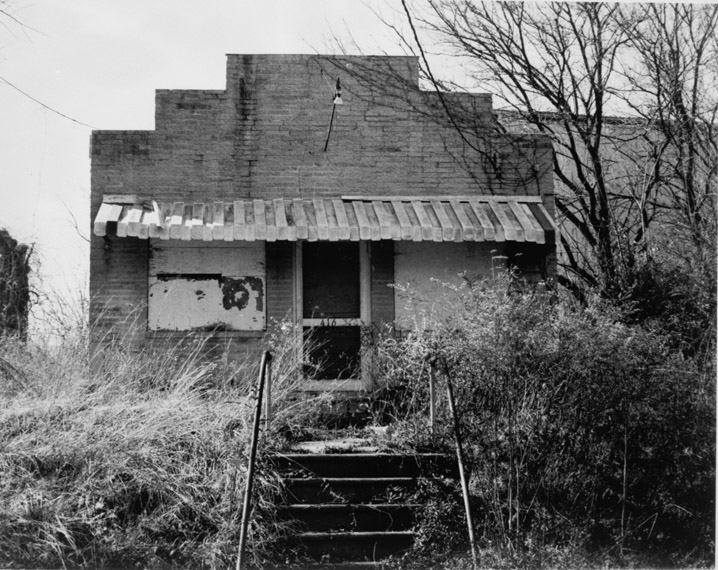 414 Walker St., undated, likely 1980s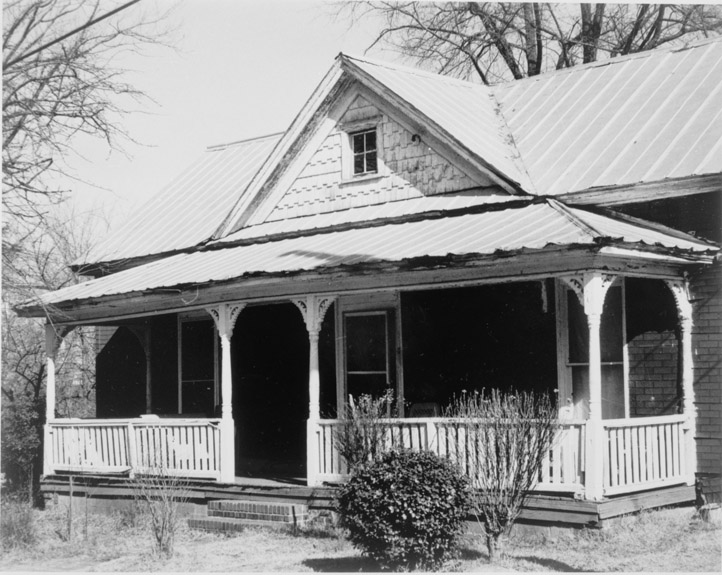 411 Walker St., undated, likely 1980s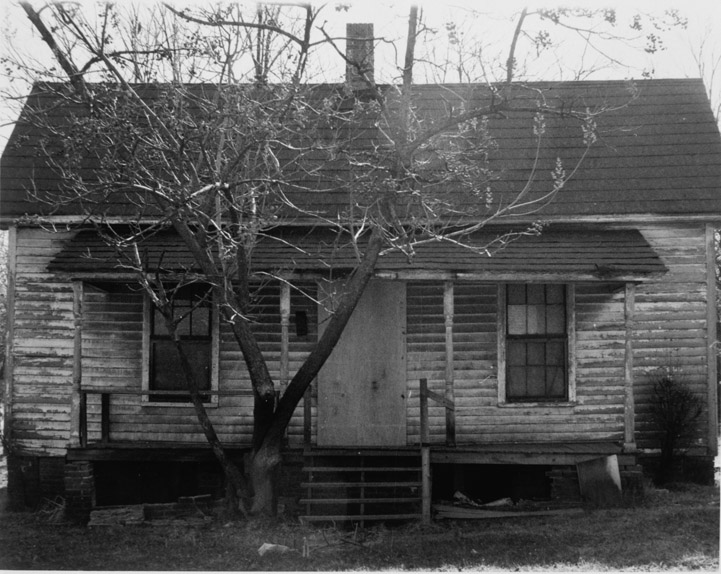 208 S. Elm St., undated, likely 1980s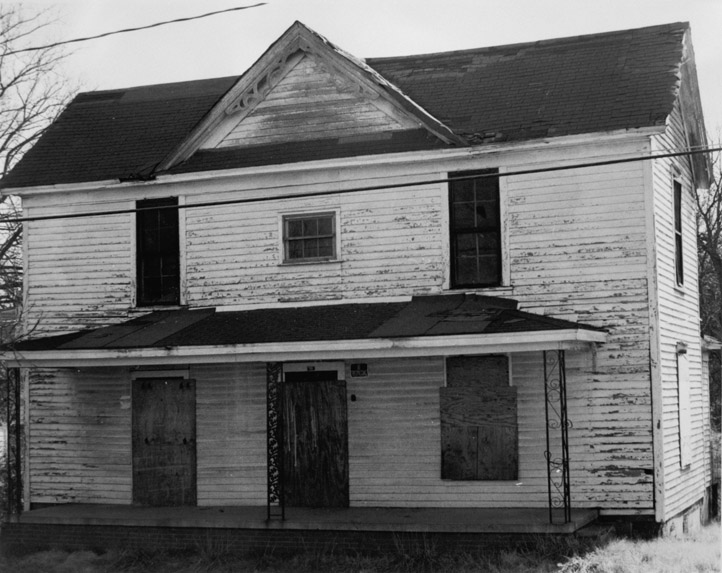 115 S. Elm St., undated, likely 1980s
The current Edgemont bears no resemblance to the original - which, in the minds of some, may be a great thing. But I see a missed opportunity - historically, culturally, etc., of course. There is an ongoing love affair with hermetically-sealed plastic housing - which, admittedly, reduces the operating costs to the tenants/owners - that ignores the long-term durability and replacement costs for said housing - while also ignoring equally-effective strategies for energy efficiency in historic housing. I think many people are familiar with what happens to vinyl after 25 years - I don't think any of us know the fate of manufactured wood products and fast growing lightweight new pine in 25-35 years.
Beyond that, there is the issue of user maintenance. As with most products, we've moved from user-maintainable/serviceable houses to disposable houses. I can put a 100 year old window back together with a bit of glass, glazing compound, rope, etc. from Home Depot. - for a total of - maybe $25? Good luck doing that with a new window. What are the long term ownership costs, when one looks past the uberfocus on utility costs?
Makes me think of the 20 year old car I had in high school. I rebuilt most of that engine and associated parts. I wouldn't even know where to begin with the chock-full tangle of components in my current car.
In brief, we're selling/giving people nice new housing made of cheap components. The builders - whether the lauded non-profits or our public sector - have built at a low-cost, and produced housing that is low-cost to heat and air condition, and stuck ourselves/the owners with the high cost replacement bills that will come down the line.


1990s housing on the former commercial corner of S. Elm and Angier Ave., looking northeast, 10.22.10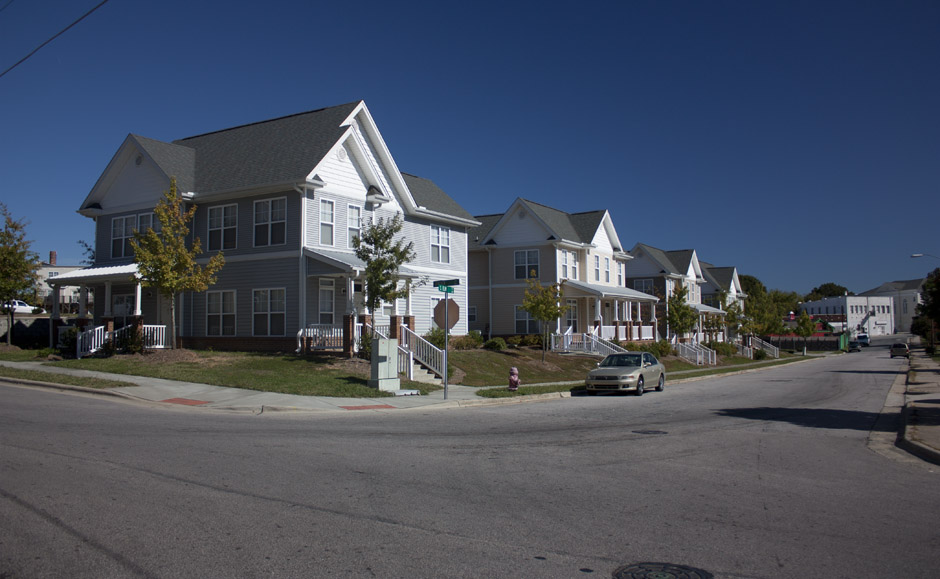 South Elm and Angier Ave., 10.22.10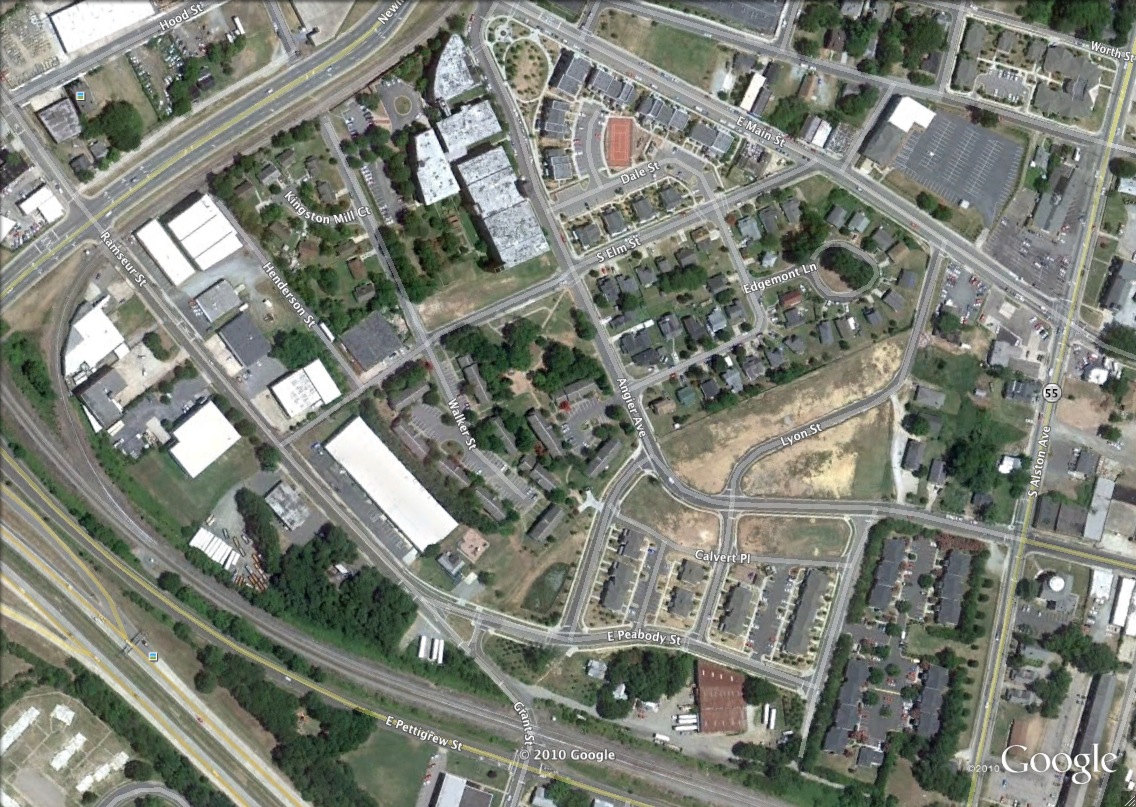 Aerial, 2010
Demolition of the last of Edgemont's historic housing stock, and construction of new housing occurred with Durham's beleaguered implementation of its HOPE VI project to replace the demolished Few Gardens. The failure of that project to deliver the core elements of HOPE VI - a mixture of rental and ownership housing, and a mixed income community - is evident in the vacant land intended for owner-occupied single family homes along Angier Ave.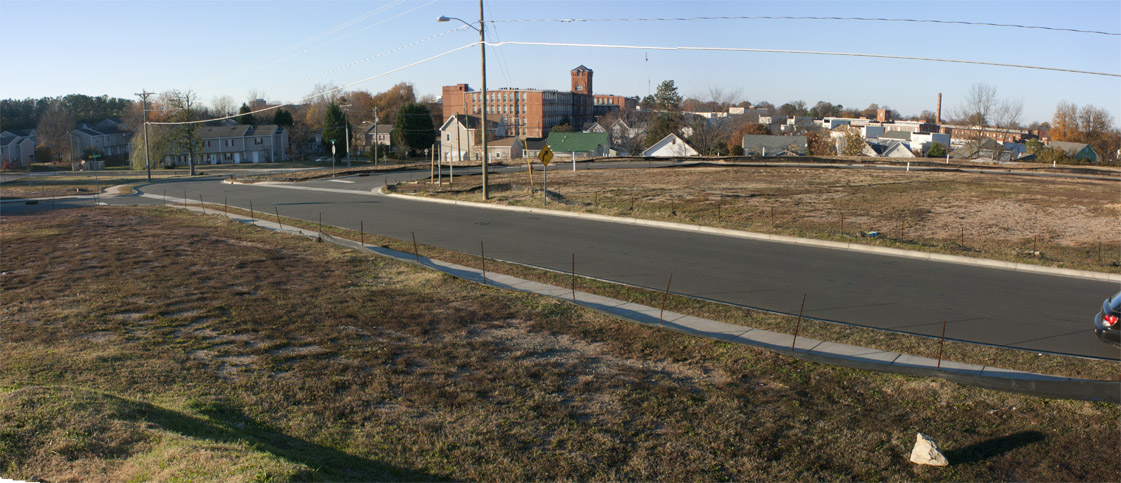 Angier and Lyon, 11.28.10