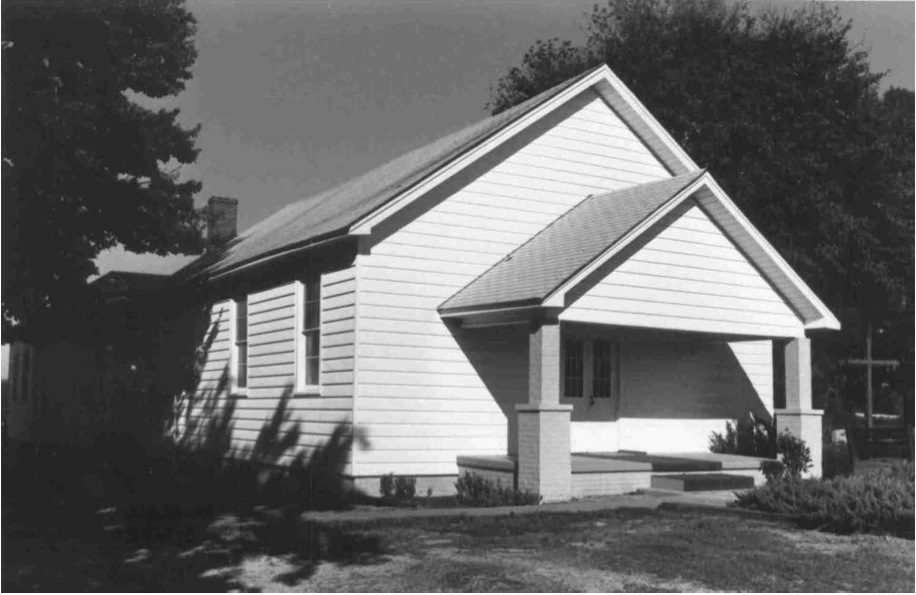 Martin Van Buren Ellis, star of "Tobaccoland, Inc.," a movie distributed nationally by the Liggett and Myers Tobacco Company in the late 1930s, became the first member of the Ellis Chapel United Methodist Church when it was organized in 1900. Ellis, who died in 1940, is buried in a cemetery that surrounds the church on a lovely promontory overlooking the countryside. Among the earliest grave markers in the cemetery are those for the Weaver children, who died in 1898 and 1899, and Connly (sic) Collins, who died in 1900. South of the church, there is a shelter for dinner on the grounds and a modern storage building.
The church building, a rectangular, frame, front-gabled structure with shallow eaves, is one large bay wide and four regular bays deep. On the front of the building, a small gabled porch supported by brick pillars shelters a double-leaf entry door, and on the long elevations, there are two-over-two vertical-paned windows of green streaked opalescent glass. A small hip- roofed education wing added on the west gives the entire structure a T shape. Like many early- twentieth-century frame churches, the building has been covered recently with artificial siding.
On the interior, walls are covered with tongue-and-groove sheathing painted light green above dark wainscoting to compliment the windows. Between two sections of pews, a center aisle leads to the altar where the communion rail has a plain balustrade with square newels at either end. At the rear of the sanctuary, horizontal-panel doors with molded surrounds lead to the wing and outside to the cemetery.