FEW GARDENS
Built in
1952
/ Demolished in
2003
Comments
Built in
1952
/ Demolished in
2003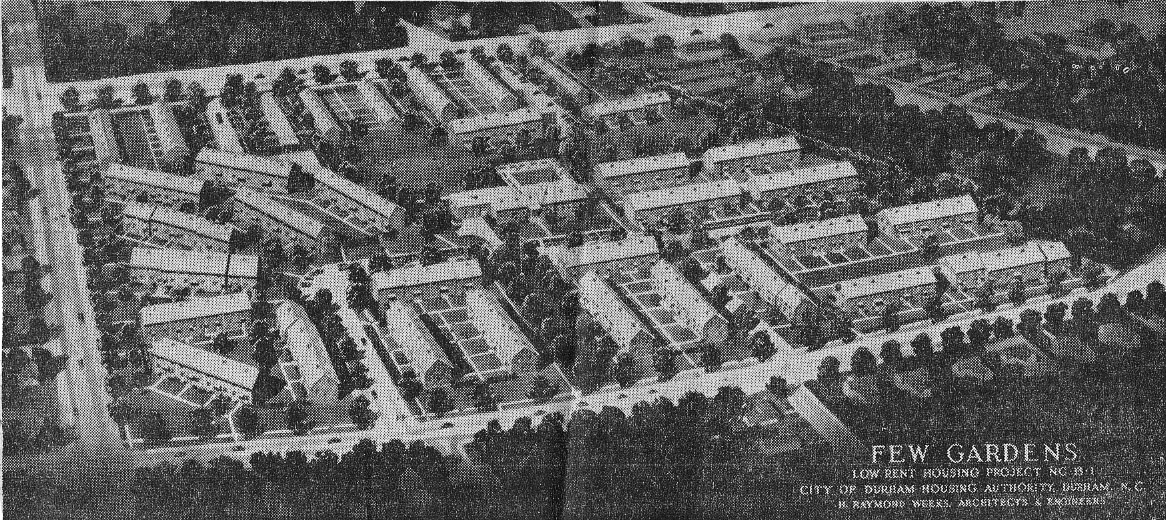 Rendering of Few Gardens, 04.23.52 (Courtesy Herald Sun via Dana Few Pope)

Initial grading work at Few Gardens, 04.23.52 (Courtesy Herald Sun via Dana Few Pope)
The genesis of Few Gardens was enabled by the Federal Housing Act of 1949, which created three Federally funded programs:
Title I: Federal funding for "slum clearance" in American cities, which would come to be known as "Urban Renewal" by the Housing Act of 1954.
Title II: Liberalization of the standards for FHA-backed mortgages.
Title III: Federal Funding to build 800,000 public housing units.
While Title II was fairly innocuous, TItle I and and Title III - policies created through attempted compromise between strong advocates of government=funded housing and strong private sector real estate interests - would lead to a cycle of destruction and despair in Durham from which we still haven't recovered.
The construction of Few Gardens as Durham's first housing project in 1952-53, on vacant land east of Morning Glory and west of East Durham, began a cycle that would change the face of the community.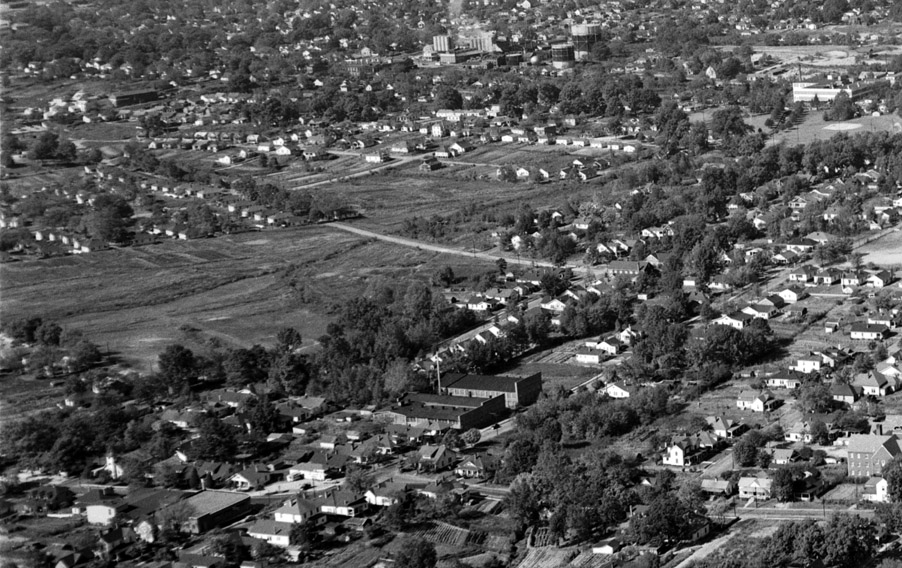 Bird's Eye view looking northwest from ~Driver Street. The vacant land separating East Durham from the Morning Glory mill village shows the historic separation between the communities which would be infilled by the housing project.
Below in italics from the Durham Sun, 11.13.50:
Big Housing To Be Named Few Gardens: 200-Unit Project Will Honor Duke's
Former President
The 200-unit white housing project to be located in East Durham will be named Few Gardens in honor of the late Dr. W. P. Few, former president of Duke University.
The announcement of the project's title was made this morning by Leroy Addington, director of the Durham Housing Authority.
Addington said Few Gardens would be so named as a tribute of recognition to the Duke president, "in commemoration of his services to the ccommunity and the South." "The project," Addington said, "will serve to perpetuate a beloved and well-known name among Duke Educators."
In response to a letter from the local Housing Authority informing Mrs. Few of the tribute to be paid her    husband, the late educator's wife replied: "That the Housing Authority should be the first to commemorate Dr. Few here touches and pleases me more than I can say. "It is particularly fitting that this housing project be named for him, as he devoted his life and fine abilities to the development of this city and his beloved Southland. The recognition you accord him will give my sons and me great satisfaction."
 
The location of the project was ' announced last week-by Addington It consists of two land tracts comprising 22 acres which the city has been granted an option for purchase at $41,200.
 
The option, granted by Golden Belt Manufacturing Company, includes six houses located on the property.
The larger of the tracts is bounded by Holman Street, Morning Glory Avenue and Taylor Street, while the smaller is bounded by Taylor Street, Alston Avenue and the Golden Belt property line.
Two weeks ago a 200-unit project for Negroes was announced with a location in the College View section. Addington said today that no name has been chosen for that portion the local housing program.
In italics below from the Durham Sun: 04.04.52
725 Attend Few Gardens Ground-Breaking Program
Approximately 125 persons attended formal ground-breaking exercises for Durham's first public housing project 'here yesterday afternoon. The simple, impressive rites were conducted -on the Holman Street side of the project site as bulldozers there to do grading work, idled their motors on the far side of the area.
William Muirhead, chairman of the Durham Housing Authority, described the history of the Few Gardens project from the date the Authority was appointed by former mayor Dan K. Edwards in October, 1949.
He added that he hopes to see the entire project completed Within, 15 months. It will include 240 low-rent apartments to be occupied by local families with small incomes.
Muirhead also stated that plans for the local Negro project, to be known as McDougald Terrace, should go to Richmond, Va., for approval "within 10 days," and said' he hopes to see that project started this spring. That unit will be erected in the College View Section.
Following Muirhead's opening remarks ' yesterday, Mayor E. J Evans paid' tribute to the late W. P. Few, former president of Duke University in whose honor Few Gardens is named, and Mrs. Few, widow of the honoree, commented: "My sons and I regard this as a beautiful memorial to their father, and we are deeply grateful to you for it."
With that remark and the turning of a spade of dirt by Muirhead, Mayor Evans, and several others, the formal ceremony ended and the idled bulldozers nearby resumed their ground-leveling work.
The initial inhabitants of the new public housing in Durham (Few Gardens, a 'White project' was closely followed in 1954 by McDougald Terrace, a 'Black project') and most cities were the marginalized working class - low-paid factory workers who could no longer afford housing or could not find housing near their work. Thus many of the initial inhabitants of Few Gardens were substantially similar in their economic (mis)fortune to their immediate neighbors in Edgemont and Morning Glory. The same held true in McDougald Terrace.
The Garden CIty-style new public housing was widely praised by new residents - many who had lived in tenement-like conditions in early 20th-century housing badly neglected by landlords.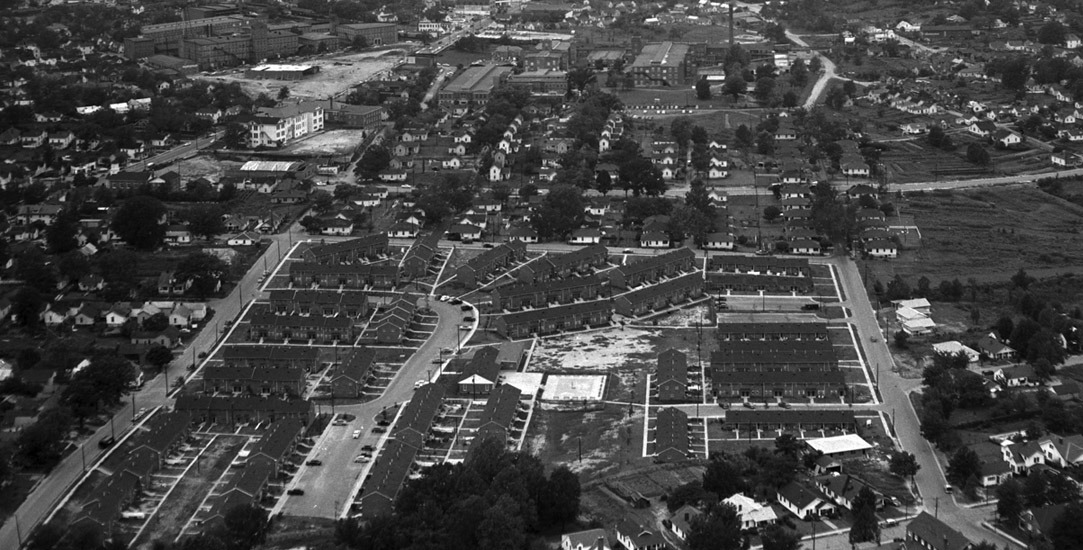 Few Gardens, looking west soon after construction.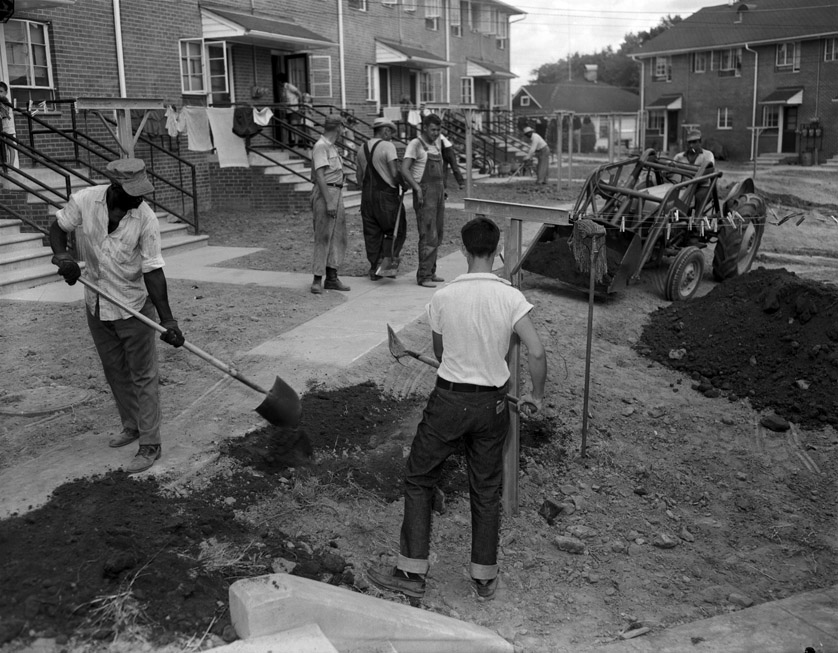 Landscaping Few Gardens, 07.22.53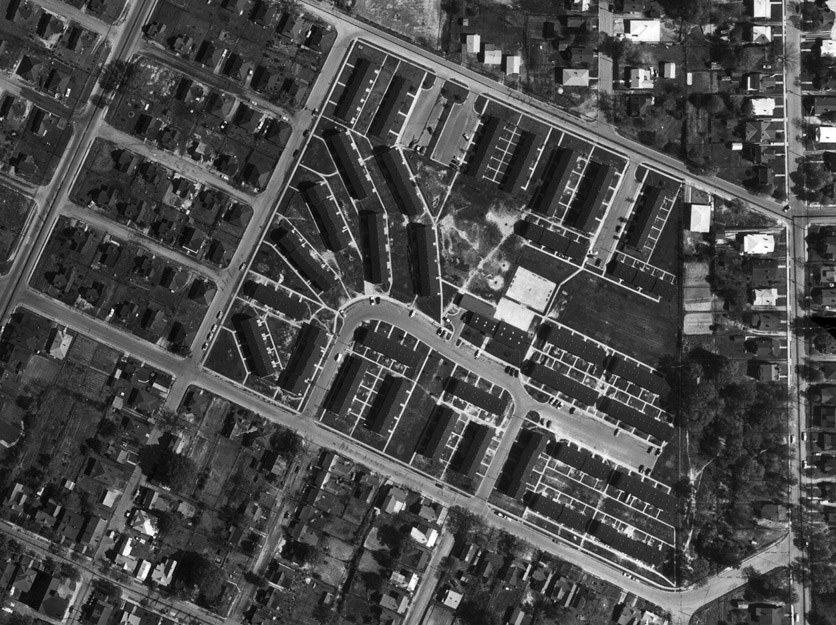 Aerial view of Few Gardens and surrounding neighborhood, 1959.
Few Gardens, mid 1950s (Photo by Ran Few, via Dana Few Pope)
Few Gardens, mid 1950s (Photo by Ran Few, via Dana Few Pope)
Few Gardens, mid 1950s (Photo by Ran Few, via Dana Few Pope)
Few Gardens, mid 1950s (Photo by Ran Few, via Dana Few Pope)
The path of Few Gardens was soon to change, however, with the implementation of Title I, or 'urban renewal'.
In Durham, huge swaths of land were cleared between ~South Elm on the east, Duke Street on the West, the NCRR tracks on the north, and Piedmont Avenue to the south. In addition, approximately a 1/3 of the buildings between Elizabeth St. and the Liggett factory in the core of downtown were demolished.
The Federal government had made it a priority to house these displaced residents - by providing them priority placement in public housing.
In Durham, this meant that suddenly displaced and homeless people, from the most deeply impoverished parts of Durham, suddenly flooded into public housing, and the working class families that had predominated previously moved out and onward.
Combined with the disruption of social ties that had previously existed with the neighborhood, the deeply concentrated poverty became an incubator for crime and other social ills.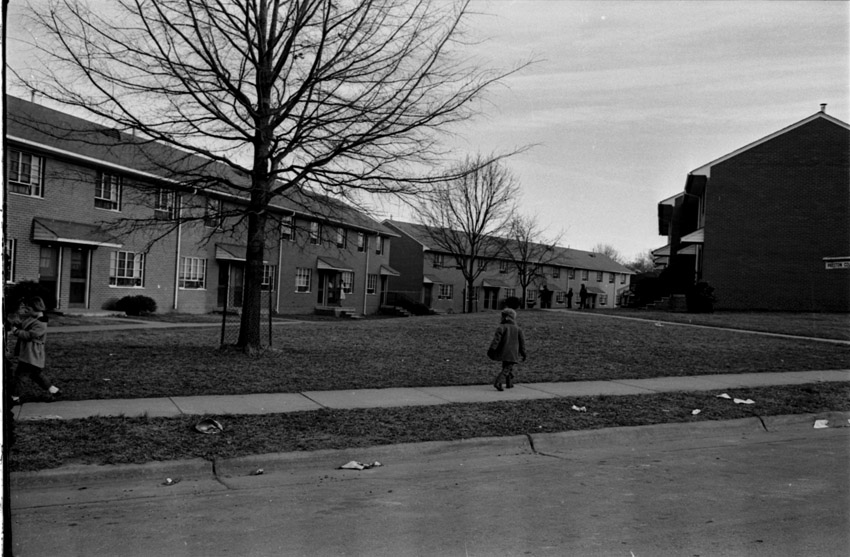 Few Gardens, 01.18.67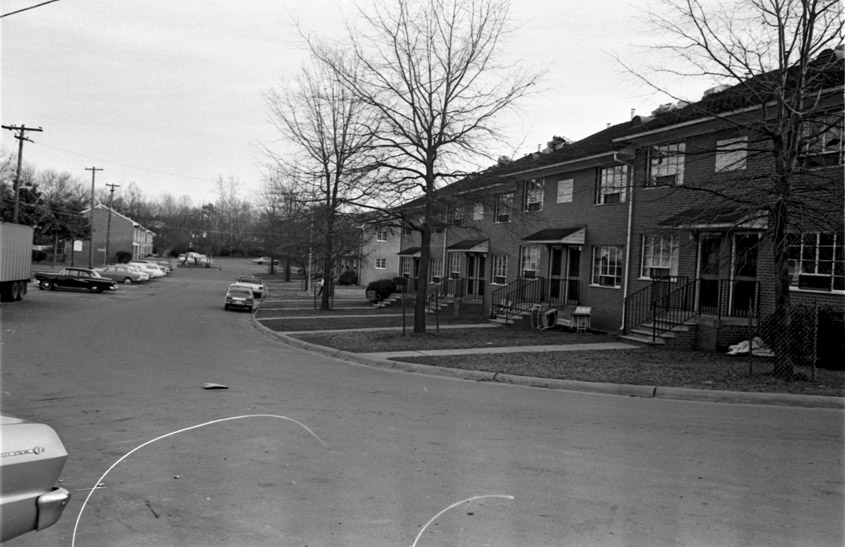 Few Gardens, 01.18.67
When Congress created the HOPE VI program in August 1992, it was designed to address the problem of poor living conditions created by the combination of Title I and Title III of the Housing Act of 1949 - by demolishing the fashionable-at-the-time barracks-style housing and high-rise projects and replacing them with neo traditional neighborhood design that would be mixed income and combine rental and ownership.
Per the Durham HOPE VI website:
"The Housing Authority of the City of Durham (DHA), with assistance from The Community Builders, Inc. (TCB), applied for HOPE VI funding and was awarded a HOPE VI Revitalization Grant in the amount of $35,000,000. DHA and TCB anticipate leveraging an additional $120,000,000 from public and private sources to support the revitalization of the Few Gardens public housing site and the strengthening of the surrounding community. The new housing will be well designed and will include a range of rental housing and homeownership opportunities. DHA is implementing the Few Gardens HOPE VI revitalization effort in partnership with TCB."
The ambitious HOPE VI project got underway in ~2000. Demolition of Few Gardens occurred in 2003.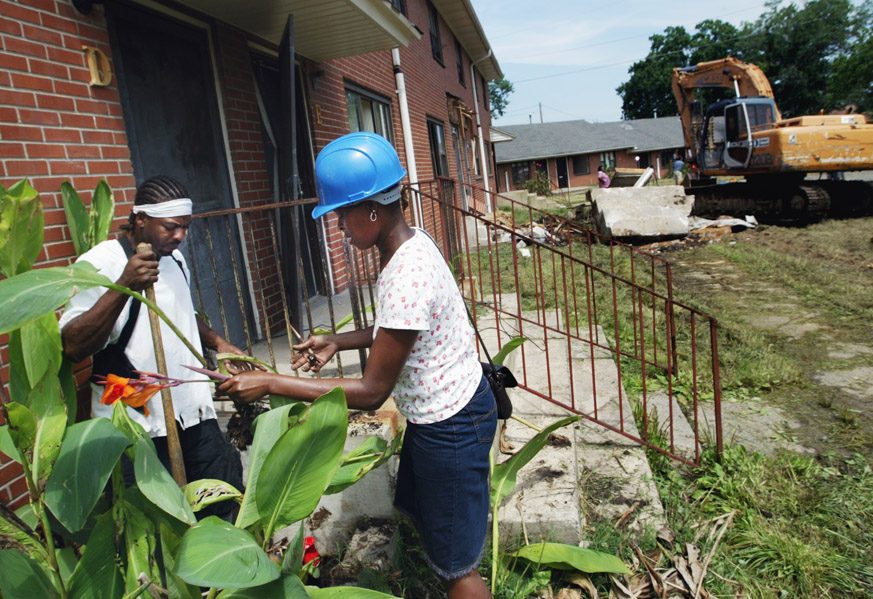 Resident digging up her Canna Lilly, 07.24.03
The Durham Housing Authority and TCB built rental units on a portion of the former Few Gardens Site, as well as townhomes along East Main St. The project however, has stalled at that point, well short of the ambition outlined in the Hope VI revitalization plan.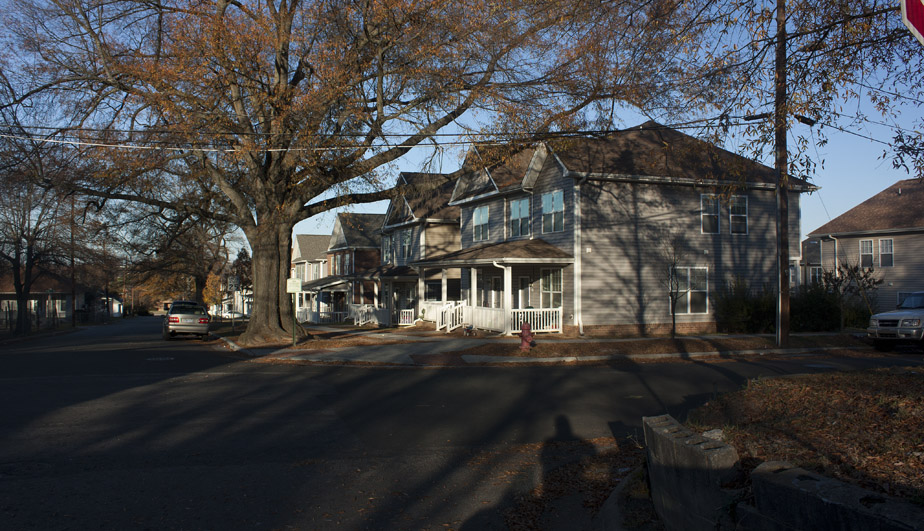 Holman and Morning Glory, looking northeast, 11.28.10


Holman and Taylor, looking southeast, 11.28.10
As former director Harrison Shannon said to me (and I held my jaw from hitting the table) before he moved/was moved on "I just regret that we weren't able to do the homeownership or the mixed-income units." In other words, the major raison d'etre of the HOPE VI program; DHA managed to build new plastic neo-traditional low-income duplexes to replace the Few Gardens project, but did not manage to build the key elements to create a stable socioeconomic community. Land upon which many of these units were supposed to be built - on the Few Gardens site and along Angier Ave. - remains persistently vacant.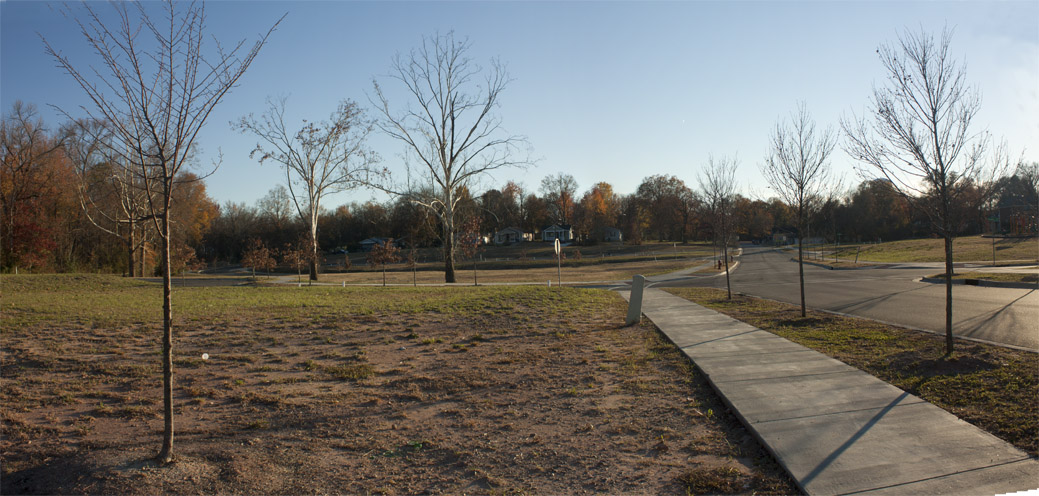 Vacant 1/2 of the former Few Gardens site.
The primary difficulty with Housing Authorities, I've learned, is that they are accountable to no one, which is why they are, nationally, founts of malfeasance and ineptitude. Odd structures, they are 'local' agencies that have no local accountability except for an unelected board made up of local individuals. In Durham, our Housing Authority answers not to the city council or the county commissioners - or even the state government - but to the Greensboro office of the Dept. of Housing and Urban Development (HUD,) a Federal agency. As best I can tell, the folks in Greensboro are a combination of incredibly overworked and beleaguered well-intended individuals and a bevy of people who simply don't give a damn.
What a squandered opportunity - while the housing on the former Few Gardens site above is mediocre construction, the infill townhomes on East Main St. are a cut above that, and an asset to the neighborhood. I can only imagine how far the $35 million could have gone. As it is, what we have is mostly an improvement on what was in the neighborhood - it simply could have been, and was supposed to be, so much more.
Find this spot on a Google Map.
35.988308,-78.885098