FREE WILL BAPTIST CHURCH - 1004 MORNING GLORY
Built in
1907-1919
/ Modified in
1980-1990
,
2012
In tours
Last updated
Thu, 06/27/2019 - 3:00pm by gary
Comments
Built in
1907-1919
/ Modified in
1980-1990
,
2012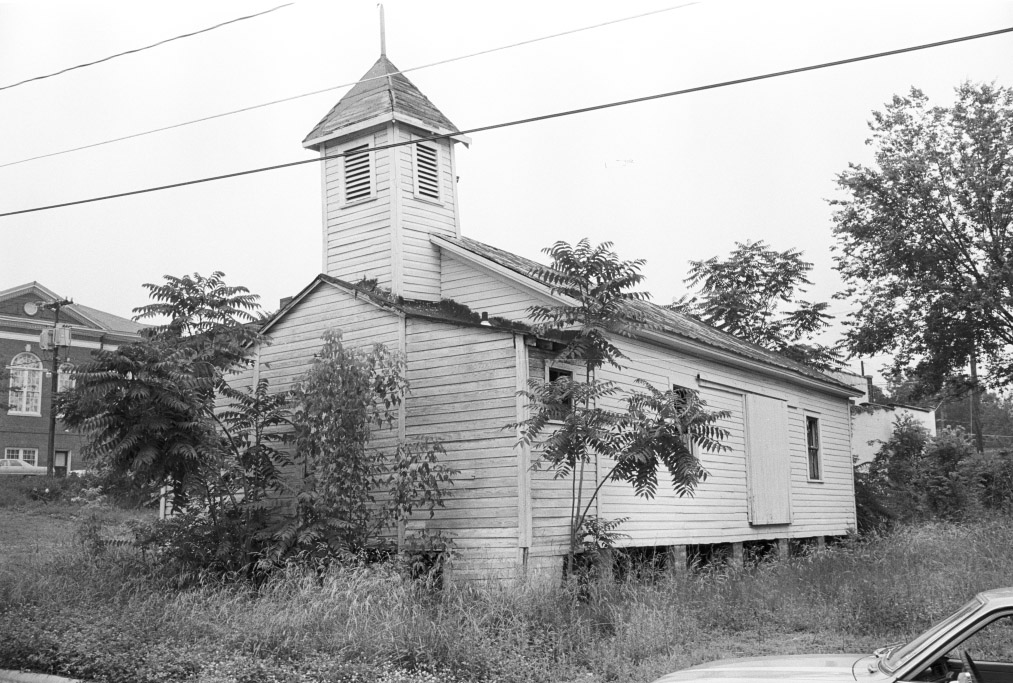 June 1979
"The Lord House" at 1004 Morning Glory started life as the Free Will Baptist Church, first listed in the Durham city directory at this address in 1919, with a Reverend Zebulon V. Ferrell as pastor.  It is unclear if this building was built specifically as a house of worship or adapted from the structure first shown on Sanborn Fire Insurance maps at this location - apparently a short-lived mattress factory operation.

Compiled from fragments of Sanborn Fire Insurance Maps, available online through Library of Congress and NCLive.org (the top of each image is roughly west).
For most of twenty years from the early 1920s into the 1940s, the congregation seems to have been led by a Rev. Thomas C. Marks, who lived on nearby Elm Street and Alston Avenue with his wife Alice.  Marks was also frequently attributed a side job as a shoe repairman in a shop on Angier Avenue.
While there are many African American congregations of the Free Will Baptist Church, all indications from the city directories (which used various unsubtle ways of signaling the race of institutions and individuals until 1951) suggest this was a predominantly white church - much like the surrounding mill communities of Edgemont and Morning Glory through the mid 20th century.
After the death of Reverend Marks, 1004 Morning Glory changed names to become The Church of God from the mid 1940s into the early 1960s.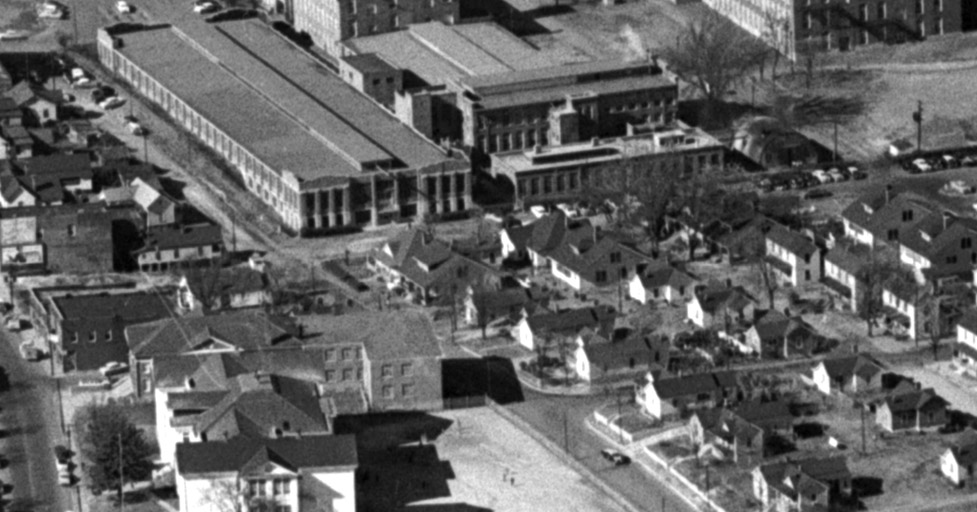 Aerial looking east, late 1950s. A steeple is evident atop the small church.
Charlie Gibbs once related to me that he and his friends would sneak away and around the block from the square dances held on the second floor of 952 East Main Street to hear the rockin' music emanating from the Baptist Church, which they much preferred.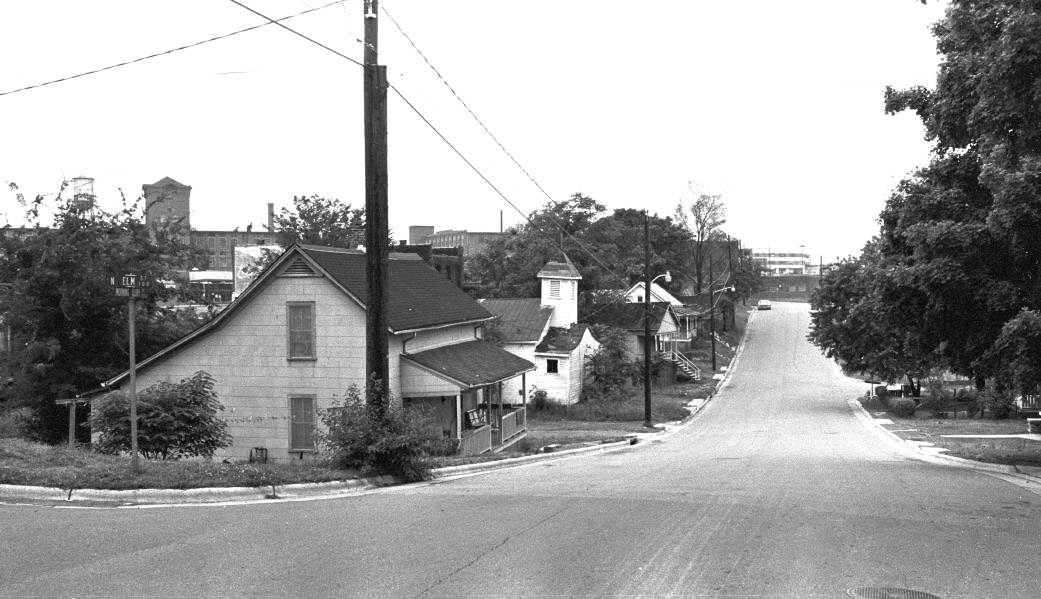 The view west on Morning Glory Ave, 1979
 
Reflecting change in the surrounding neighborhood as the long decline of once booming industry coincided with white flight to the suburbs, the church at 1004 Morning Glory became predominantly black in subsequent decades.
From 1964 until 1995, the property belonged to the Jones family, who were either themselves involved with or leased the building to a Gospel Light Holy Church from at least the mid-1980s.  That congregation would eventually purchase the building and retain ownership until late 2011.
In 1984, the church lost its original steeple and was encased in concrete block.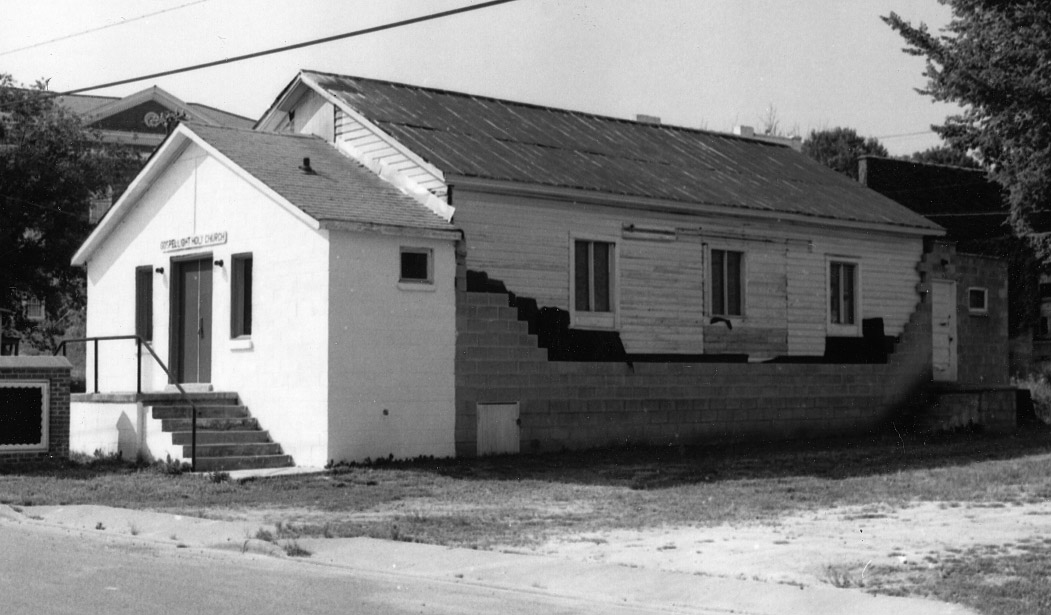 1984 (State Historic Preservation Office)
The church continued to house an active congregation through 2012.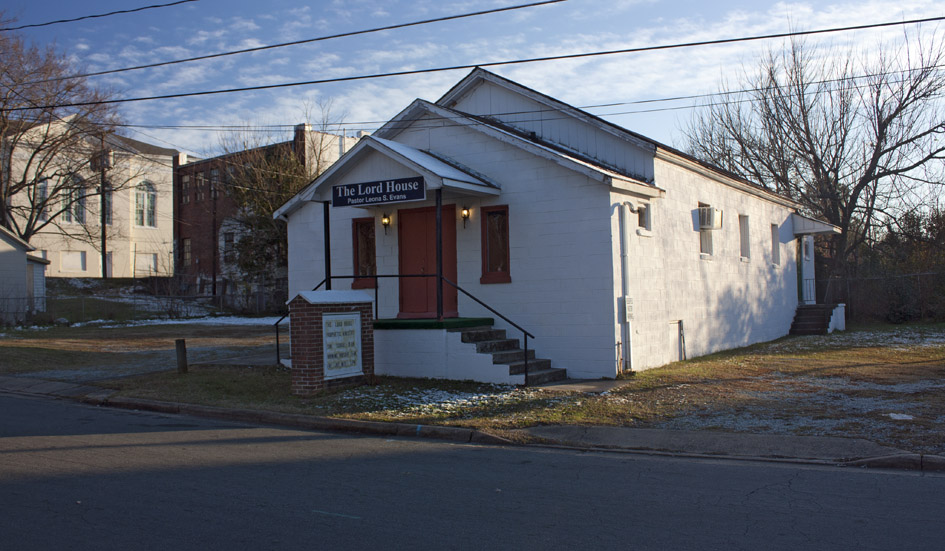 As of late 2012, the building is under renovation by a new owner, who, via secondhand sources, intends to build off the success of Golden Belt by building additional artist studio space for the area.
That space opened in 2013 as SPECTRE Arts, run by Alicia Lange.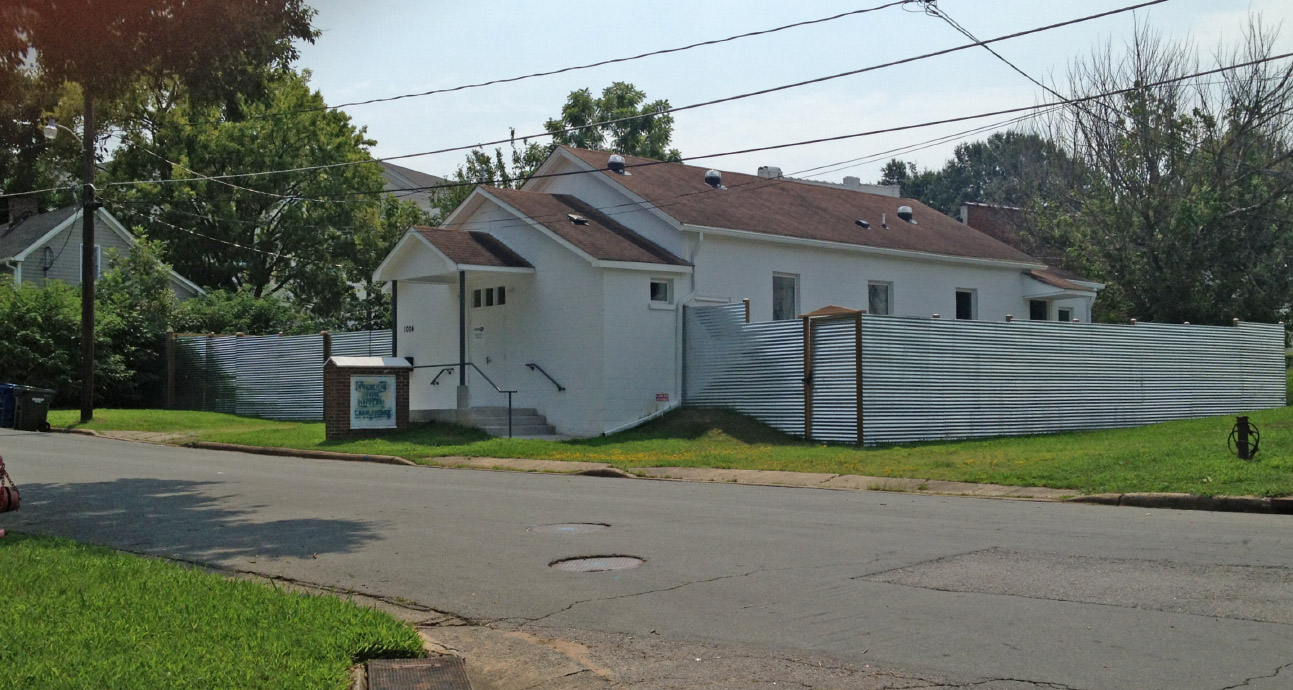 08.23.13 (G. Kueber)
In five years of operation, Spectre Arts hosted a wide range of exhibitions, performances, and special events.  The exterior space was used and decorated extensively, connecting through a rear entrance to 947 East Main, which became The Carrack gallery and studios in 2016.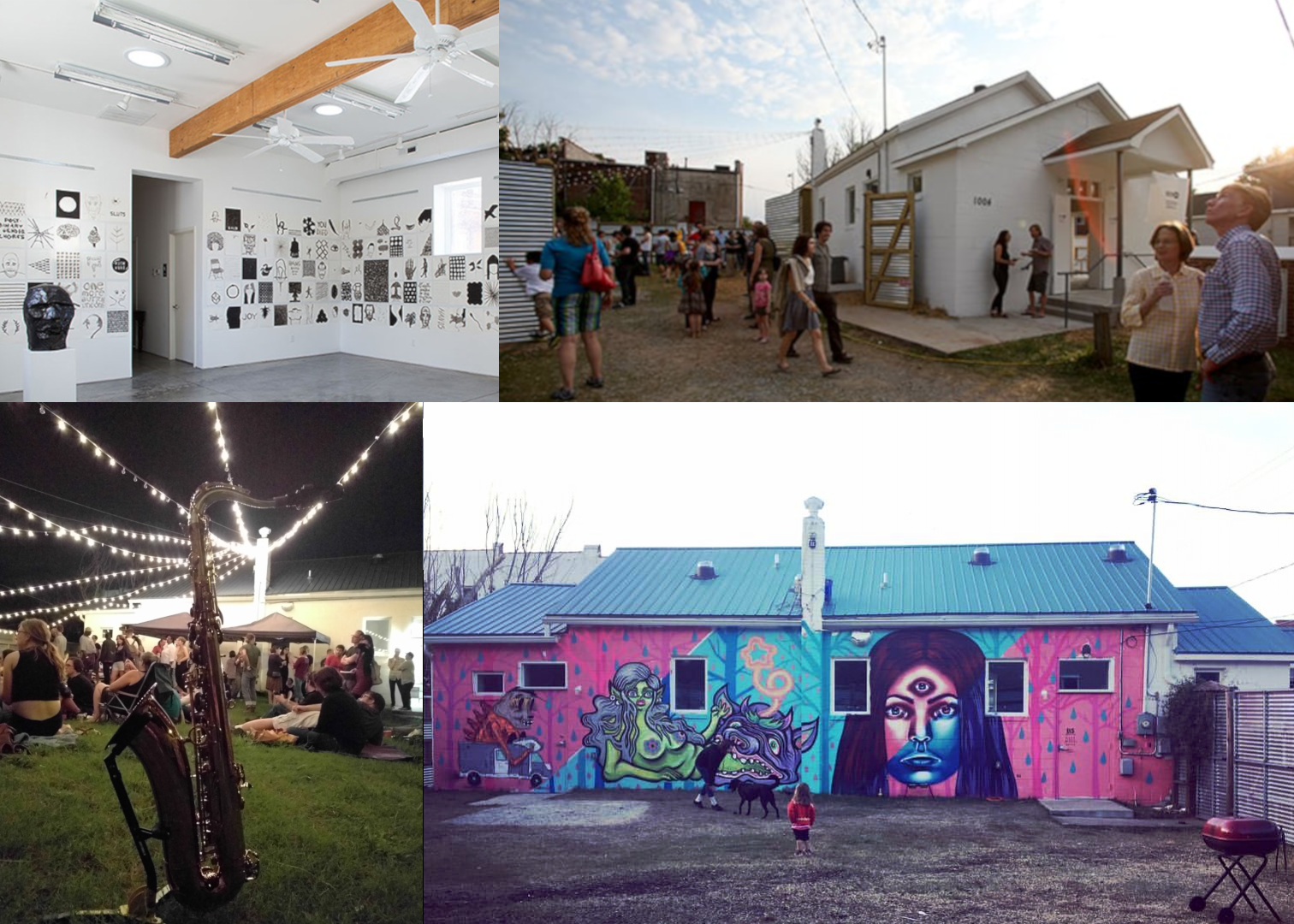 (Image credits, clockwise from top-left: billthelen.com; Alicia L. on Yelp; MuralDurham.com; N. Levy)
A year after Spectre Arts closed in 2018, the space was reopened in the summer of 2019 as Nolia: Family + Coffee.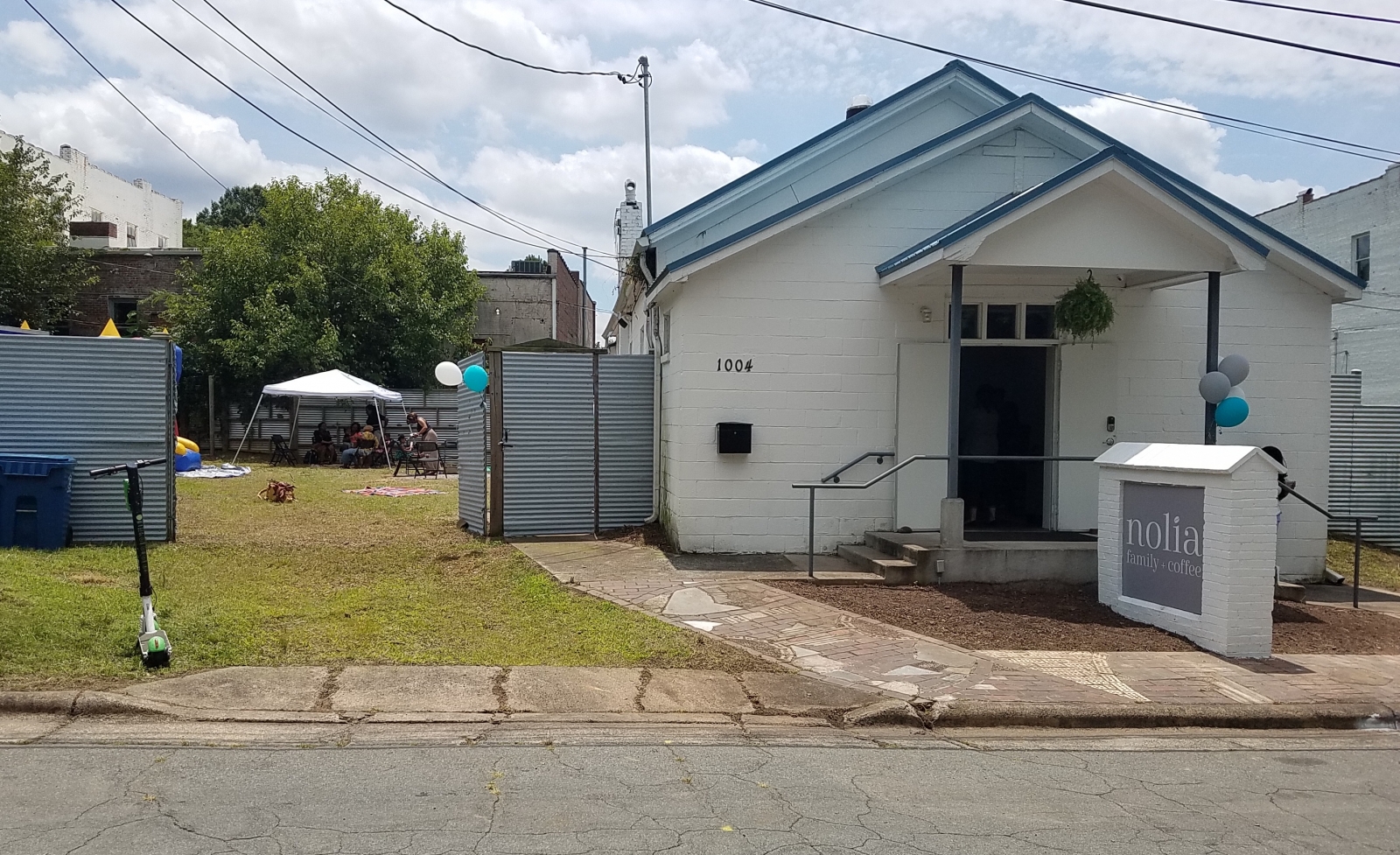 06.22.2019 - during the soft opening celebration for 1004 Morning Glory's latest reincarnation (N. Levy)
This building was the subject of a What's It Wednesday?! post on Open Durham's social media accounts (Facebook and Instagram), the week of June 26, 2019.  Follow us and stay tuned for more finds!