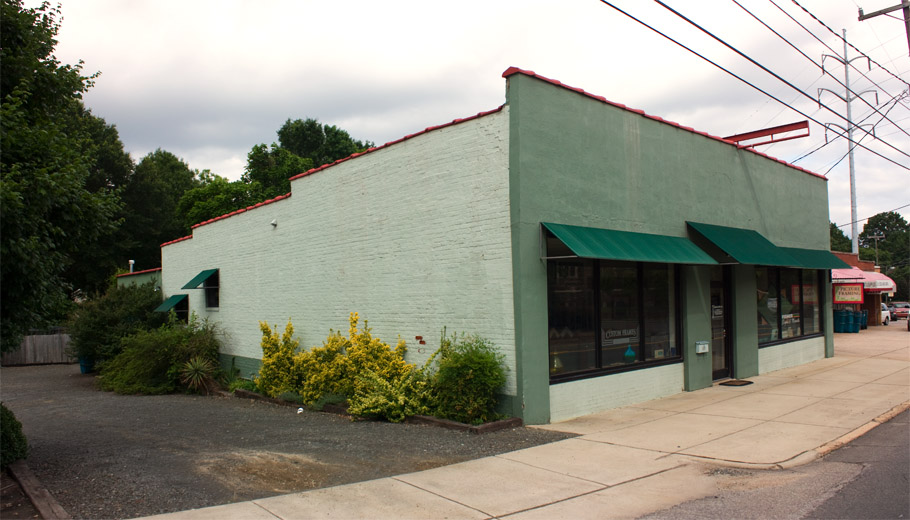 Built prior to 1913, the commercial structure at 2606-2608 Hillsborough Road was initially divided down the middle, with stores on either side. By the mid-1920s, the 2606 side is listed as occupied by VP Hall, but no notation of what business he/she ran. The 2608 side was occupied by Caleb E Garrard, who ran a grocery, called simply Garrard's Grocery Store. Per the Old West Durham website, "long-time resident Bill Holmes recalls [Garrard]'s mule-drawn wagon that delivered groceries to the nearby homes in the West Durham mill village."
The Hillsborough Road Market occupied the 2606 side of the building by the late 1920s, although Garrard is still listed at 2608. By the mid-1930s, Garrard's Grocery had taken over both sides of the building.
During the 1940s, the Haygood Grocery Store occupied the building. The owners realized that a local ordinance stipulated they were too close to Greystone Baptist to sell alcohol. They evidently re-divided the store down the middle and began to sell alcohol out of the western half, which was just over the line.
Alliance plumbing store took over the space in the 1950s, which was later replaced by a "Chinese Grocery store" per OWD until it closed in 1985.
The store was renovated by Mitch Fisher for his business, Fisher Signs, which is the current occupant of the building.
Find this spot on a Google Map.
36.011069,-78.929042