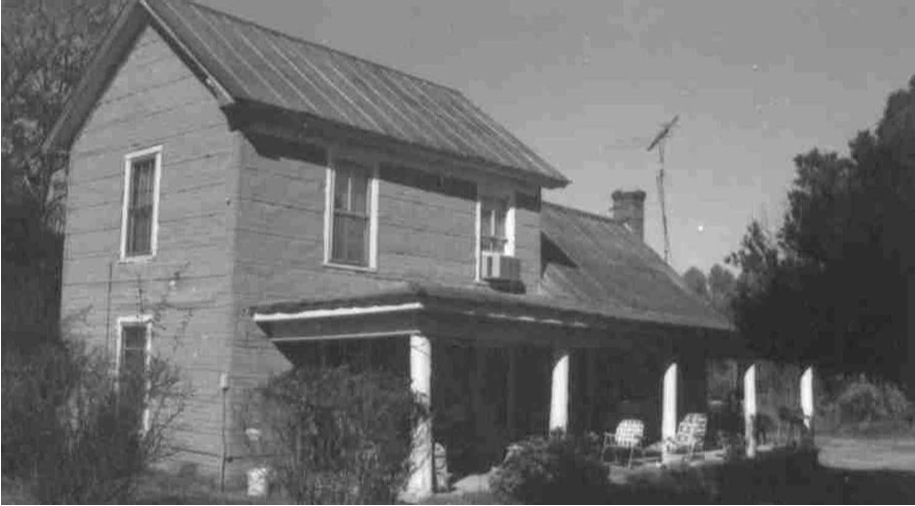 Marcus Harris built a large story-and-a-half log dwelling with a large and prominent fieldstone and brick chimney southeast of Bahama ca. 1835. His son, Robert, is thought to have added the frame two-story wing at the end of the nineteenth century, utilizing four-over-four windows on the front facade and reserving six-over-six windows for use on the side elevations. The younger Harris also added a full-width hip-roofed front porch, now with a concrete floor and log supports installed ca. 1940 by Sam Evans, an African-American farmer who purchased the dwelling and 137 acres of land surrounding it during the depression. 
Evans and his family enlarged and updated the dwelling in the early 1940s, adding a long engaged frame shed to the rear of the log house, a bathroom to the frame wing, and asphalt siding on the exterior.2 At the same time, they moved a nineteenth-century V-notched log outbuilding to a site near the house and converted it for use as a washhouse, and constructed a stock barn, two smokehouses, three tobacco barns, a chicken house, and a well house. Around 1960, they installed wall and floor coverings on the interior that have obscured or replaced most original features though one late-nineteenth century Greek Revival-style mantel survives in what is now the dining room. Michael Evans, who currently occupies the house, is the third generation of his family to live there.
From interview with James Evans, son of Sam Evans, 20 October 1996.