JOHN MCMANNEN HOUSE / SOUTH LOWELL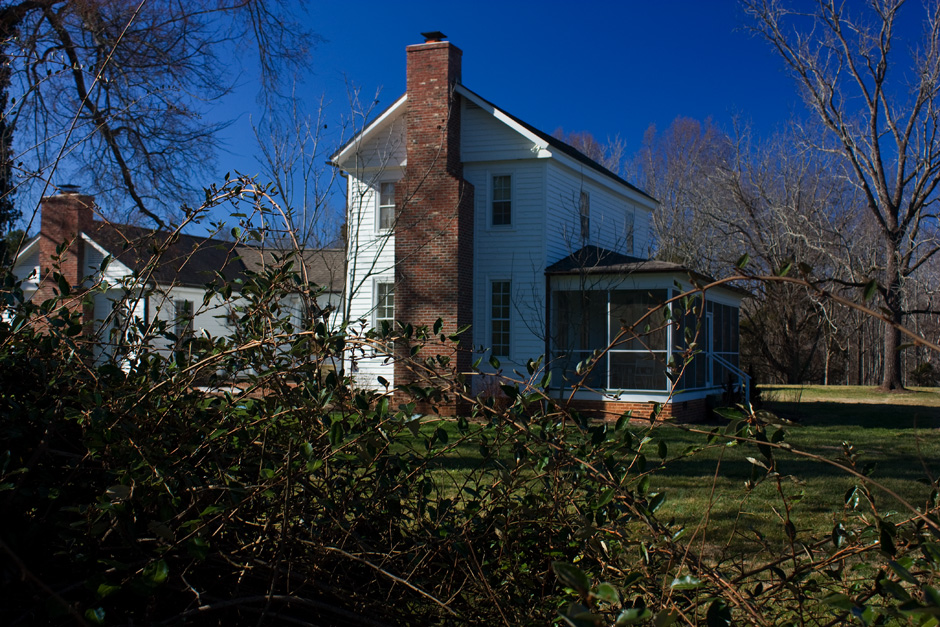 John McMannen was one of the more unique and interesting characters figuring in the early history of Durham, both city and county.
Sources differ as to where and when McMannen was born - Wyatt Dixon states that he was born Jan. 12, 1806 in Pennsylvania - Jean Anderson states he was born in 1812 in Virginia. Anderson states that McMannen moved south with his family at age 10 to settle in the Little River area. He became a cooper, fashioning barrels for area farmers, as well a lay preacher in the Methodist Church. Reverend McMannen (often known only as "Mac") first struck it rich in 1843 by commissioning engravings of the "pilgrimages through life of the sinner and the Christian" (with mahogany frame and paper insert or gilt frame with satin insert,)and selling them. McMannen was a talented fiddler who would ride from place to place, often performing with his musically-inclined children, furnishing his audiences with the Word while he performed.
McMannen used the money earned (the engravings did quite well) to purchase the patent for a "Young's Smut and Screening Machine" that separated fungally-diseased grain from healthy grain. He initially sold this through newspaper ads, but in 1845 began manufacturing them at the John Leathers' Mill on the north fork of the Little River. By
McMannen, a man of grandiose vision, seems to have been the one to name his burgeoning community "South Lowell" in imitation of the Massachusetts manufacturing town. By 1846, South Lowell had acquired a post office. The venture was successful, attracting additional development of the town. In 1849, the South Lowell Male Academy opened its doors, with Rev. James A. Dean as principal. By 1850, the school had constructed a 40 ft. by 22 ft. brick dormitory. The academy offered coursework in elementary education, "higher branches of English," and classics. Also in 1850, the South Lowell Female Academy opened. A local hotel, the former Elizabeth Leathers house at South Lowell and Rougemont Roads, advertised the ability to board up to 30 students.
The school(s) soon had a library with 200 volumes and the "South Lowell Lyceum,"
which featured speakers on "uplifting topics" of interest to the surrounding community.
'Rev. Mc' continued to do well for a number of years, purchasing the mill and building a large house for himself and his family on the hill between the north and south forks of the river in 1853. By 1854, he had sold $125,000 worth of smut and screening machines. However, he declared bankruptcy that same year. By the next year, he had turned his gaze entrepreneurial gaze southward with the following advertisement in the Hillsborough Recorder on May 28, 1855, entitled "Proposals for Building a Town":
"The undersigned having purchased the property at Durham's Station, the great North Carolina Central Railroad in now making arrangements to lay off a town in half acre lots, and proposes to give away and make a full right and title to every lot in the place provided the individual who accepts the proposal will build himself or herself in a bond with good security to build a certain class of house on the same in the course of 12 months from the time they enter into the bond. Persons feel interested will address the undersigned at South Lowell, Orange County, NC who will forward them a plan of the town, number and location of the lots, terms, etc."
"This place is located in a fine healthy section of the County, 25 miles west of Raleigh and 12 miles east of Hillsborough and 12 miles northeast of Chapel Hill. Merchants and mechanics and business men in general will find this proposal worthy of their prompt attention. The terms will exclude the sale of ardent spirits, and all persons of questionable character. Persons who make application will please state the business they wish to engage in, etc."
By 1856, McMannen's factory had 22 employees and appeared to be doing well; his initial venture of creating the town of Durham was not. Despite also engaging in work as a railroad agent in Durham during his land venture at a $150/year salary, he had only made a downpayment on the 100 acres of land to purchase from Bartlett Durham and was in serious financial trouble.
Receiving no takers for his "Proposal," he had transferred to title to John Leathers. Durham brought suit for the remainder of the payment in 1857, and Leathers transferred it to Henderson May in 1858. McMannen owed over $5,000 on 15 debts. He lost much of his money, possessions, and his land in South Lowell.
McMannen was undauntable, though. By 1867 was trying to purchase land in Durham again. DC Parrish, his close friend, came to his aid, and helped secure new property south of the railroad tracks. He moved his smut machine manufacturing business to this land, and began the business of real estate development. This real estate development would become McMannen St and South St.. [This neighborhood - with medium-large Victorian frame houses remains very intriguing to me, as it seems to have no historic identity/name as a 'neighborhood']. The McMannens built their own house (called 'The Heights') at the highest point of land, next to the tracks on now-South Mangum St., in the late 1860s. No pictures of this house survive. McMannen fully immersed himself in the early business of Durham, and died Nov. 29, 1875. Although he was originally interred in a Methodist church cemetery, he was reinterred at Maplewood Cemetery. A Methodist congregation, still in existence, named their church after McMannen in 1878.
South Lowell continued to prosper for a time without McMannen. In 1856, Dr. Edward Scott established a medical school at South Lowell - however, it closed after his death in the Civil War. The academies continues to do quite well. The evolution of South Lowell after the Civil war is less clear. The 1887 Branson Business directory of Durham notes the following commercial establishments located in South Lowell:
WG Gates general store
WD Huff blacksmith shop
SH Johnson saw and grist Mill
WH Mois, tailor
TY Monk, pastor, Baptist Church
RJ Russell, steam saw and grist mill
CL Suitt, postmaster
JFM Terry, grist mill
SP Terry, pastor, Baptist church
Winstead and Terry, saw and grist mill
Womack, WD, pastor Methodist church
The South Lowell Academy continued under the purview of Miss Nannie E. Cannady (1884).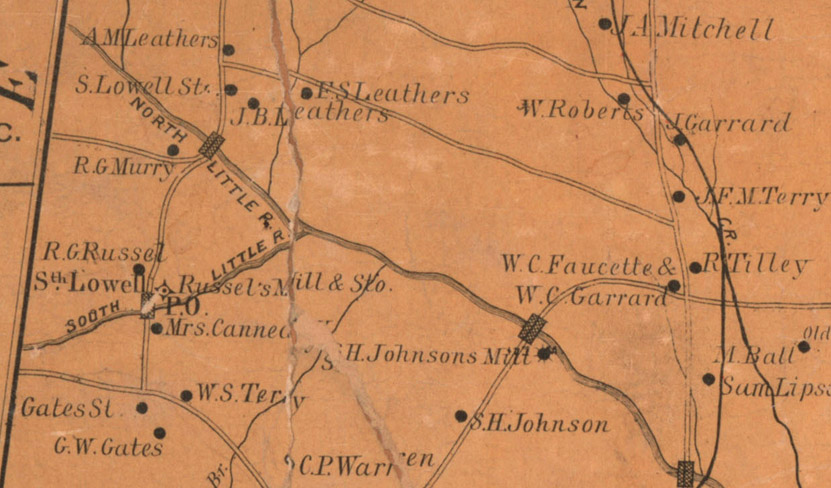 South Lowell on the 1887 map of Durham County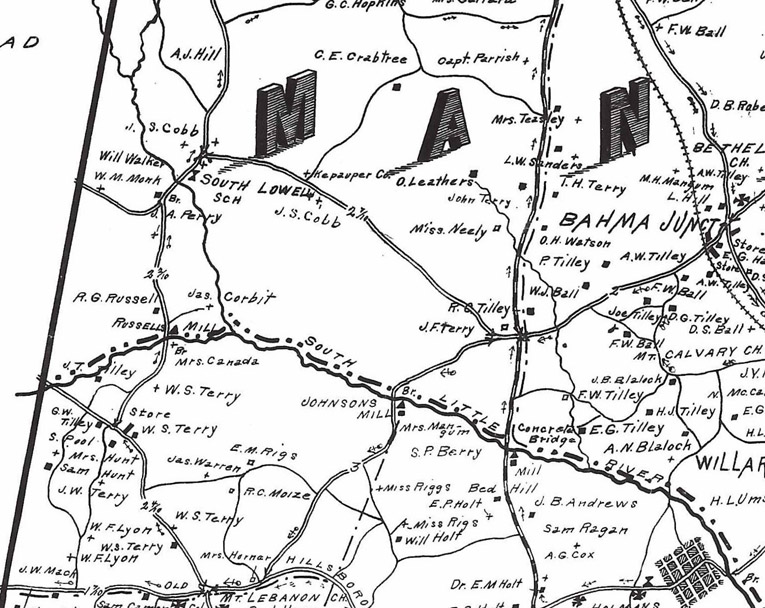 South Lowell on the 1914 map of Durham County.
From what I can tell, South Lowell appears to have simply dwindled during the 20th century. The name still appears on maps, but there is scant evidence that an actual town existed there.
The Rev. McMannen's house still stands, although the academies to the rear of the house and across South Lowell Road are gone. It has been modified somewhat, but retains much of its essential exterior character. There is a high hedge around it (I missed it twice.)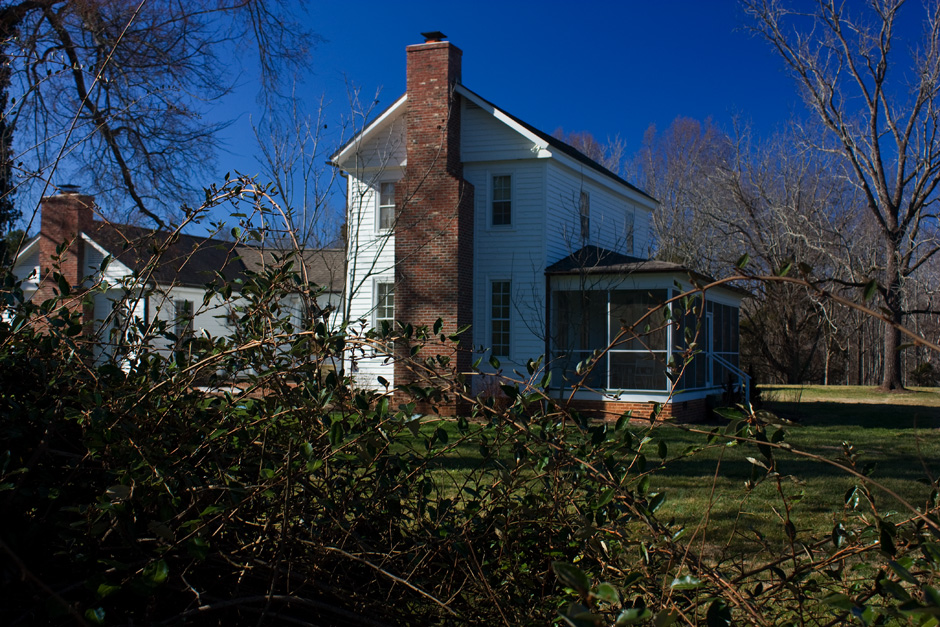 John McMannen House, 02.21.09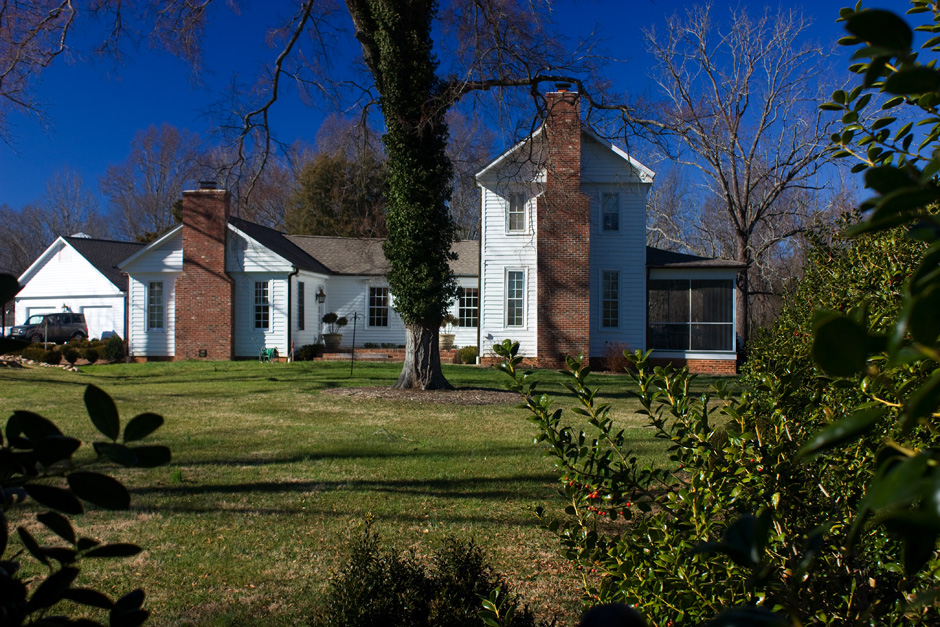 John McMannen House, 02.21.09
Find this spot on a Google Map.
36.162314,-78.951182