MONKEY BOTTOM / SECOND ERWIN FIELD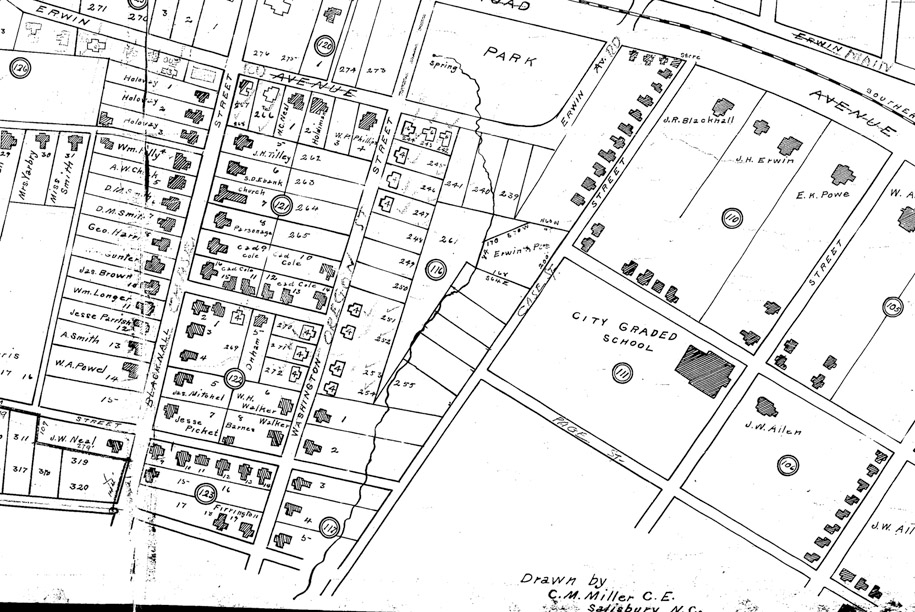 (Courtesy Duke Rare Book and Manuscript Collection. Scanned by Digital Durham)
A recurring theme on this website, and in any study of the geography of place, is the view of how the topography of the land - ridgelines, lowlands, plateaus, streams, etc. - shaped early patterns of settlement, transportation corridors, and economic/class segregation. Although our ability to massively reshape the landscape - by scorched-earth urban renewal, or actual earth moving - has removed much evidence of these early patterns, others remain.
Longtime readers will not be surprised to hear me reiterate the pattern of economic stratification that characterized the landscape of early Durham - segregation by elevation. Ridgelines - with their easier building sites, proximity to transportation corridors (roads, then trolleys, then roads,) relative safety from flooding, and - in the miasmatic era - distance from 'bad air' - were the neighborhoods of choice. Those without choice lived in the lowlands - the rutted, difficult building sites, the floodplains, etc.
One of those areas existed along the Sand(y) Creek branch that originated quite near West Pettigrew St./NC Railroad Corridor - Durham's 'ultimate ridgeline'. This spring had served as a watering hole for travelers along the Raleigh to Hillsborough Road, and around it the permissive stopover of Pinhook.
After the clearance of Pinhook in the development of Erwin Mills, the creek originated in Erwin Park, to the east of the Erwin Auditorium, before dropping steeply to the southeast into a low-lying area south of Erwin Road - traveling more generally southwest until it eventually joined New Hope Creek.
As the 1910 map above makes clear, this was not an area of immediate development by the mill as part of its mill village, although it appears that building lots had been laid out by that time.
Like many such 'bottoms', modest houses, shacks and shanties were built by impoverished people on the undesired land. You can get a sense of these from a post I did awhile ago about one of several areas of Durham called, simply, the Bottoms - this one along a branch of Third Fork Creek between Willard and Carrington Sts.
How "Monkey Bottom" got the name that has caused it to persist in the collective memory of Durham as the others have not is a mystery. The most often repeated origin story relates the name to the zoo that existed at Erwin Park early in the 20th century, which included monkeys. Some versions of this story involve the escape of monkeys into the wooded bottomlands, where they were either captured or continued to live for some period of time....
Most of this is probably apocryphal, although the slope of the park down into the bottomlands and the existence of the zoo may have tied the two together. Other theories abound.
Clearly, though, the people living in Monkey Bottom were looked down upon by at least some members of the West Durham community. I'll quote from Jean Anderson's description:
"[A] stigma did attach ... to those who lived in the hollow called Monkey Bottom. Although the mill houses on Case and Oregon Streets adjoined Monkey Bottom, they were not in it. It was a kind of no-man's-land with scattered shacks of human outcasts or hangers-on of the mill society. Erwin and his subordinates saw to it that morality prevailed in the villages - transgression meant expulsion - and the unfortunates who could not abide by the rules had to fend for themselves and live as they could. It was these people who lived in Monkey Bottom. A villager summed up the attitude of the workers when she said, 'A person don't ever know what they'll be brought to in this life, but I sure hope I'll never have to move to Monkey Bottom.'"
A strong description, to be sure, sourced primarily from oral histories and correspondence; while I have no doubt that many of the people in West Durham looked down on the denizens of Monkey Bottom in this fashion, I rather doubt that all folks living there could be described as "human outcasts or hangers-on." More likely, they were a mixture of folks who primarily had in common that they were abjectly poor enough not to be able to live somewhere else. Given that many or most of the people working at Erwin Mill and living in the mill village had been quite poor, and had housing, electricity, and the like through the provision of same by the mill, I am sure there was a desperate fear of becoming similarly impoverished.
Monkey Bottom appears to have disappeared in its original form by the 1950s.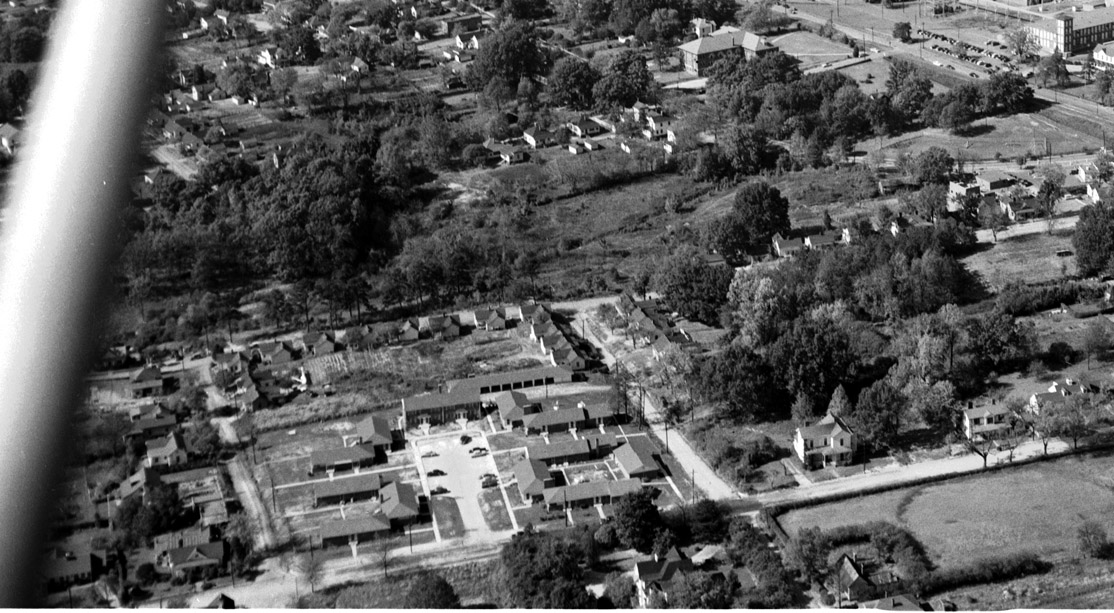 1950s aerial showing trees, open land and stream between Case and Oregon Streets.
(Courtesy The Herald-Sun Newspaper)
In 1953, Erwin Mill transferred ownership of the land to the City of Durham to develop a park and field, which would serve as a replacement for the original Erwin Field at Broad and West Main Street. The original was soon to be developed as a supermarket and gas station. Erwin Field was thus relocated to Monkey Bottom. I suppose that the stream was culverted under the field.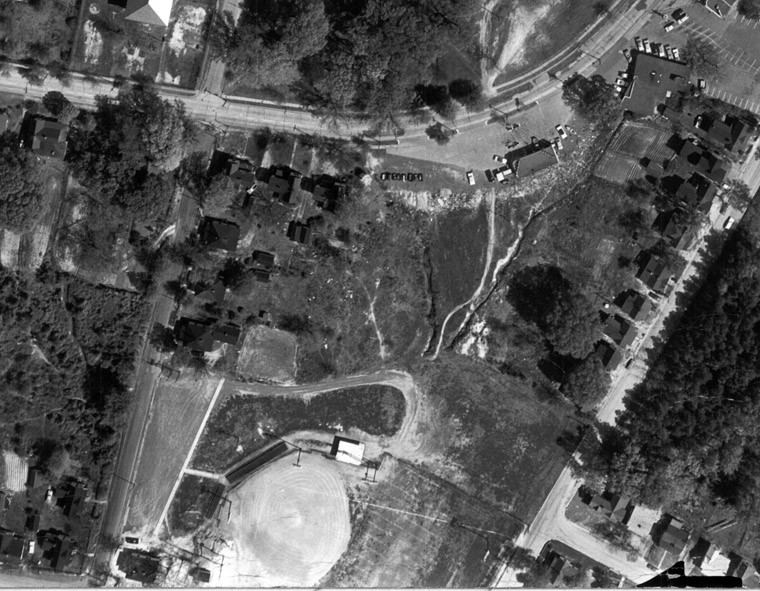 An aerial showing part of the new Erwin Field, 1959 - you can see houses along Case and Oregon Streets on either side, and Erwin Road near the top of the photo.
(Courtesy Durham County Library)
The insertion of the Durham Freeway through this landscape in the 1970s - and its extension in the 1990s, further separated Monkey Bottom and Erwin Field from West Durham, as the portion of the mill village from Oregon St. west was also destroyed by Duke. Only the few houses along Case and Hull Streets remain(ed) as context.
Erwin Field remained one of Durham most isolated and unknown in-town parks after the arrival of the freeway, although it was well-used by various club teams. Duke began to covet the land at least by 1995 - that was the year that they got Burlington Industries, the successor to Erwin Mills, to transfer their reversionary right to the land (put in place in 1953 to say that, should the city ever stop using the field as a recreational facility, it would revert to Erwin Mill ownership) to Duke.
Several attempts to acquire the field from the city failed, including one in 2003 that brought out strong opposition from the community. I hadn't even realized that this had been resuscitated of late until researching this post, at which point I realized that, not only had it been resuscitated, but consummated. The city sold Erwin Field to Duke (see parcel record) on 01/30/09 for $700,000. Did I somehow just completely miss this?
Although some 'play nice' language in the agreement means that Duke probably won't kick anyone out immediately, I doubt their long term plans call for a park for the Durham community. It's rather hard for me to fathom Duke's ongoing appetite for land given their immense holdings, and low-rise, low-density development, but I guess that's just a university for you. Someday soon our cities may consist of nothing but university land and urban church parking lots.
There are a smattering of houses left on Hull Street, and a single house left on Case St. With the Duke School for Children, located on the north side of Case St. since the 1980s, having decamped for the Forest, it's clear that this spot is set for transition. I suppose the macroeconomic climate might stymie Duke's building plans temporarily, although not their ability to pay $700,000 for a once-public park, evidently.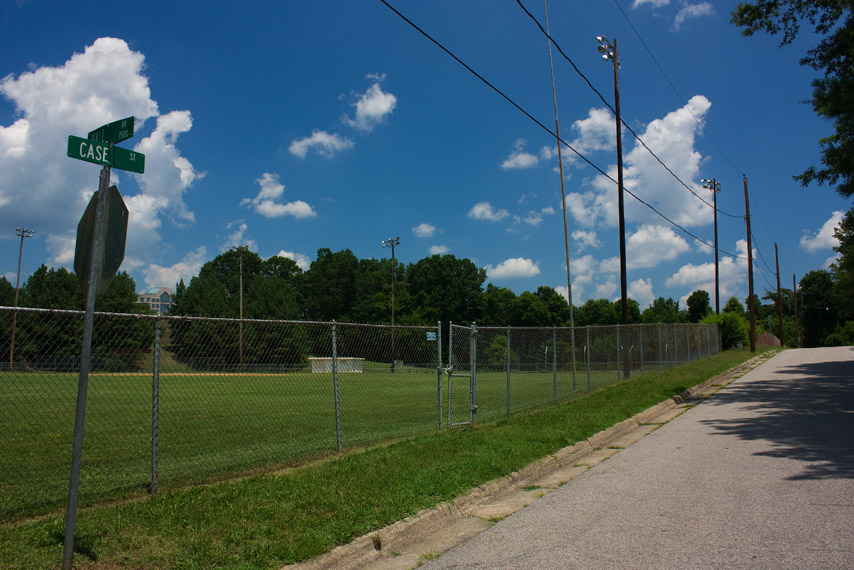 The former Erwin Field at Case and Hull Sts., looking northwest, 07.07.09. (G. Kueber)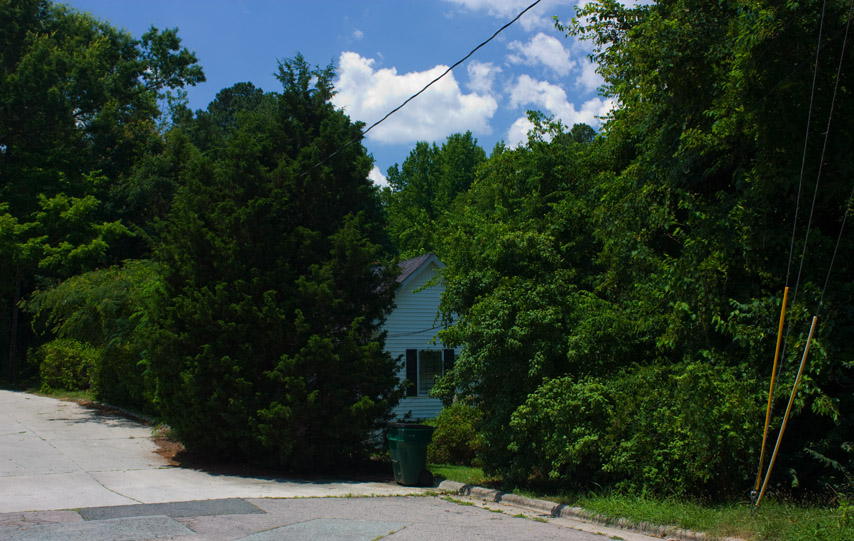 The single house remaining on Case St., looking southwest from Case and Hull, 07.07.09 (G. Kueber)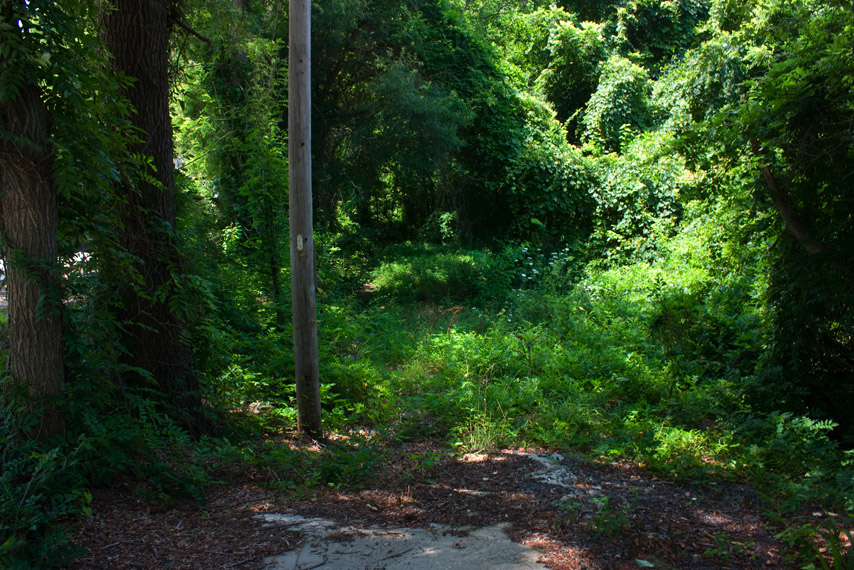 Looking south down the former southern end of Case St., further into the bottom, 07.07.09. (G. Kueber)