LEWIS CAFE - 807 WEST MAIN
Built in
1939
/ Modified in
late 1940s
/ Demolished in
early 1980s
Comments
Built in
1939
/ Modified in
late 1940s
/ Demolished in
early 1980s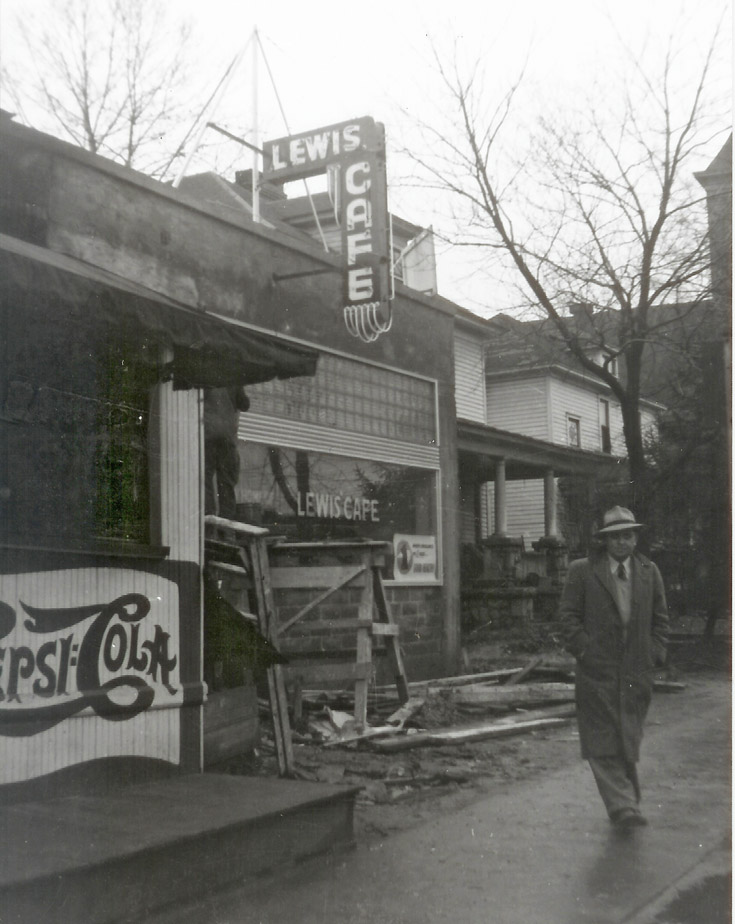 Lewis Cafe, under construction. Main St. Christian Church is in the background, late 1940s.
(Courtesy Sherry Handfinger)
The original Lewis Cafe was built by Lewis Utley in 1939 as a "boxcar restaurant" that served a primarily breakfast and lunchtime crowd from the Liggett Plant and surrounding businesses. It appears to have been expanded in the late 1940s with this masonry structure.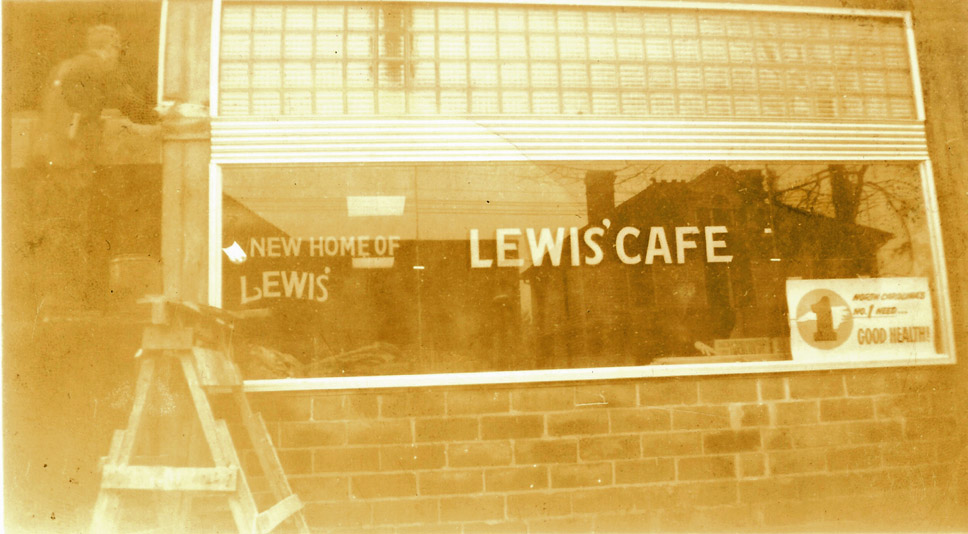 A closer view of the restaurant under construction.
(Courtesy Sherry Handfinger)
I'm going to reproduce a newspaper article from the Durham Sun, published on August 27th, 1981 just before the restaurant closed, to describe the restaurant and its clientele. The article was written by Joe McQuay.
"Bacon sizzles on the constantly used-but-still-clean griddle. Eggs are scrambled by a man with 50 years experience, and other workers whisk around the kitchen amid aromas of freshly baked biscuit and simmering coffee.
It's business as usual at the Lewis Restaurant. But the restaurant which has been a breakfast institution in Durham for 42 years will serve its last meal [in two days.]
The restaurant is located at 807 West Main St., a block from Brightleaf Square, a former Liggett & Myers tobacco warehouse being converted to a shopping center.
'We have purchased that piece of property for Brightleaf and will begin renovating sometime in September' said Terry Sanford, Jr., president of SEHED investment corporation, principal investors in the Brightleaf project.
Sanford said the restaurant was bought months ago, and [Wallace] Pickett [owner] told him he planed to retire in December anyway.
'We will remove the building and make that into parking.' Sanford said.
'I have no real regrets about the restaurant closing' said Lewis Utley, former owner of the business and now a part-time cook. 'Everything's got to stop sometime.'
Utley entered the business [in 1930], operating diners in the Edgemont community and on Parrish Street. He opened a boxcar diner at the present site on main Street.
'It had five stools and three booth' he said. 'But I built this building [in] about [1939] when Camp Butner started busting out.'"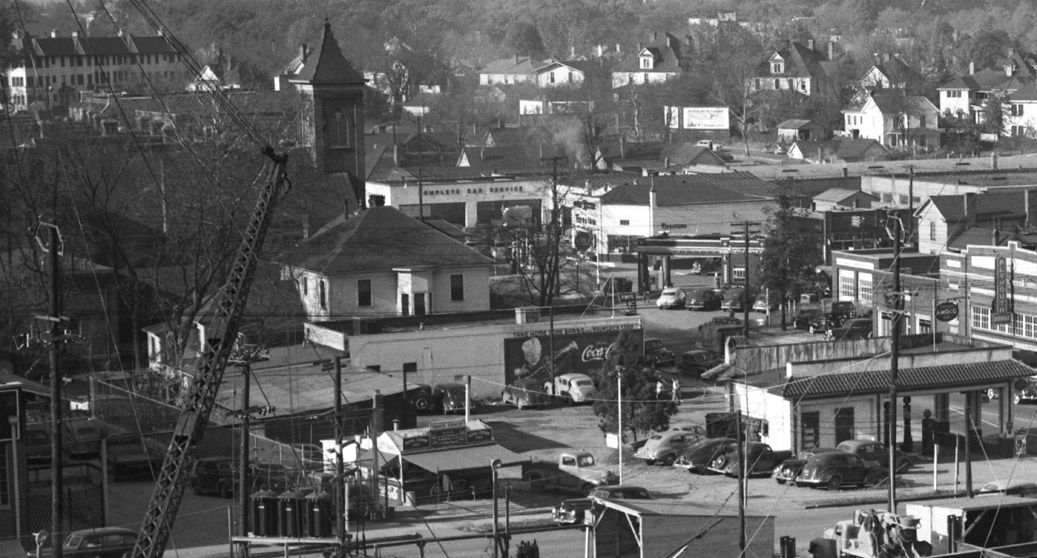 The side of the Lewis Cafe, seen from the under-construction New Cigarette Factory, 1948. (Courtesy The Herald-Sun Newspaper)
"The restaurant now has a capacity of 56 people.
Utley ran the business for 27 years, selling out to Wallace Pickett in 1967.
When Pickett took over, he purposely made no major changes, keeping the former owner's name.
'He had been here for so long, and I didn't want to change that' Pickett said. 'Speed is the key to the success of this restaurant' said Pickett, who quickly claimed, 'not many times will people come in that they have to wait more than five minutes to eat.'
A customer walked in to sit at the counter, and was immediately greeted with a cup of coffee. Less than three minutes later he was taking his first bite of a scrambled-egg and sausage sandwich - all without saying a word.
'We have quite a few people who come in for breakfast on a regular basis,' Pickett said. 'Our clientele is the general public, anybody from a construction worker to lawyers and office workers.'
'I hate to see this place close down,' said Willie McMillan, worker for a Durham rest home and a Lewis regular for 11 years. 'People are crying about losing that lighthouse on the coast, but we'll be crying about losing this restaurant.'"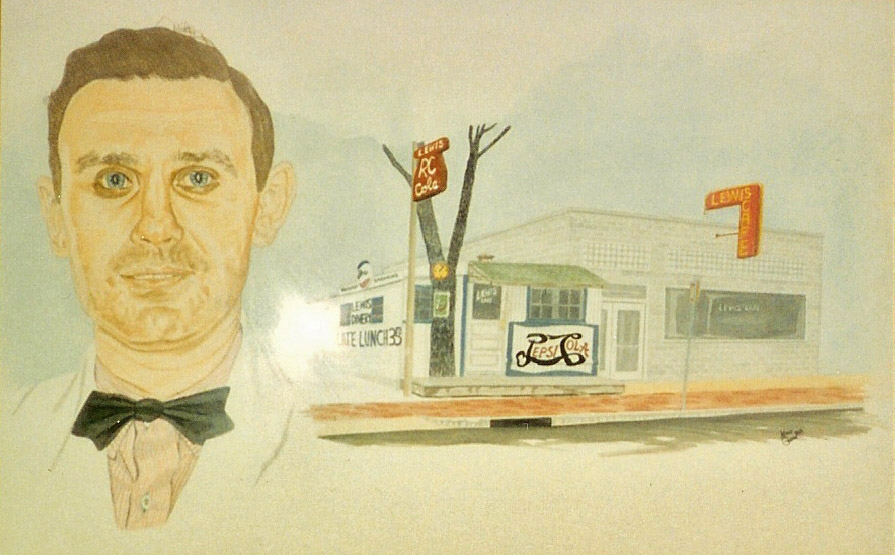 Drawing of Lewis Utley and the Lewis Cafe
(Courtesy Sherry Handfinger)
"'This is the only place in town you can get side meat,' said John Price, a painter and customer for 10 years. 'It is nice, clean quite place to enjoy breakfast.'
The menu contain several items not included in average breakfast fare: eggs and liver pudding, side meat, and homemade sausage.
'We make our own sausage and have been stuffing sausage into links during the winter,' Pickett said. 'Of course, we won't have to do that this year.'
'They just have a whole lot better food,' said James Carden, a painter and customer of about 10 years. 'I've been trying to get them to open another one, but I haven't had any luck.'
The restaurant opens at 5 am and Pickett said 'there are usually two or three people outside waiting to eat.'
To get the place ready to open, Pickett said he gets up ever morning at 3:45. He said the early hours never bothered him, having grown up on a farm, served in World War II on an anti-aircraft carrier and carried a morning paper route.
'It's going to be a hard habit to break, getting up that early,' he said.
The restaurant used to have a brisk midday business, Pickett said, when adjacent Liggett & Myers tobacco plants gave workers 45 minutes to an hour for lunch.
'People used to stand up and wait for a place to sit. But they went to 30-minute lunch breaks and that cut our lunch crowd.'
Liggett's layoff of nearly 400 employees [in 1979] also hurt business, but Pickett said he was able gradually to built it back up.
'The customers have changed over the past 10-15 years,' said Utley, who joined the conversation during lull at the grill. 'There are so many hamburger joints opening up which serve breakfast and that took all the young folks away.'
Another order came in and Utley quickly returned to the grill.
'You know both of those men (Utley and Pickett) are the finest you'll ever meet,' said Morgan Riley, president of a Durham paint and wallpaper company.
Riley said that he had been eating there for more than 15 years because, 'it's nice to have home-cooked food by people who care about how they prepare it.'
'It would be great if they could pick up this restaurant and move it someplace. There's no other place to go where you can find this atmosphere,' Riley said, his eyes scanning the restaurant like it was his last look.
Pickett, 63, said he plans to retire after the business closes.
'I'm going to enjoy life, play some golf and maybe do a little traveling with my wife,' he said. 'I hope to spend more time with my three sons and three granddaughters.'
When asked what his plans were after Saturday, Utley said, 'I don't rightly know. I'm 75 years old and I guess it's time to retire.'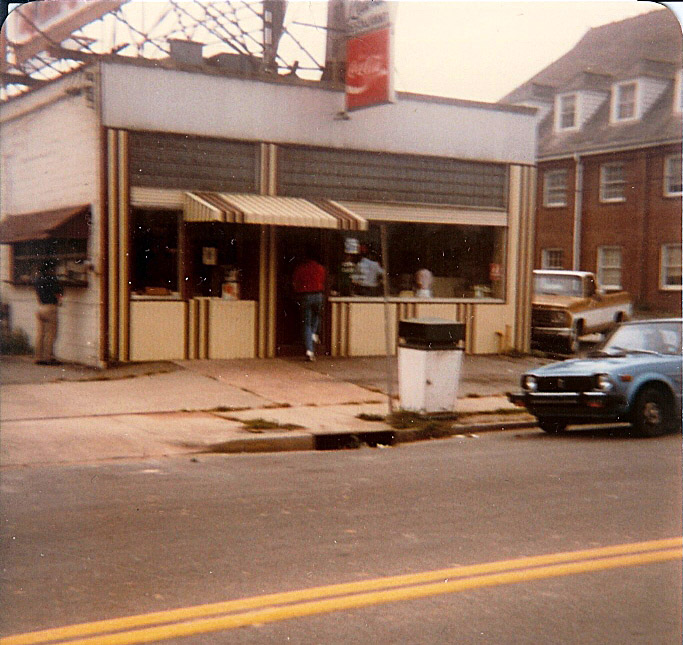 Lewis Cafe, circa 1980
(Courtesy Sherry Handfinger)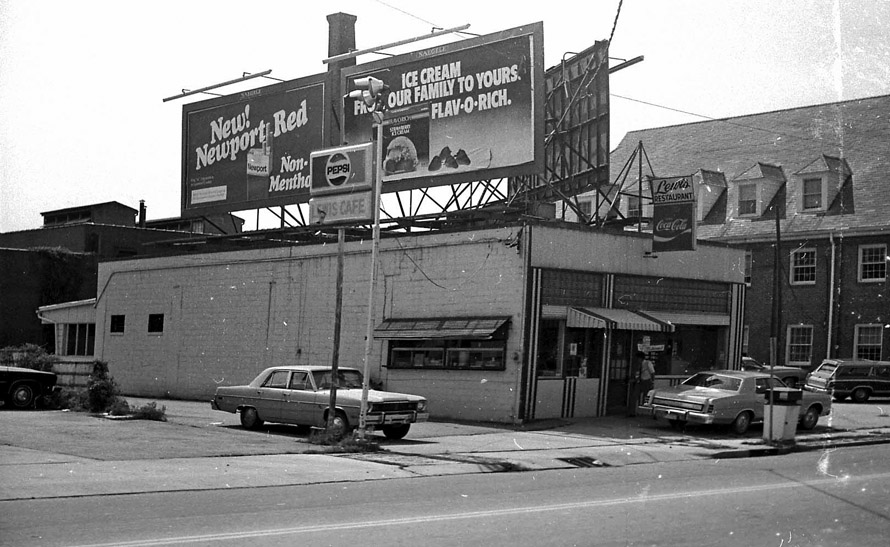 Lewis Cafe, 1981
(Courtesy Robby Delius)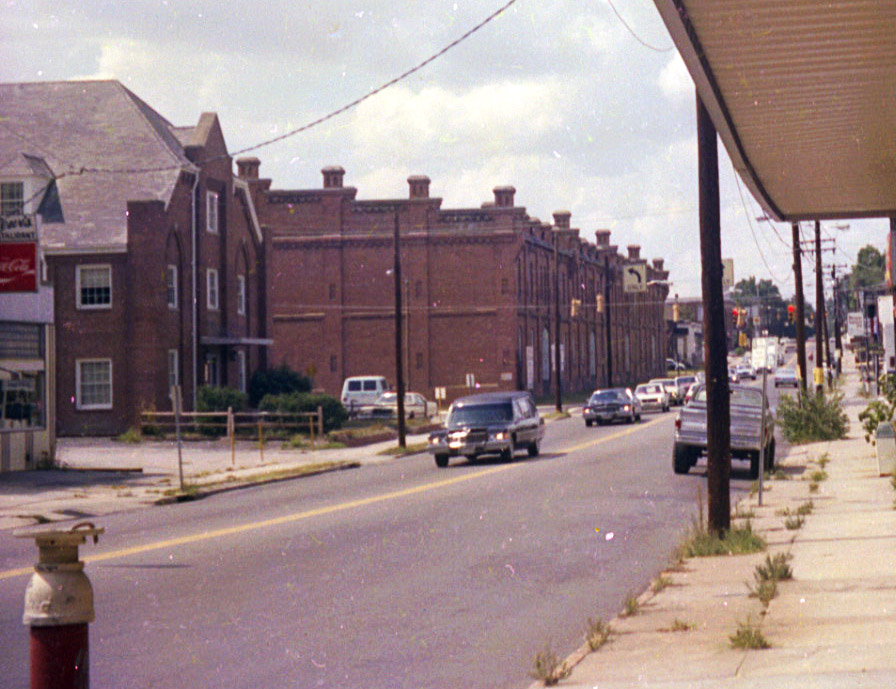 Looking southwest from the north side of West Main St., 1981. Lewis' Cafe is at the left edge of the frame, and a portion of the Main St. Christian Church is just beyond it.
(Courtesy Robby Delius)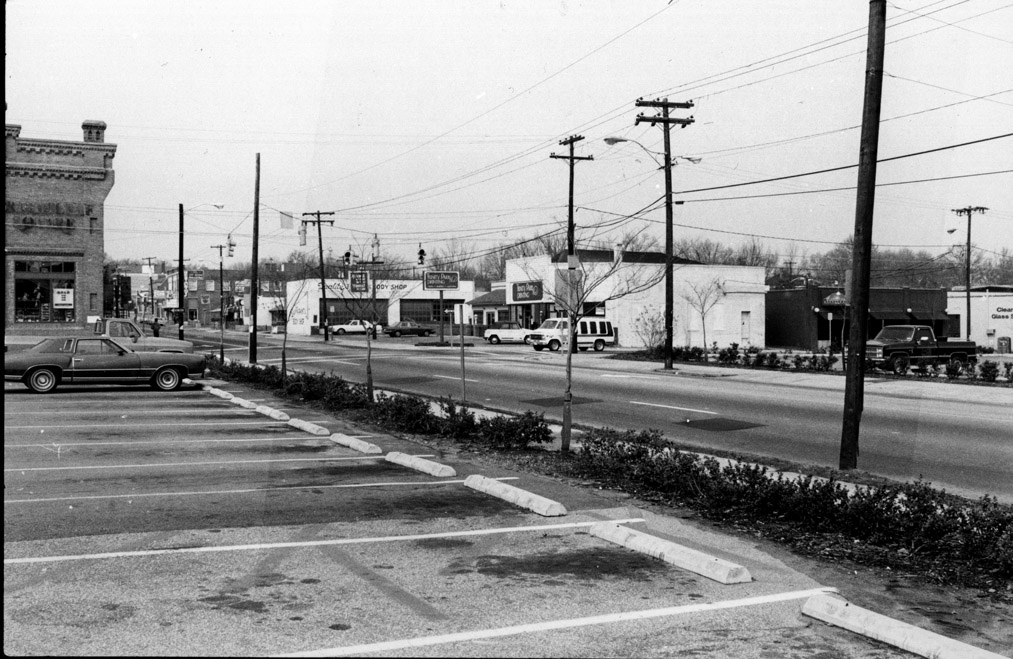 Looking west-northwest at the site of the Lewis Cafe, ~1984.
(Courtesy Durham County Library / North Carolina Collection)
And parking this has remained since the end of August, 1981. For many years, until the late 1990s, this was an open parking lot like the one across the street. But when Peabody Place opened up, and Fowler's defected from Brightleaf, Sanford and the Brightleaf folks got in a snit about parking and gated the lot.
In case you can't tell, I'm not a fan of the surface parking around here - there's too much. Yes, you might need to look for a spot for more than a minute or two on a Friday night - but I haven't felt the need to park in this gated lot for about 7 or 8 years. There's always street parking somewhere.
But retailers are wont to blame a lack of parking for lackluster business, and developers/business owners want to keep space leased - so copious parking it is.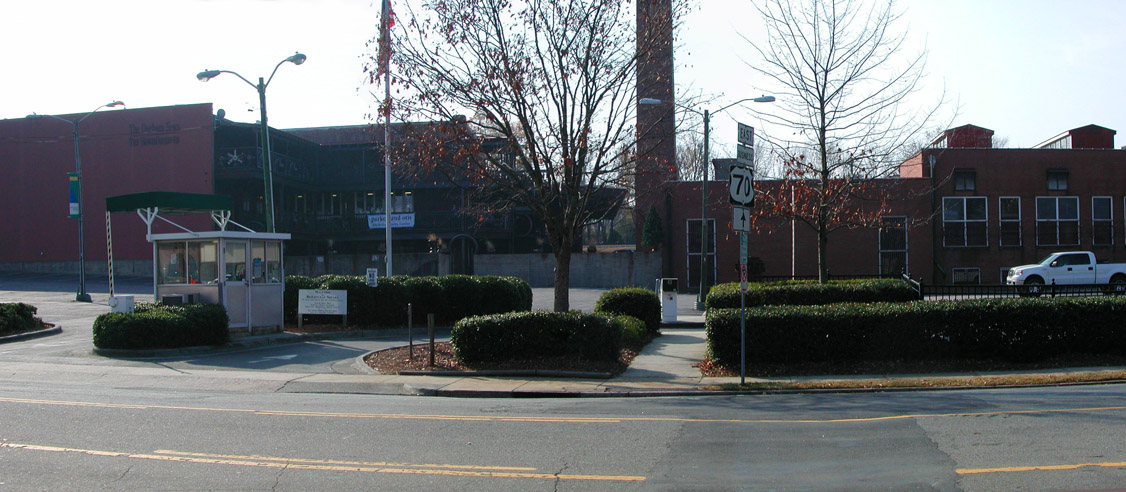 Looking south at the site of the Lewis Cafe, 12.17.07.
I hope, eventually, we get some infill development on the street-side portion of this lot or the lot across the street and fill in the streetscape with places like the cafe. For all the business around Brightleaf, it still feels empty to me on West Main Street.
Many thanks to Sherry Handfinger for sharing her information and photos about her grandfather, Lewis Utley, and his restaurant. Sherry also notes that her grandmother, (Ruth Alford Utley), worked alongside her grandfather as the cashier "all those years." "Everyone called them Ma Ruth and Pa Lou. Every Friday after Thanksgiving Day, our family watched the Durham Christmas Parade from the cafe rooftop or inside if it was too cold."
35.999478 -78.90883