In tours
This building does not appear in any tours yet.
Last updated
Sun, 07/24/2011 - 12:45pm by gary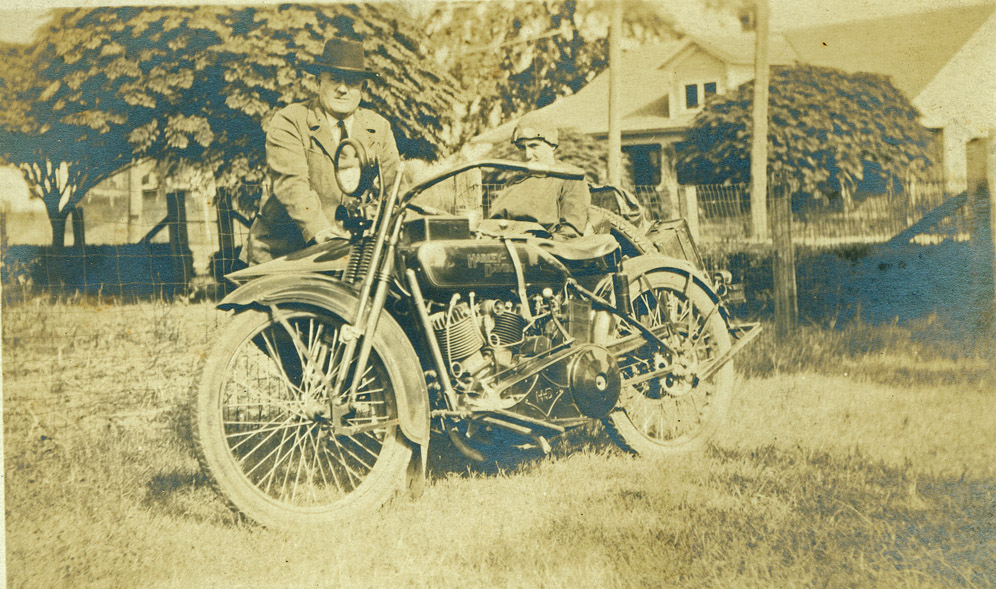 Sidney E. Rochelle and his wife in their 1714 Chapel Hill Road front yard, 1920s 1713 Chapel Hill is in the background. From a brief bit of internet research, I believe this is a V-Twin Harley.
(Courtesy Durham County Library / North Carolina Collection)
Sidney Rochelle is one of my favorite Durham historical characters. He was born in 1878 in Durham County and attended Durham's first public graded school, located in the Wright Factory on West Main St. He served in the Spanish-American War, and fighting in the Philippines, he survived a battle that saw 80% of his company killed. He returned to Durham in 1901.
He took over his deceased father's fish stand at an old city market located at the south end of Church St. - later the location of Union Station. When the city market moved to the new municipal building/Academy of Music Rochelle decided that the rent was too high and left the business.
He then began working with a man named HA Gaskins, who ran a phonograph, music, bicycle, lock and gun store. By 1910, he decided to strike out on his own, opening a gun, bicycle, battery and motorcycle shop at the northeast corner of Corcoran and Parrish Sts. In 1912, Rochelle and his wife moved into their new house at 1714 Chapel Hill Road.
Rochelle became the first Harley-Davidson dealer in North Carolina and organized an early motorcycle club that traveled all over the United States (see one picture in Durham here.) I don't know much about the history of touring motorcycle clubs, but I'd have to imagine that this was pretty unique in the 1910s. Rochelle supplied motorcycles to local businesses for their deliveries, and organized bicycle outings for Durham youth.
He collected antique guns and phonographs, and had in his possession for many years a phonograph that had belonged to Washington Duke.
His store moved to Mangum St., and had several different locations before settling on a location in the 300 block of North Mangum St.
He retired around 1954, and intended to turn his house into a museum of sorts to house his artifacts.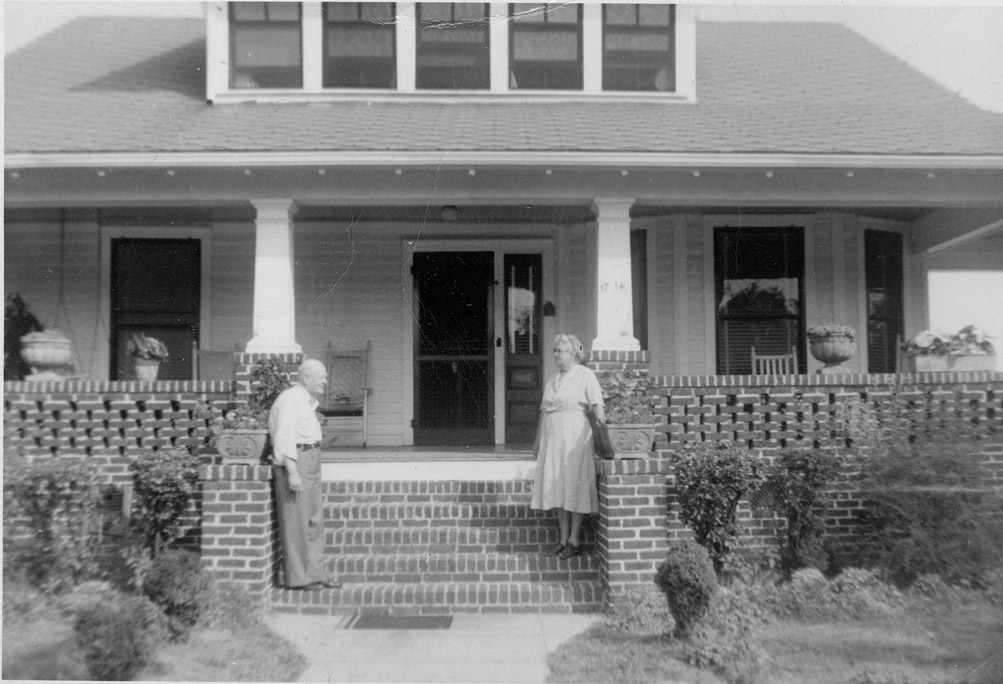 SE Rochelle and his wife in front of 1714 Chapel Hill Road, 1950s.
(Courtesy Durham County Library / North Carolina Collection)
I'm not sure what happened to that notion - I know most of Rochelle's artifacts were donated to the NC Museum of History (see comments,) including his Spanish-American War uniform. Rochelle died in 1960.
By the 1970s, the Rochelle house was converted to a commercial use - an interior decorating store.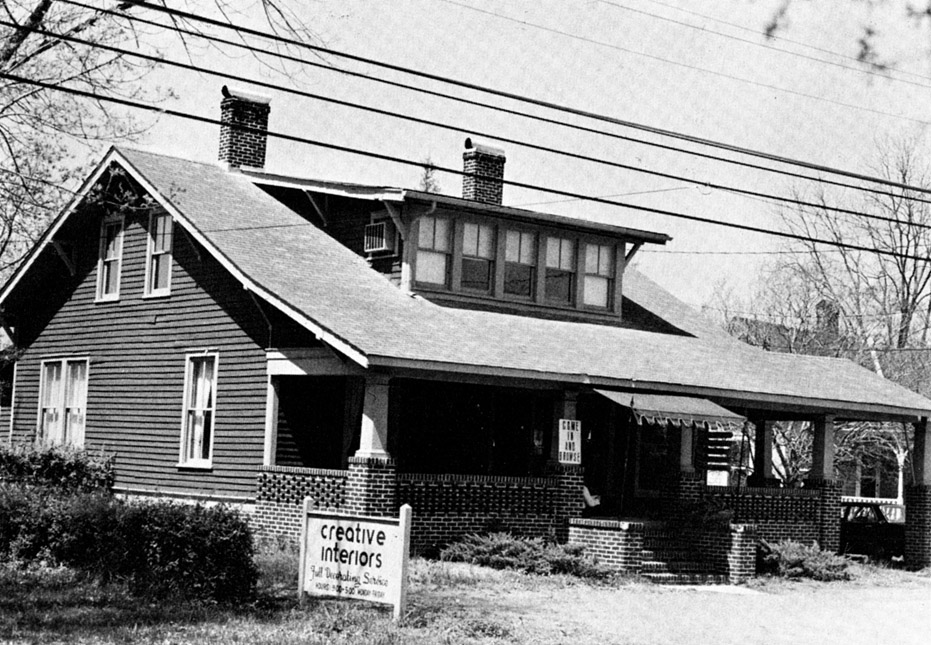 It appears to be quite a bit more downtrodden at this point, and I'm not sure whether there is any active business in the house at this point or not.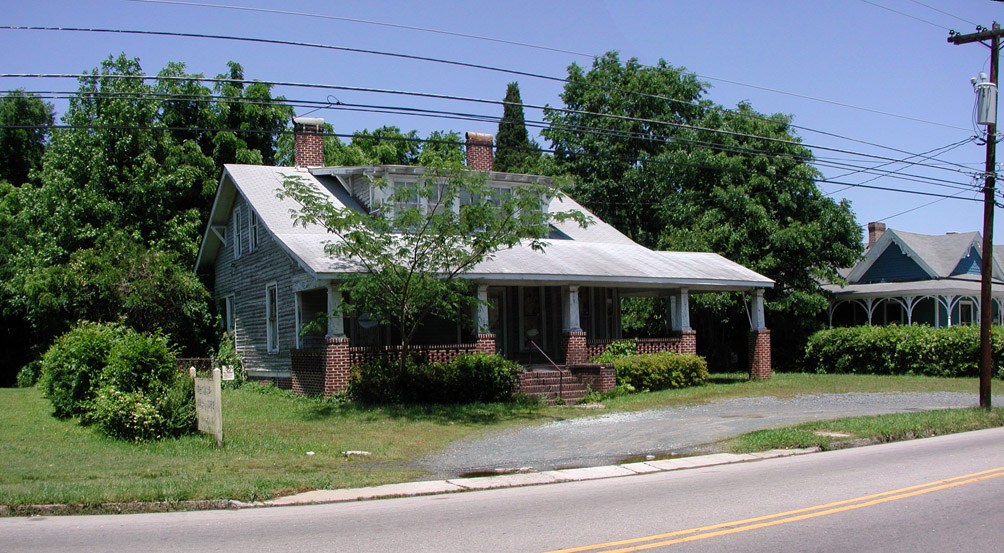 35.991268,-78.923452